Collage presents:
Revolution - 10th anniversary special
Buy Tickets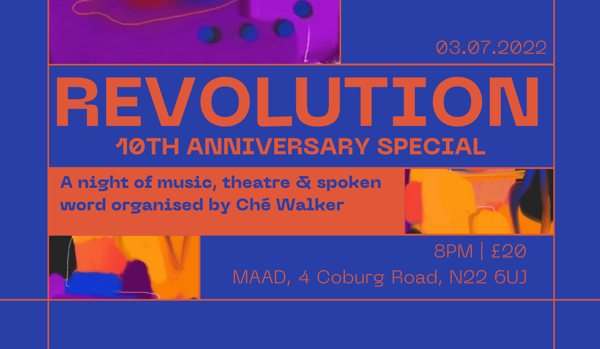 A night of music, theatre and spoken word organised by Ché Walker.
Stars of stage and screen return to Collage Arts for a night of music, theatre and spoken word, in support of Collage Voices projects providing performing arts training for young people facing economic challenges.
Join the Revolution on July 3!
8pm kickoff
Tenth Anniversary Special!
Performances by:
Grainne Dromgoole
Paxina Tuvuka
Matilda Bailes
Simeon Hammond Dallas
Bruce Mississippi Johnson
Esther Foga
John Etheridge
Nardia Ruth
Martina Laird
Dorian Ford
Alice Mae Walker
Rocio Rodriguez- Innis
Francesca Gilbert
DJ Dub
Kianja
Lily Taylor
www.justgiving.com/CollageArts
Book your tickets in advance via the ticket link.
MAAD, 4 Coburg Road, London N22 6UJ. Tickets: £20.