Collage presents:
Poetry and Poppadums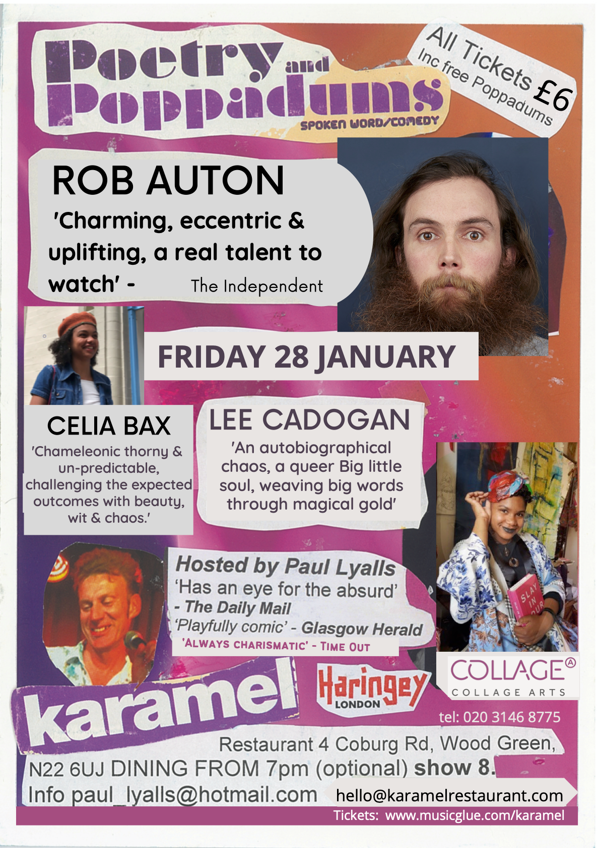 £6 per person.
Doors & dining from 6.30pm
Please note that the restaurant-kitchen is now operated by MAAD Wood Green, offering a new plant based menu but no poppadums!
Please buy your tickets in advance and call us on 020 3146 8775 to book your table.
---
Collage Arts present Poetry and Poppadums, featuring…
ROB AUTON 'Charming, eccentric & uplifting, a real talent to watch' – The Independent
LEE CADOGAN 'An autobiographical chaos, a queer Big little soul, weaving big words through magical gold'
CELIA BAX 'Chameleonic, thorny & unpredictable, challenging the expected outcomes with beauty, wit & chaos.'
Hosted by PAUL LYALLS
'Has an eye for the absurd, his views on life's fleeting moments are poignant' - The Daily Mail
Doors open at 6.30pm - Show starts at 8pm.
Please book a ticket in advance. A limited number of seats are available due to current social distancing restrictions.
The venue has a full fresh air ventilation system installed.