Collage presents:
TIME ZONE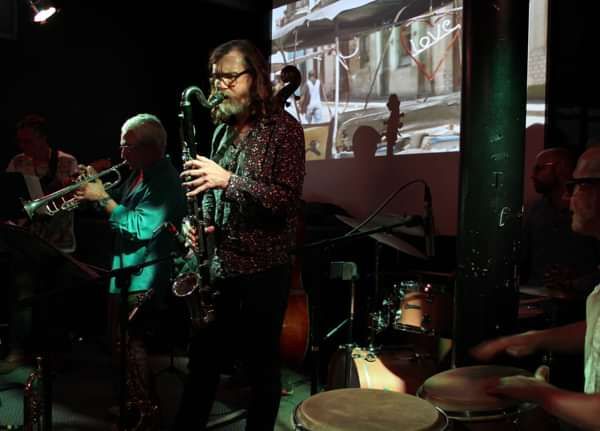 TIME ZONE live at Karamel, Thurs 9th December, 2021
Loz Speyer's TIME ZONE celebrates their return to touring with a night of delicious live music at Karamel! – picking up from the album release tour they began two years before with their new album "Clave Sin Embargo" (Oct 2019, Spherical Records).
"A vibrant, rhythmically exciting exploration of Cuban music and wider jazz influences… Speyer's music engages and makes you think – its global themes of movement, difference and change have never been more relevant." (Jazz Journal)
Speyer's music for Time Zone grew out of the experience of living between the far flung worlds of London and Santiago de Cuba. From studying and performing with local musicians and delving into the roots of Cuban music, sounds and rhythms from that tradition began to reappear – transformed - in his own compositions for Time Zone. Played by this group of a top class musicians with an ear in both languages, Cuban and jazz, the music of Time Zone really takes the audience on a journey of the heart.
LOZ SPEYER'S TIME ZONE
Loz Speyer - trumpet, flugelhorn / Martin Hathaway - alto sax, bass clarinet / Phil Dawson – guitar / Dave Manington - double bass / Gaspar Sena – drums / Maurizio Ravalico – congas
"An ensemble led by a trumpeter/composer who has absorbed the essence of Cuban music and distilled it quite cunningly into an improvisatory context, with no compromise to either culture." - Kevin Legendre, Echoes Music Magazine
"A fresh perspective on that [Cuban] heritage by way of his London-based ensemble's taste for raw punky downtown improv via New York, all the way through to free-jazz elements. But the music's convivial dance sensibility sourced from son, batá and salsa is always apparent... Cohesive and engaging." - Selwyn Harris, Jazzwise
"He is more than simply a trumpeter blowing a wonderfully powerful horn, but a socially conscious artist making a somewhat angular statement… painted on an exquisite musical canvas… You would be hard-pressed to find music so vibrant and viscerally energetic than the eight pieces on Clave Sin Embargo." - Raul de Goma, Latin Jazz Network (Canada)
VIDEO (in the studio)
---
Please book a ticket in advance, we have limited tickets available to keep more social distancing in the venue.
Karamel has a fresh air ventilation system installed throughout the restaurant, lounge and theatre.
Karamel, 4 Coburg Road, London N22 6UJ
Tel: 020 3146 8775