Collage presents:
EFG LJF: John Etheridge & Vimala Rowe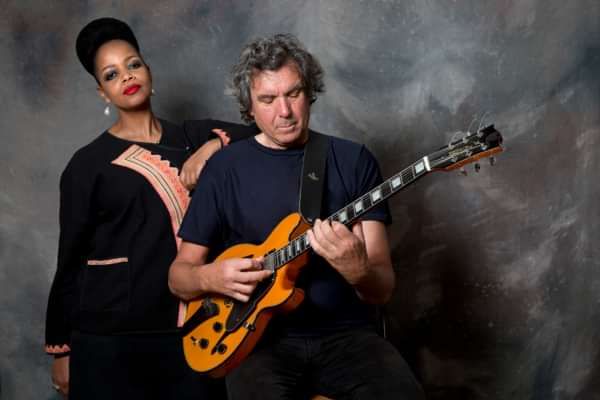 General Admission (e-ticket)
EFG LONDON JAZZ FESTIVAL*
Legendary guitarist John Etheridge joins forces with the sensational vocals of Vimala Rowe for an intimate lunchtime show. Together, they weave a magical spell, effortlessly travelling musically from India to Africa, Middle East and the USA.
John Etheridge has had substantial performances during his 45 year career with some of the most famous names of 20th century music including Stephane Grappelli, Nigel Kennedy, John Williams, Yehudi Menuhin and Soft Machine.
Vimala Rowe has been gaining plaudits wherever she goes. An exemplary jazz singer with a faultless and deft expression, Rowe has a unique style that compiments John's explorative nature. She featured recently in Paco Pena's Flamencura at Sadler's Wells: an indication of the breadth of her talent.
They weave together a magical journey that takes the audience across continents. There will also be solos from John, taken from his celebrated show that he has performed for 10 years all over Europe. This is an unique pairing that satisfies on so many levels. Not to be missed.
Their album 'Out of the Sky ' was elected in the Top Ten critic's choice of album of the year 2016 in both the Guardian and the Sunday Times the track 'Detour Ahead 'in the Top Five in the Guardian .
'This beautiful album' ( Guardian) .'A rare mix of visceral emotion and jazzy intelligence' (Sunday Times)
'John Etheridge demonstrates awesome authority every time he touches the guitar' John Fordham (the Guardian)
'Immensely soulful, powerful performance' London Jazz News
'One of the most distinctive singers to come along in some time' - The Sunday Times
'Flawless tributes to the great Jazz vocalists are a speciality of hers' - John Fordham, The Guardian
'Plenty of Jazz singers pay their respects to Billie Holiday, but one of the most illuminating is the UK vocalist Vimala Rowe' - John Fordham, The Guardian
'Sensational' - Arts Desk
'She sings nice' - Iggy Pop
'The fabulous vocals of Vimala Rowe...stripped the songs of their datedness and brought them into the modern age'- Birdlives.co.uk
'Vimala Rowe, who is recognised as one of the best vocalist of her generation' - The Week