Collage presents:
Mehfil Nights at Karamel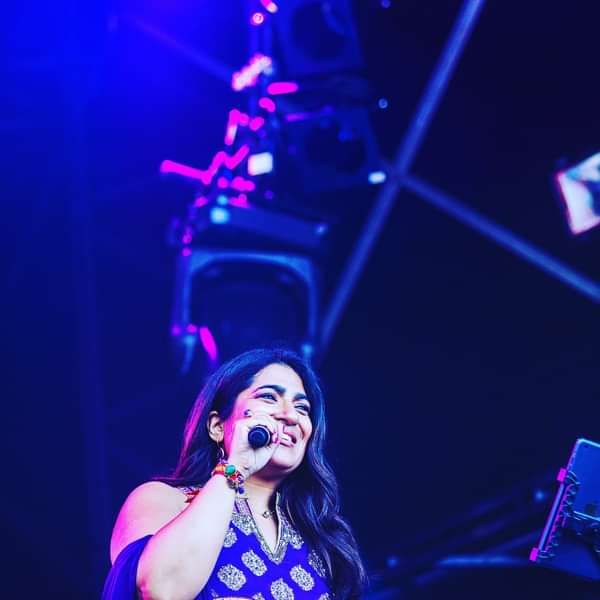 Indigo World Events
presents
'Mehfil Nights at Karamel'
A Diwali Special concert feat.
Unnati Dasgupta (vocals)
Narayanan Ponani (vocals)
Mohamed Kassam (keyboard)
Bhavesh Parmar (tabla)
Join us for a special Diwali celebration of 'Mehfil Nights at Karamel' featuring Bollywood, Bhajan, Mantra Chants & Sufi music in an acoustic intimate 'Mehfil' setting. A 'Mehfil' is a courtly intimate setting of music.
Unnati Dasgupta is a London-born singer and musician, the scion of Indian classical music royalty. Unnati (it means 'prosperity' in Hindi) has the gift of charisma, of enigmatic presence: from jazz clubs to international festivals, Westminster Abbey to the Royal Albert Hall, her live shows are notable for the ways in which they uplift, offer solace, encourage reflective thought. Unnati has been the opening act on the main stage at the 2019 WOMAD UK festival, appeared at the London Barbican for the Darbar Festival and sold out the Pheasantry on the Kings Road as part of the EFG London Jazz Festival.
Narayanan Ponani Natarajan is a versatile and popular singer in London UK and is known to sing Bhajans and Bollywood alike soulfully. He has been performing for 43 years and recipient of various awards like Surmani , also performed at 10 Downing St and for Indian cricket team in UK. Trained in both Carnatic and Hindustani music from childhood. Teaching many the art of singing with voice culture training.
Mohamed Kassam is a legendary music artist, internationally known as a violinist, mandolin, harmonium and keyboard player. He has accompanied Lata Mangeshkar, Asha Bhosle, Mehdi Hassan and many more famous artists. He was the music director with BBC TV for 23 years.
Doors open at 7pm, and music starts at 8pm.
Tickets are £25 and includes a vegan meal at Karamel for Diwali.
Please book a ticket in advance to avoid disappointment. Karamel has a fresh air ventilation system installed throughout the restaurant, lounge and theatre.
For group bookings of 8 people or more, please email hello@karamelrestaurant.com with your request details.
Karamel, 4 Coburg Road, London N22 6UJ; Tel: 020 3146 8775 hello@karamelrestaurant.com www.karamel.london