Collage presents:
TWO OF A MIND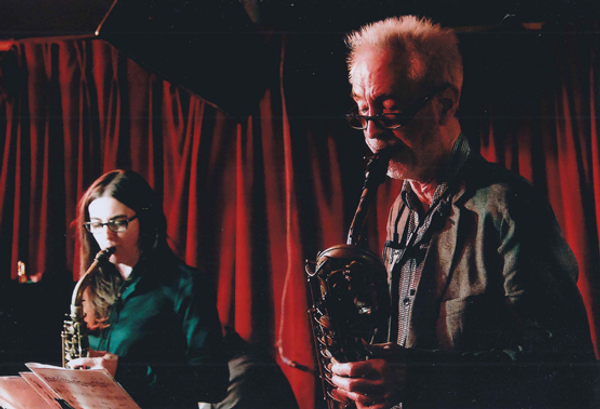 Collage Arts presents live music at Karamel with TWO OF A MIND…
Exploring afresh the freewheeling, wonderfully melodic interpretations of standard material recorded 60 years ago by Gerry Mulligan and Paul Desmond on Blues in Time and Two of a Mind, this new band promises to evoke the spirit of these classic recordings while giving free reign to the personalities of the musicians.
The Mulligan and Desmond recordings were by a quartet of baritone and alto sax, bass and drums. CD re-releases included some tracks with guitar added.
Arrangements drawn from the original Desmond/Mulligan records are featured, including Stardust, Stand Still, All The Things You Are, Easy Living, Lover, The Way You Look Tonight and Blight of the Fumble Bee. We also feature our arrangements of How Deep Is The Ocean and Indian Summer, as well as two new standards based compositions by Chris Biscoe, Then and Now and Rest Easy.
The Band
CHRIS BISCOE: Multi-instrumentalist Chris Biscoe has been featured on baritone sax with the big bands of Hermeto Pascoal, Tony Kinsey, Graham Collier and the New York Composers Orchestra, as well as in various Mike Westbrook Bands and John Williams' Baritone Band. Chris has released two CDs with Tony Kofi, and Profiles of Mingus with Henry Lowther.
ALLISON NEALE: American born altoist Allison Neale's beautifully crafted lines evoke the spirit of Paul Desmond and Art Pepper, with whom she has a particular affinity. She has performed with Adelaide Hal, Bud Shank and Scott Hamilton, as well as featuring in the John Dankworth Generations Band and the Back to Basie Orchestra. Her latest CD I Wished on the Moon (Trio tr593) was released in 2015.
JEREMY BROWN: One of the most sought after bass players on the UK scene, Jeremy has worked with Peter King, Phil Woods, Art Farmer, Johnny Griffin, Anita Wardell, Curtis Stigers and Kate Williams.
MATT FISHWICK: Matt Fishwick brings his subtle and dynamic playing to bands with Steve Fishwick and Osian Roberts and has played in the UK and USA with Scott Hamilton, Harry Allen, Jim Mullen, Warren Vache, Cedar Walton, John Colliani, Anita O'Day and many others.
Doors open at 7pm, and music starts at 8pm.
Karamel has a full air ventilation system installed. We have limited seats available due to current social distancing restriction. Please book a ticket in advance...