Collage Kids presents:
Chimney Sweeps Circle of Two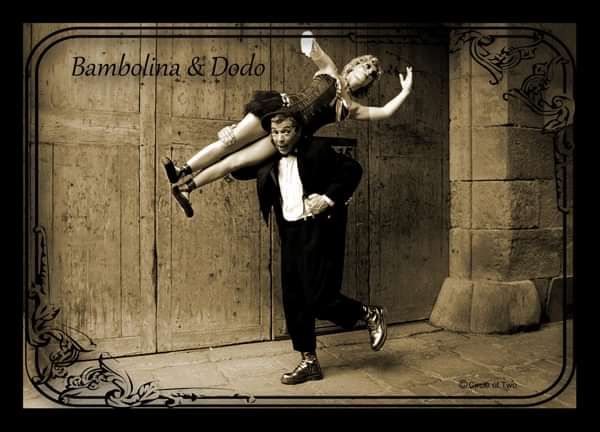 'Bambolina and Dodo' replaces 'The Chimney Sweeps' for this weekend's Collage Kids show...
Circle of Two will be preforming 'Bambolina and Dodo'
'When the clock strikes twelve, magic begins and a doll comes to life…'
Clearly influenced by the silent film days of expressive clowning, Circle of Two form a seamless amalgam between physical theatre and acrobatic skills. They tell a simple and touching story about an eccentric inventor who struggles to control his latest creation. Winners of the Prize of the Public at the prestigious International Mime Festival of Périgueux, in France, they present this story without using any spoken dialogue.
"Humour, poetry and magic during twenty minutes of return to childhood" - Jean-Noël Cuénod, editor-in-chief of La Cité.
"Classic imaginative mime, married with old revue style sophisticated cabaret." - The Stage
We look forward to seeing you there...
---
We are thrilled to announce, Circle of Two will take to the stage with The Chimney Sweeps for the Collage Kids show at Karamel this weekend…
Inspired by Charlie Chaplin's "The Kid", "The Chimney Sweeps: A Family Business" is a piece of family theatre with nostalgic airs that brings back the charms of the Victorian era in Mary Poppins style.
It is a silent show choreographed to an original music score, and it includes original jigs, dazzling acrobatics, juggling, humour and a full load of charm.
The image of the chimney sweeps is widely recognised and it brings good humour to those hard times. It also recuperates a traditional circus and vaudeville experience that has been lost in live entertainment nowadays, but an experience that everybody can feel identified with, which is family theatre performed by a father and his child. The show has the special appeal of having a very talented child performer, who shows a very engaging relationship with his father and partner in crime.
This show only runs about 20mins as it is full of so much activity longer would be too long!
Collage Kids is a bi-monthly fun packed performance event for early years children (suggested age range up to 6 years) and their families. It is a relaxed performance in the Karamel restaurant space. The performance is FREE we just ask for whatever you can donate into our tip jar.
Kids shows are on 24 July, followed by 7 August, 18 September, 2 October, 16 October, 30 October, 13 November, 27 November, 11 December 2021.
Please book a ticket in advance. A limited number of seats are available due to current social distancing restrictions.
Karamel has a full fresh air ventilation system installed.