Collage presents:
Poetry and Poppadums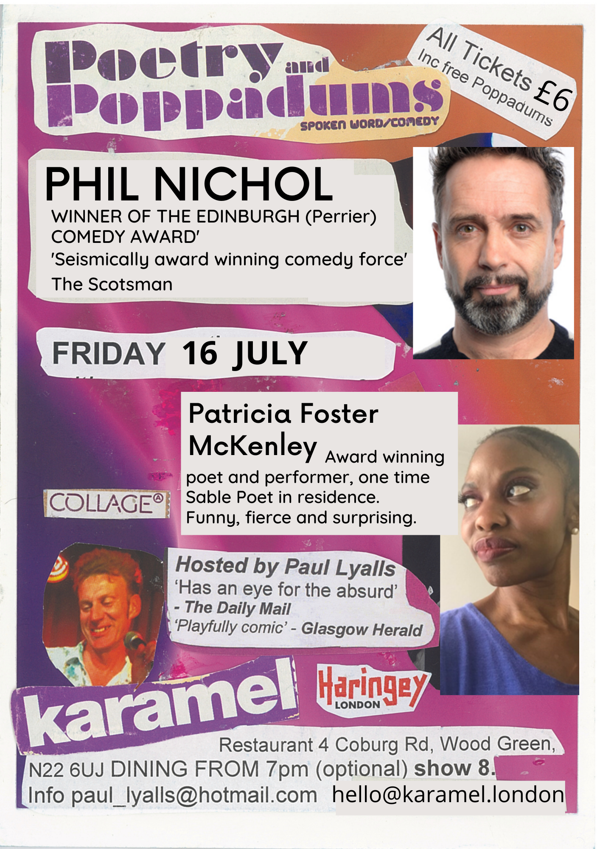 Live spoken word and poetry performance returns to Karamel!
Friday 16th July - show starts 8pm.
£6 - Free Poppadums Doors & dining from 6.30pm.
Collage Arts present Poetry and Poppadums, featuring..
PHIL NICHOL
WINNER OF THE EDINBURGH (Perrier) COMEDY AWARD'
Capable of delivering everything from a a celebration of beautiful idocy to searing insights into why things are the way they are, using unstoppable humour, song, poetry and anything else that comes to hand A true maverick,
'Seismically award winning comedy force' The Scotsman
'The sheer energy he exudes, pumps life into any audience' Chortle
Hosted by Paul Lyalls
'Has an eye for the absurd, his views on life's fleeting moments are poignant' - The Daily Mail
With special guest Patricia Foster McKenley
Award winning poet and performer, one time Sable Poet in residence, Patricia has performed from Gambia to Norway, the USA to Brixton, In the last few years she has produced her first poetry film 'Lips', her work is a window into the funny, fierce and surprising.
Doors open at 6.30pm, and show starts at 8pm.
Please book a ticket in advance. A limited number of seats are available due to current social distancing restrictions.
Karamel has a full fresh air ventilation system installed.