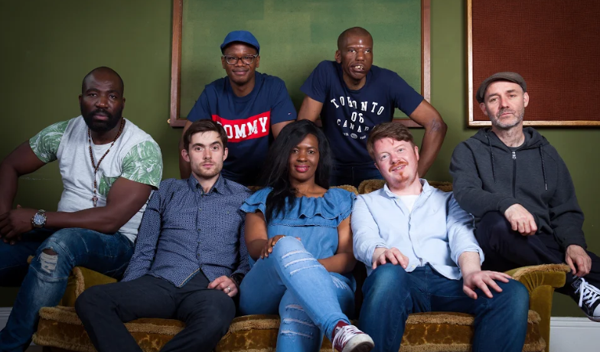 CLOSING ONLINE EVENT FOR EFG LONDON JAZZ FESTIVAL, ORGANISED BY COLLAGE ARTS.
Watch event on 'Karamel Music Online (Youtube)' CLICK AND SUBSCRIBE
Ubunye is a vibrant seven piece Afro Jazz/dance band based in the UK, featuring three vocalists from Kwa Zulu Natal in South Africa and a four piece rhythm section. The music is an inspirational blend of jazz, Isigqi - traditional Zulu music - and Afro-pop. High energy African beats and traditional sounds morph into more contemporary musical styles. Telling stories of human struggles with themes of universal resonance, Ubunye have recently completed a successful tour across the North of England including sell-out shows at jazz clubs and festivals.
Nokulthula Zondi – Kamudyariwa is a vocalist from Kwa Zulu Natal, South Africa. She began singing professionally in 1997 at the Playhouse in Durban. She has performed with many music groups in South Africa from Gospel to Isigqi (Traditional Zulu music). She performed in the USA in 2005 and has been based in the UK since 2006.
Xolani Mbatha is a baritone singer originally from Durban. He grew up singing gospel music in church and took an interest in classical and opera music in school. He was chosen to be a member of the Tirisano Youth choir that represented South Africa in Bremen Germany. Thandanani Gumede is a singer and lyricist and vocal coach from Durban. His repertoire includes an eclectic mix of various styles including Afro Jazz, gospel and Isigqi music. Thanda also leads the UK based group Zulu Tradition.
Dave Evans is a songwriter and keyboard player/band leader of Ubunye. He is a composer, educator and festival director. He currently works with a number of different projects across the UK, including open improvisations. His ongoing collaborations outside of Ubunye include Chapel FM Jazz Collective as MD, pianist/composer for poet Rommi Smith.
Alex Wibrew is a drummer and educator based in Leeds. Alex has a background in jazz, he also plays pop/rock, ska and drum n bass. As a workshop leader he specializes in improvised music.
Kenny Higgins hails from a gospel background progressing into such scenes as the Cork Jazz Festival and Live 8. Kenny has been able to expand and adapt his melodic groove infused bass technique across a wide range of music genres. Artist collaborations include Omar Puemnte, Corinne Bailey Rae, Dennis Rollins and Haggis Horns.
Nik Rutherford is an Edinburgh born guitarist and composer who has written and performed with many bands and artists across the UK. An alumni of Leeds College of Music Nik released his own solo album 'Suntrap' in 2014.
There was an enthusiastic, excited response throughout the jazz community from UBUNYE's promotions earlier this year and the band was poised to release their debut Cd and subsequent tour when the pandemic hit.
We are thrilled to provide a platform for this superb project during this festival.
This is a free online event organised by Collage Arts, leading arts development charity in Haringey's Cultural Quarter providing artist studios, live events and young people's training programmes.
Donations are welcomed and appreciated by the band during the festival, please use reference LJF13UB www.justgiving.com/collagearts
Visit 'Karamel Music Online' on Youtube for all our ONLINE EVENTS in EFG London Jazz Festival 2020. CLICK AND SUBSCRIBE
All gigs in November will be online streams only (not 'in person' at the venue).