Collage presents:
Pigfoot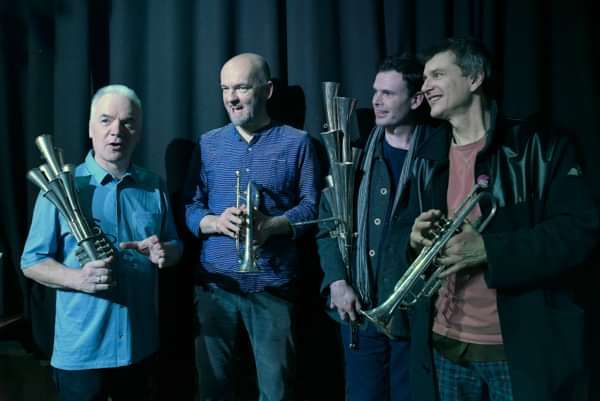 TENTH ONLINE EVENT OF EFG LONDON JAZZ FESTIVAL, ORGANISED BY COLLAGE ARTS.
Watch event on 'Karamel Music Online (Youtube)' CLICK AND SUBSCRIBE
"The bluff, riotous and raucous UK quartet Pigfoot, with the horn-power of trumpeter Chris Batchelor and reeds player James Allsopp, the wacky grooving of drummer Paul Clarvis and increasingly electronic keyboard sound of Liam Noble applied to Heartbreak Hotel, Led Zeppelin's Black Dog, Mozart, Stevie Wonder and a lot more." John Fordham Guardian
Pigfoot was formed in 2014 by Chris Batchelor to apply an open and original improvised approach to classic 1920's New Orleans themes, to transform, re-construct and revitalise the material. Through their 'Pigoot Play' series of gigs at the Vortex they have taken their explorations in all directions, with concert editions dedicated to Opera, Motown, Elvis, Bacharach and the hits of 1972, all spontaneously transmuted by the band's wild musicality and wry humour.
Their latest highly acclaimed release Pigfoot Shuffle (Pokey 001) holds some of the highlights of this extensive repertoire. Chris Batchelor selects, transcribes and arranges all the material that this joyous bunch play, and at times takes on the role of the singer here, adapting his trumpet sound and approach to reflect the character of the source. The music often turns on the unpredictable fulcrum of Noble and Clarvis' long term duo partnership, and the Pigfoot sound has taken a further leap with the introduction of Liam Noble's creative and imaginative keyboard setup. Chris and James Allsopp have the freedom to combine as a flexible and powerful frontline, egged on by the inspired eccentricity of Paul Clarvis' sparky and spiky drumming.
"Talk about originality. Pigfoot have absolutely nailed it….. you really do have to hear the music because it's just so damned different. Of all the 10 numbers here, the most obvious standout is the absolutely electrifying version of Led Zeppelin's Black Dog which positively leaps out of the speakers." Roger Farbey Jazz Journal
This is a free online event organised by Collage Arts, leading arts development charity in Haringey's Cultural Quarter providing artist studios, live events and young people's training programmes.
Donations are welcomed and appreciated by the band during the festival, please use reference LJF12PF www.justgiving.com/collagearts
Visit 'Karamel Music Online' on Youtube for all our ONLINE EVENTS in EFG London Jazz Festival 2020. CLICK AND SUBSCRIBE
All gigs in November will be online streams only (not 'in person' at the venue).