Collage presents:
Tomorrow's Warriors Night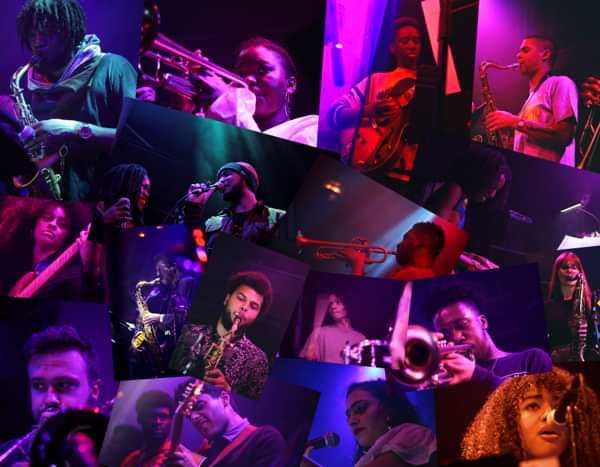 EIGHTH ONLINE EVENT OF EFG LONDON JAZZ FESTIVAL, ORGANISED BY COLLAGE ARTS.
Watch event on 'Karamel Music Online (Youtube)' CLICK AND SUBSCRIBE
Tomorrow's Warriors is a leading talent development agency, creative producer, music educator and consultancy specialising in jazz. Founded in 1991, it helps aspiring young artists discover their magic, nurture nascent talent, achieve creative ambitions, and build engaged, diverse audiences. TW champions diversity, inclusion and equality. Its pioneering Young Artist Development Programme primarily supports the early careers of young black musicians, female musicians and those whose financial or other circumstances might lock them out of opportunities to pursue a career in the music industry. Over almost three decades, Tomorrow's Warriors has proved a crucial development platform for many of the artists now tearing up the international jazz scene – Moses Boyd, Nubya Garcia, Cassie Kinoshi and Nérija, Femi Koleoso and Ezra Collective, Binker Golding, Shabaka Hutchings and Sons Of Kemet, Cherise Adams-Burnett, Eska, Denys Baptiste, Soweto Kinch, Zara McFarlane, and so many more.
On this night, Tomorrow's Warriors present Mia Runham band and Amy Gadiaga band. These two talented young musicians have stepped up as bandleaders and composers for an exciting project running with Collage Arts. The young artists were asked to compose a piece to express their experience as black women during this year's lockdown and were mentored by the composer and bandleader behind Mercury Prize nominated Seed Ensemble, Cassie Kinoshi. The project has been supported by Arts Council England.
For this EFG London Jazz Festival show they will be debuting their compositions with their bands, featuring other exceptional young musicians on Tomorrow Warriors' Young Artist Development Programme.
Mia Runham's band: Mia Runham - Alto Saxophone Morgan Wallace - Tenor Saxophone David Ijishakin - Trombone/Vocals Stan Wickham - Drums Sultan Stevenson - Piano Charlie Runham - Bass Natalia Popoola - Vocals
Amy Gadiaga's quartet: Amy Gadiaga - Bass/Vocals Sultan Stevenson - Piano Joseph Oti - Trumpet Benji "Chief" Appiah - Drums
This is a free online event organised by Collage Arts, leading arts development charity in Haringey's Cultural Quarter providing artist studios, live events and young people's training programmes.
Donations are welcomed and appreciated during the festival to support the next generation of jazz musicians, visit Tomorrow's Warriors Go Fund me page: www.gofundme.com/iamwarrior2020
Tomorrow's Warriors is acclaimed for having established a robust, essential pipeline for outstanding, diverse young talent and for being pivotal in changing the face of jazz in the UK. Last year TW had 450 learning sessions, 185 students, 70 gigs, 17,500 audience members. TW is a National Portfolio Organisation of Arts Council England and a PRS Foundation Talent Development Partner.
Visit 'Karamel Music Online' on Youtube for all our ONLINE EVENTS in EFG London Jazz Festival 2020. CLICK AND SUBSCRIBE
All gigs in November will be online streams only (not 'in person' at the venue).