Collage presents:
Yaz Fentazi Duo
Karamel, London, GB
FREE, donations welcomed and appreciated..
Entry Requirements: All welcome. Family Friendly.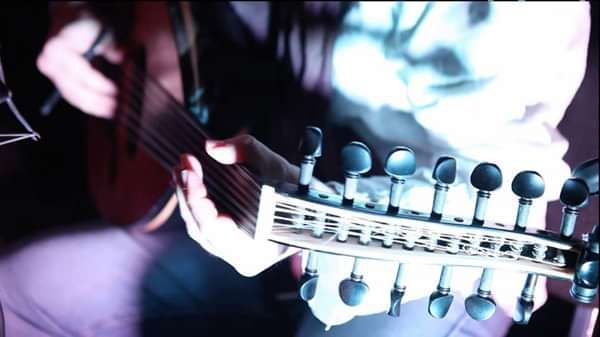 FOURTH ONLINE EVENT FOR THE EFG LONDON JAZZ FESTIVAL, ORGANISED BY COLLAGE ARTS.
Watch event on 'Karamel Music Online (Youtube)' CLICK AND SUBSCRIBE
Yaz Fentazi (Oud) & Robyn‬ Hemmings (upright bass) perform and give the audience a magical sense of 'travelling' in their minds with their very colourful and rich music that draws on the vast traditions of jazz, blues, classical and North African/Middle Eastern music.
Built around their original compositions, irresistible grooves and vibrant full sound create a sizzling party atmosphere. They have appeared many times on BBC radio and TV, have performed at festivals including Glastonbury, Womad and the Ealing jazz festival as well as internationally.
Yaz Fentazi composes in his own words "a blend of traditional with modern music." It is a uniquely clever and contemporary style of North African fusion, coming from a long tradition of absorbing influences. (SEN Magazine)
The Guardian has described Fentazi's compositions as having "breadth and atmosphere, and his oud soloing, which recalls the drive and dynamism of world oud star ‪Anouar Brahem‬, is often stunning,". (Guardian).
In the early 90's when graduating with a music technology Diploma in London he released two albums with Fantazia Mimouna Records and Harmonia Mundi. He has been invited for tours and recording with many artists including The Master drummers of Africa, ‪Robert Plant‬ (‪Led Zeppelin‬), ‪Natacha Atlas‬, Trance Global Underground, ‪Peter Ind‬, ‪Marc Almond‬, ‪Cheb Mami‬, Jim Palmer (Robert's son) and more.
This is a free online event, organised by Collage Arts, leading arts development, training and creative regeneration charity in Haringey's Cultural Quarter providing artists studios, live events and young people's training programmes.
Donations are welcomed and appreciated by the band during the festival, please use reference LJF4YF www.justgiving.com/collagearts
Visit 'Karamel Music Online' on Youtube for all our ONLINE EVENTS in EFG London Jazz Festival 2020. CLICK AND SUBSCRIBE
All gigs in November will be online streams only (not 'in person' at the venue).