Collage presents:
Zantogola
Karamel, London, GB
FREE, donations welcomed and appreciated.
Entry Requirements: All welcome. Family Friendly.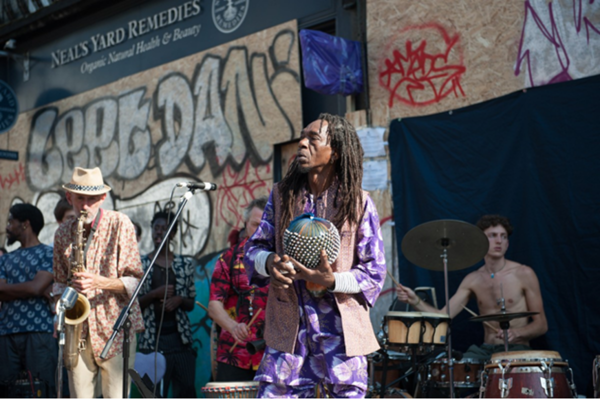 OPENING ONLINE EVENT OF EFG LONDON JAZZ FESTIVAL, ORGANISED BY COLLAGE ARTS.
Watch event on 'Karamel Music Online (Youtube)' CLICK AND SUBSCRIBE
Zantogola is a London based, musical collective that unites diverse identities to foster an exciting creative spirit of common purpose and community from Burkina Faso to London, bringing peace and freedom to move all souls and bodies!
Inspired by the West African heritage of popular rhythms and songs, Zantogola master and explore the polyrhythmic melodies of plenguedey music: a fusion between elements of mandingue, highlife and afrobeat with hip hop, reggae and jazz.
The band mixes traditional African-percussions rhythms with brass, voices, guitars, balafons and ngonis to create contemporary, reflective, joyous and highly danceable songs.
Zantogola was envisioned by drummer, percussionist and song writer, Alex Dayo, as a platform for education and musicianship, seeking to enlighten people on issues surrounding political exclusion and injustice. The name Zantogola is based on Burkina Faso's folklore and means "the greatest in everyone", illuminating Alex Dayo's own heritage and musical philosophy.
In 1985, Alex Dayo founded his first band and has taken his vision worldwide. Since then, the project has expanded and developed into a full scale band and human adventure with exciting prospects ahead.
Alex comes from Burkina Faso, and played with the Kouledafourou National Ballet. In 1985 he founded Wountey, a collective of musicians who created a new fusion of traditional and modern music called Plenguedey. They worked together in Africa and Europe for over 20 years. Alex moved to London in 2008, where he set up a drumming school.
Zantogola's songs are sung in the West African languages Bwamu, Dioula, Bambara, and Lobi, in French and in English. They speak of the concerns of the black population worldwide, of their joy and their pain - but also of their reflections on contemporary life, and their place between tradition and modernity.
Zantogola are always keen to continue to share their music through concerts and workshops, at festivals and community venues across the country.
This is a free online event organised by Collage Arts, leading arts development charity in Haringey's Cultural Quarter providing artist studios, live events and young people's training programmes.
Donations are welcomed and appreciated by the band during the festival, please use reference Karamel LJF - link. https://paypal.me/Zantogolaband
Visit 'Karamel Music Online' on Youtube for all our ONLINE EVENTS in EFG London Jazz Festival 2020. CLICK AND SUBSCRIBE
All gigs in November will be online streams only (not 'in person' at the venue).