Collage presents:
Tim Whitehead Quartet featuring Giovanni Mirabassi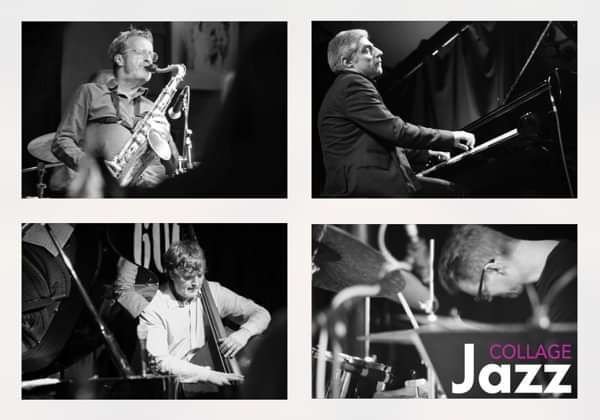 'Whitehead glides ethereally into his phrases like a jazzier Jan Garbarek at times, although the playing is often stronger.' John Fordham - The Guardian
'His is a sound of controlled power, sinewy and vigorous, but imbued with great tenderness in both the singing tone and the ravishing high note trills with which he decorates his ballads.' Chris Parker - The Times
This brilliantly accomplished quartet, with international award winning Italian pianist Giovanni Mirabassi, started in 2006 with recording and touring 'Lucky Boys' and has evolved to include Tim Whitehead's 'Personal Standards 2' including tunes written by both he and Giovanni, together with their own interpretations of contemporary and classic standards.
The multi-award-winning Tim Whitehead is a remarkable performer and world-renowned composer. His dazzling CV begins in the 70s with Ian Carr's 'Nucleus' and 'Graham Collier Music' (winning the Young Jazz Musician of the Year Award). In the 80s Tim was integral to the groundbreaking big band Loose Tubes with the likes of John Parricelli, Django Bates, Nic France and Pete Jacobsen. The 90s saw him release critically acclaimed albums and win The Andrew Milne Award for Jazz and the BBC Music Magazine Jazz Album of the Year. Tim was the first ever musician to be Artist in Residence at Tate Britain, resulting in the highly acclaimed album 'Colour Beginnings' and a short-listing for the British Composer Of The Year Award 2010.
*Giovanni Mirabassi *is a self-taught Paris-based Italian pianist whose musical language and technique echo the modern masters Bill Evans and Keith Jarrett. In 1996 his first album won him the grand prix and the best soloist prize at the Concours International de Jazz d'Avignon. In 2001 his solo album 'Avanti!' won the prestigious Victoires du Jazz. His album 'Air' was voted best album of the year 2003 by the Django Reinhardt Academy of Jazz and he enjoys considerable international success and popularity in Japan and South Korea.
Andy Cleyndert's been nominated for the British Jazz Awards every year since they started. He has played with Stan Tracey with whom he has toured Canada and China, toured Britain and Europe with the Gene Harris Quartet and worked regularly with the singer Annie Ross. Other tours include working with American piano players Benny Green and Junior Mance and most recently James Williams with drumming legend Ed Thigpen, New York saxophonist Jon Gordon, trumpeter Conte Candoli, and guitarists Herb Ellis and Mundel Lowe. He's also a member of the Bryan Spring Trio, Alan Barnes Quartet and the Don Weller Quartet, and has worked and recorded with Stacey Kent.
Tom Hooper's drumming career has seen him performing and recording worldwide with an eclectic range of artists including Grace Jones, Simple Minds, John Dankworth OBE, Jan Smit (the dutch singing star with whom Tom has played on five number one hits), Brian McFadden, Christian Garrick, Omar and The Kairos Ensemble.
On this tour we are proud to present to you a delicious, multifarious repertoire including retrospective references to Tim's 'Turner and The Thames' / 'Colour Beginnings' compositions, his 'Wake Up Call' album for Sony/EMI, together with work by contemporary jazz artists Keith Jarrett, Pat Metheny and Giovanni Mirabassi. We also feature contemporary classics from composers such as Paul Simon and Stevie Wonder – our own original material, born from the structures of their tunes, just as Bebop was developed from an existing popular repertoire of its time.
Doors open 7pm, music from 8pm.
Photocredits: Ida Hollis, The Olson Jazz Club, George Boxley.