Collage presents:
Poetry and Poppadums with Kat Francois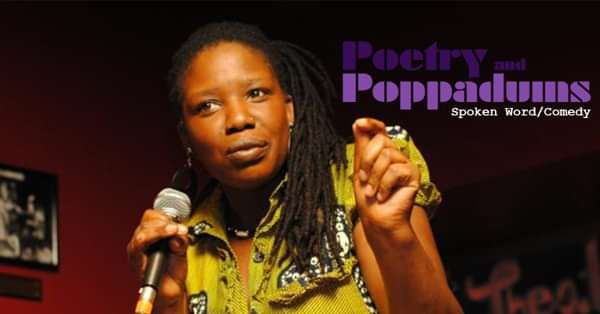 Prepare for a night of laughter and mirth with this month's installment of spoken word and comedy!
Featuring:
KAT FRANCOIS
As a playwright, Kat has written and performed two solo plays, SEVEN TIMES ME, RAISING LAZARUS, and two comedy shows, KAT'S GOT YOUR TONGUE and THE KAT FRANCOIS COMEDY SHOW, which received a 5 star review at the Camden Fringe Festival.
"Raising Lazarus skilfully blends the personal and political. The show takes the form of a poignant look at her family's heritage that also sheds light on a piece of history too often overlooked." The stage
ABI MORGAN
'Challenges the perceptions of perfect with perfectly barbed & bare verse that hits every time.'
JOSHUA SEIGAL
'Deftly witty wordplay with a side order of self-deprecation. I'd much rather read Joshua's comic verse than be massaged by Tony Blair.' - Elvis McGonagall
Hosted by: PAUL LYALLS 'Has an eye for the absurd' - The Daily Mail 'Playfully comic' - Glasgow Herald
Doors open 7pm, show starts 8pm.
Tickets on the door and in advance £5
Please book your table AND purchase tickets in advance to secure your seats! Table bookings - call 020 3146 8775 (or email bookings@soulove.co.uk) Tickets - visit the musicglue ticket link to purchase in advance.
Karamel - 4 Coburg Road, London N22 6UJ