Jazz at Karamel presents:
Tomorrow's Warriors
Tomorrow's Warriors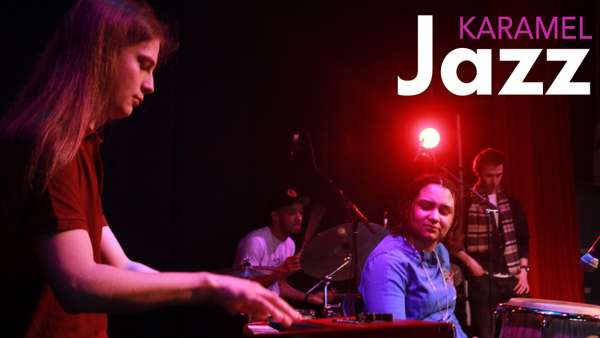 Line-up: Francisco Garcia de Paredes - guitar Donovan Hafner - saxophone Harry Pearce - bass Harry Ling - drums
Francisco Garcia de Paredes is a young jazz guitarist from North London currently studying at the Guildhall School of Music. Francisco draws influence from musicians like Jimmy Raney, Hank Mobley and Lee Morgan as well as more contemporary musicians such as Kurt Rosenwinkel, Mike Moreno and Mark Turner. His dedication to the tradition of jazz as well as well as the more contemporary side of jazz has allowed Francisco to develop his own sound and blend hard bop lines with contemporary vocabulary, voicings and harmony. Only in his first year of studies at Conservatoire level, Francisco is already working around the country, regularly gigging with a wide range of musicians. He is continuing to broaden his musical range and develop his own unique voice in the music.
Over almost three decades the pioneering Tomorrow's Warriors has been at the forefront of UK jazz, developing some of the most talked about jazz artists now electrifying mainstages at venues and festivals the world over. Tomorrow's Warriors is a hothouse for exceptional young jazz talent. Their alumni reads like a 'Who's Who' of jazz in the UK, and they dominate the nominations for the 2019 Jazz FM awards, featuring in an astonishing eight of the nine jazz award categories.
"This a cultural giant, a music making dream team, with generosity at their heart." Cerys Matthews, BBC Radio 6 Music
"Can't overstate the impact Tomorrow's Warriors has had on the current music scene in London." Gilles Peterson, BBC Radio 6 Music
"If you want to know who passed through their doors, it might just be easier to ask who didn't: The list is long and comprehensive." Emma Warren, Red Bull Academy
Music 8pm, Doors 7pm.
Line Up
Donovan Haffner – alto sax
Sultan Stevenson – piano
Jacob Gryn – bass
Cassius Cobbson – drums