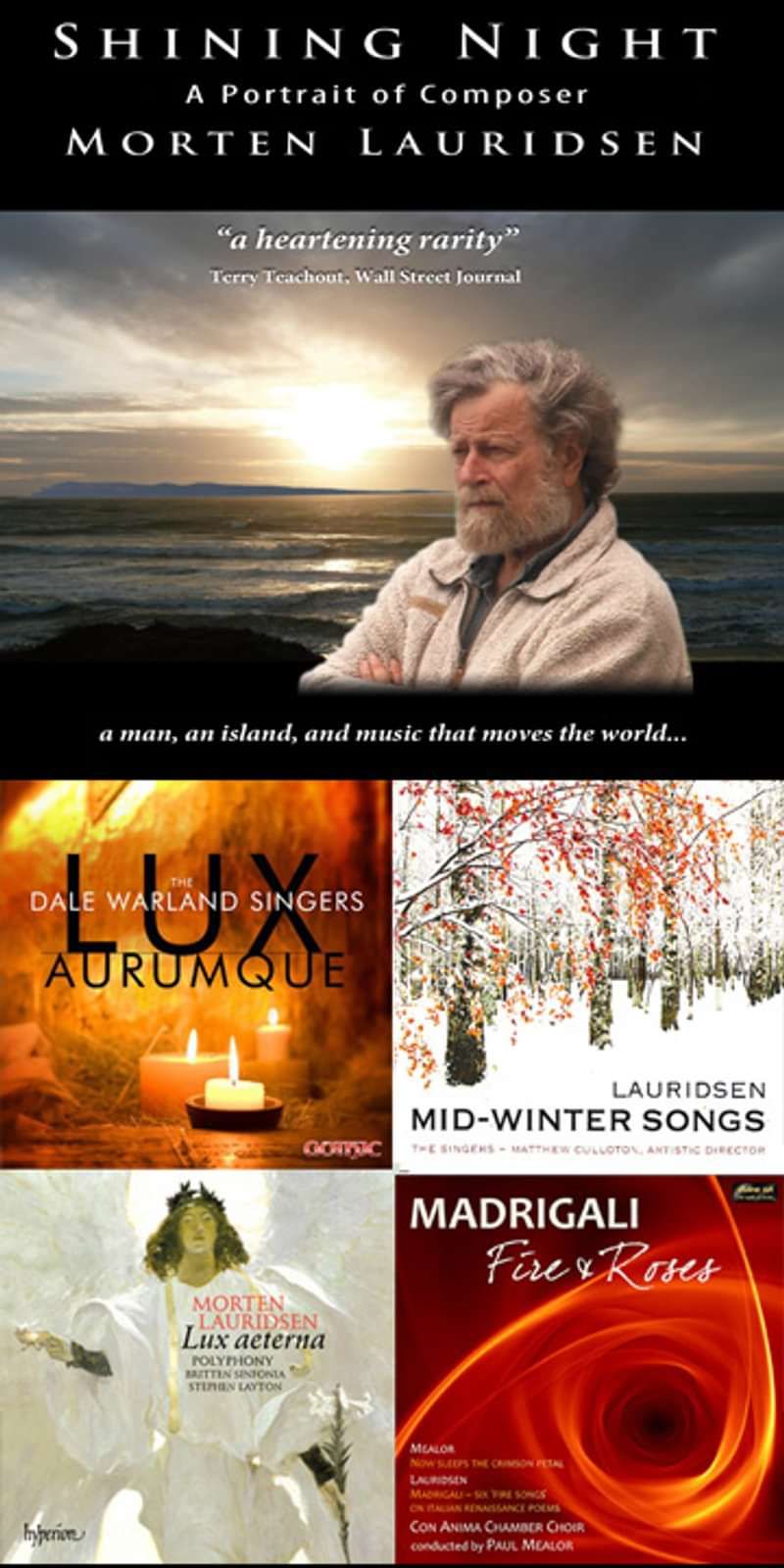 The Shining Night Collection, Premium Edition

CLICK HERE for video introduction to the collection


Includes 'Shining Night: A Portrait of Composer Morten Lauridsen' DVD plus The Shining Night Collection (4 CDs) For anyone wishing to enjoy the Song Without Borders production of the film by Michael Stillwater, Shining Night: A Portrait of Composer Morten Lauridsen, a four-time Best-Documentary-winner acclaimed as 'a heartening rarity' by the Wall Street Journal, together with the composer's own recommended CD's selected from over 200 recordings of his music (these four are from the original film soundtrack)- we offer this special package at great savings.


The Shining Night Collection includes:
Morten Lauridsen: Lux Aeterna (Grammy-Nominated) Performed by Polyphony & Britten Sinfonia, Stephen Layton conducting "the finest recording of Lauridsen's work" - American Record Guide On Hyperion Records
Lux Aurumque Performed by The Dale Warland Singers, Dale Warland conducting "Utterly gorgeous- one of THE great choirs in the world" - American Record Guide On Gothic Records
Lauridsen: Mid-Winter Songs Performed by The Singers/Minnesota Choral Artists, Matthew Culloton conducting "Awe inspiring- easily one of the best choral ensembles in America, if not the entire world"- Jim Svedja, KUSC-FM, Los Angeles On The Singers Recordings
Madrigali: Fire & Roses Performed by Con Anima Chamber Choir, Paul Mealor Conducting "Evocative- commands a beauty and richness of sound- a luminous collection of a cappella works spanning five centuries" - Jean Yves Duperron On Divine Art Records
From the composer:
"Superb recordings by Polyphony and Britten Sinfonia, the Dale Warland Singers, Con Anima Chamber Choir, and The Singers / Minnesota Choral Artists are featured in the film and I extend my deep appreciation to these distinguished conductors, ensembles and record companies for their magnificent artistry and generosity."
This bundle also includes: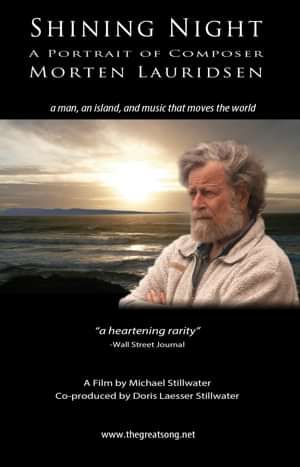 Shining Night: A Portrait of Composer Morten Lauridsen DVD
a man, an island, and music that moves the world
"a heartening rarity"- Terry Teachout, WALL STREET JOURNAL


"A masterpiece about a music master.
See it, listen and fill yourself with all the beauty!"
-Kay Pollak, Film Director/Oscar-nominated As It Is In Heaven.


A Film by Michael Stillwater
Co-Produced by Doris Laesser Stillwater
A Song Without Borders Production
Runtime: 73:23
DVD Region: 0 (universal), NTSC


Winner, Best Documentary DC Independent Film Festival
Winner, Best Documentary Eugene Film Festival, OR
Winner, Audience Choice Award, Friday Harbor Film Festival, WA
Winner, Best Documentary, Asheville Cinema Festival, NC
Nominated, Best Documentary Cincinnati Film Festival
Bronze Medal Oregon Film Awards
Honorable Mention, Los Angeles Movie Awards


View streaming / download film:


Shining Night: A Portrait of Composer Morten Lauridsen, the first episode of the Song Without Borders series, In Search of The Great Song, is also the first documentary made about the artist considered to be one of the greatest living choral composers. A National Medal of Arts recipient, named an 'American Choral Master' by the National Endowment for the Arts, Lauridsen has achieved the status of the most frequently performed modern choral composer.

Featuring his music performed by vocal groups in America and Europe, the film gives the viewer a rare glimpse of his life and inspiration, derived from spending time in solitude in nature. Filmed in Los Angeles, San Francisco, Waldron Island, Washington, and Aberdeen, Scotland.


"A visually ecstatic film...music which stuns"
Don Schwartz, CineSource Magazine


"...brightens what is most ancient, sacred,
and beautiful in the human soul."
Tamsin Smith, Social Entrepreneur and Writer


"Much like the composer's music-
spare, thoughtfully crafted, serene"
David Stabler, The Oregonian, Portland, Oregon


"In its measured pace, reverent air, and sincere, comforting tone...Shining Night resembles nothing so much as its sincere subject and his emotionally direct, soothing music."
-Brett Campbell, Oregon Arts Watch


"...this portrait of the composer as genius/mystic/sea-shaman delivers the same delicious satisfaction as does reading an artist's compelling autobiography, collection of letters, or coming across a hidden cache of their recordings."
- Mary Trainor-Brigham, author, Deep Cinema


"The film's success is...a long "goodnight kiss" to the notion that classical music is untouchable or separate from all other arts."
Stephanie Jones, Volti, San Francisco


"Conveys the musical legend and the gentle, introspective genius."
Eric Whitacre, composer/conductor


"Illuminates the person behind the music,
giving us a rare glimpse into its creative source."
Tim Sharp, Executive Director, American Choral Directors Association


"A world-class film documenting
an equally world-class composer. A 'must have'."
Z. Randall Stroope, American composer-conductor


"Magnificent!"
Derek Weston, Music Educator and Conductor


"Simply stunning!"
Paul W. Schulz, Artistic Director and Founder Northwest Repertory Singers


"Absolutely spellbinding"
Maureen Mayer, Film Producer


"Breathless, remarkable beauty..."
Mary Anne Brundage, Musician and Composer


"Gorgeous"
Joan Halifax Roshi, Santa Fe, NM


"Transcendent"
IMDB review


"Restorative"
Roy Salmond, Whitewater Productions, BC, Canada


"...completely blown away, touched to the core... "
Rita Glassman, Cantor, San Francisco


"A spectacular night..a stunning film"
Michael Fitzpatrick, cellist and filmmaker


"...a feast for eyes, ears, heart and soul."
Fr. John Ball, All Faith Episcopal Parish, St Michaels, Maryland


"...a thing of such beauty and stillness, it touches upon eternity"
Robert Reilly, Author, Surprised By Beauty


"...stunningly meditative"
Krista English, director, Peterborough International Film Festival


"Magnificent! A wonderfully spiritual portrait of a great artist."
Br Michael Gallagher OSB, Holy Cross Monastery, Beaumont, Texas


"Exquisitely beautiful...so stunning I wept all the way through."
Jo-Anne Silverman, Victoria, BC, Canada


"Love the movie!!! We understand Morten's music better when we hear and see him in his element. "
Jerry Blackstone, Director of Choirs, University of Michigan


This bundle also includes: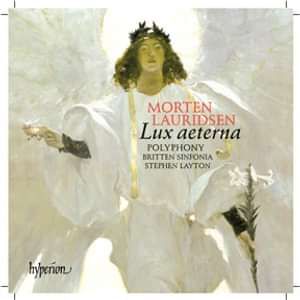 Morten Lauridsen: Lux Aeterna
from the Shining Night Collection
Music of Morten Lauridsen Performed by Polyphony & Britten Sinfonia
Hyperion Records


TRACKS


Lux Aeterna: Introitus In te, Domine, speravi O nata lux Veni, Sancte Spiritus Agnus Dei, Lux Aeterna
Madrigali: Ove, lass, il bel viso? Quando son piu lontan Amor, io sento l'alma Io piango Luci serene e chiare Se per havervi, oime
Ave Maria Ubi caritas et amor O Magnum Mysterium
This Grammy-nominated disc from the multi-award-winning choir Polyphony is something rather special. At once genuinely original and yet reassuringly accessible, the music of Morten Lauridsen has achieved something of a cult status in his native America (O Magnum Mysterium currently being the top-selling choral octavo in the country- the number 2 spot is also a Lauridsen work), and Stephen Layton draws from his musicians some of the most ardently lyrical performances of recent years.
Lux aeterna was greeted by The Times after its London premiere thus: "a classic of new American choral writing...in this light-filled continuum of sacred texts, old world structures and new world spirit intertwine in a cunningly written score, at once sensuous and spare." Were a comparison to be sought, it would perhaps with with Faure's Requiem, but this new work must surely be allowed to stand as unique.
The Madrigali, subtitled Six Fire Songs on Italian Renaissance Poems, are phenomenally challenging unaccompanied choral works, very much in the tradition of Monteverdi and Gesualdo. Yet the technical difficulties they present to the performer are disguised from the listener by a seamless sense of purpose which unites the cycle into a whole of stunning effect. Occupying a similarly opulent sound-world to Lux Aeterna, the three Latin motets which conclude this disc are truly modern masterpieces in the traditional motet genre.
This bundle also includes: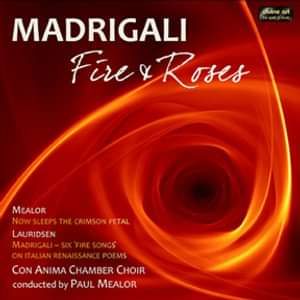 Madrigali: Fire & Roses
Music of Morten Lauridsen and others Performed by Con Anima Chamber Choir Music composed by Morten Lauridsen, together with music by Paul Mealor and others. From the collection, 'Music from Shining Night: A Morten Lauridsen CD Treasury', as seen recorded in the film 'Shining Night' in a beautiful 16th century Scottish chapel.
A luminous collection of a cappella choral works spanning five centuries, the showpiece of which is the Now Sleeps the Crimson Petal cycle, by Paul Mealor himself, of which the first movement was personally chosen by Prince William and Kate Middleton (now the Duke and Duchess of Cambridge) as the musical centerpiece of the April 2011 Royal wedding service.
An impressive choral work that superbly combines the clean and open harmonies of the Renaissance, with the more distant harmonic intervals of today, and sits within a pitch range that always serves the four individual voice parts extremely well. An evocative work that at times demands vocal gymnastics from the singers, but most of all commands a beauty and richness of sound too often absent from today's music.
The Scottish Con Anima Chamber Choir is quickly establishing a reputation as a choral ensemble that can comfortably adapt to the various demands of music past and present, as evidenced on this new recording. From John Ward, to Gustav Holst, to Morten Lauridsen, their delivery enhances the music's character and style, and never sounds as if out of its element. The blend of voices from the basses to the sopranos is always in perfect equilibrium, and could be compared to a supple and malleable fabric that conductor Paul Mealor can easily mold and shape to fit the music at hand.
This bundle also includes: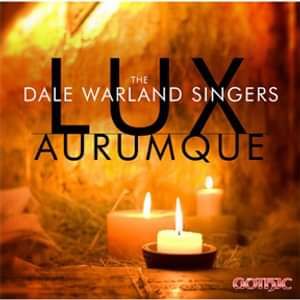 Lux Aurumque
from the Shining Night Collection
Music of Morten Lauridsen, Eric Whitacre, Sergei Rachmaninoff, John Rutter and others Performed by The Dale Warland Singers

From the collection, 'Music from Shining Night: A Morten Lauridsen CD Treasury', featuring the soundtrack music from the film, Shining Night: A Portrait of Composer Morten Lauridsen.


The Grammy-nominated Dale Warland Singers release their highly anticipated final recording, Lux Aurumque. This program of popular 19th- and 20th-century sacred music amply demonstrates the high choral standards Warland reached with his now disbanded group. The trademark Warland sound is captured brilliantly by the Grammy award-winning team of Steve Barnett and Preston Smith.
"10 Best Classical CDs of 2007" : National Public Radio / American Public Media


"...simply put, [Lux Aurumque] represents where the bar is set for choirs today. The repertoire is 19th- and 20th-century sacred motets, sung with a deep spirituality. Warm-hearted, touching stuff. Mixed-voice choral work does not get any better than this!"
This is a 20th-century program and constituted of challenging music. It is also ravishing music in the hands of an ensemble as subtle as this one...The dynamic range of this ensemble was enormous and it is well captured by Gothic...the Dale Warland Singers stopped at the peak of their form. What a way to go!
This bundle also includes: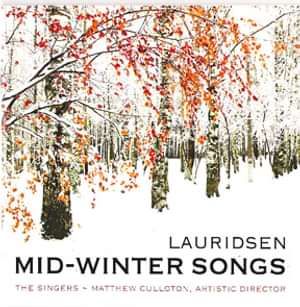 Lauridsen: Midwinter Songs
from the Shining Night Collection
Music of Morten Lauridsen
Performed by The Singers/Minnesota Choral Artists
From the CD collection,
Music from Shining Night, a Treasury of the Music of Morten Lauridsen


LES CHANSONS DES ROSES
En Une Seule Fleur [2:36] Contre Qui, Rose [4:03] De Ton Reve Trop Plein [2:47] La Rose Complete [3:59] Dirait-on [5:01]
THREE PSALMS
O Come Let Us Sing Unto the Lord [3:05] I Will Lift Up Mine Eyes [3:36] Psalm 29* [4:40]
FOUR MADRIGALS ON RENAISSANCE TEXTS
To One That Desired To Know My Mistress [2:32] Slow, Slow, Fresh Fount [2:47] To My Mistress, I Burning In Love [3:25] Mediocritie In Love Rejected [2:51]
MID-WINTER SONGS
Lament for Pasiphae [4:44] Like Snow [1:29] She Tells Her Love While Half Asleep [4:25] Mid-Winter Waking [1:34] Intercession in Late October [6:00]
NOCTURNES
Sa Nuit d'Ete [3:22] Soneto de la Noche [2:36] Sure on this Shining Night [4:57] Epilogue: Voici le soir [2:26]