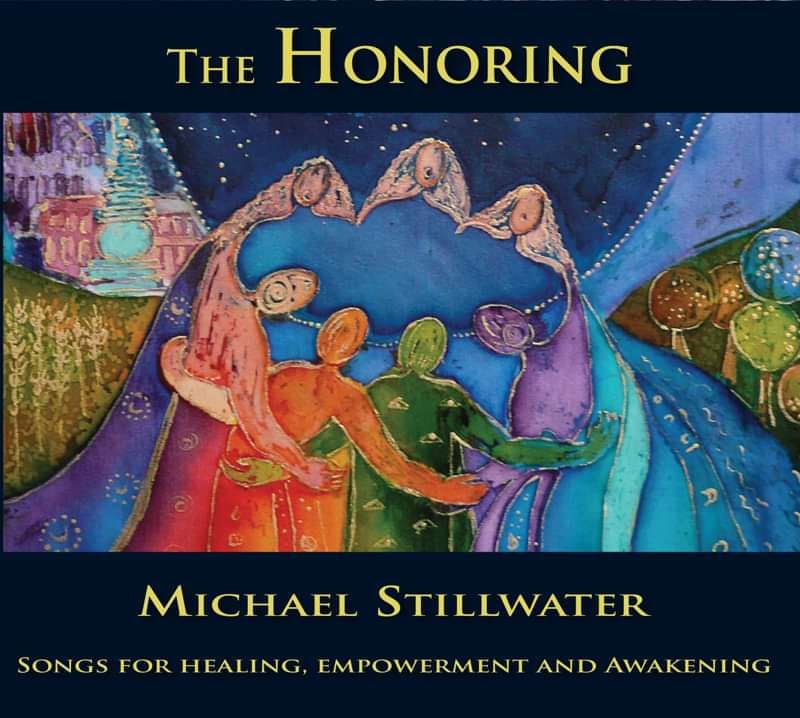 The Honoring
Songs for Healing, Empowerment and Awakening
(2008) Thirteen songs created 'in-the-moment' by musical intuitive Michael Stillwater in Honoring Ceremonies throughout Europe and America. These songs have been selected from hundreds, the original live recordings then accompanied by cello, bass, percussion, and vocal harmonies in the studio.
The Honoring provides an experience of the Honoring Ceremony, a program evolved over thirty years of Michael's intuitive song work. By the nature of shared human experience, a song inspired by one individual's request becomes meaningful to many. Themes of healing, empowerment, relationship and awakening are woven throughout every ceremony.
The album features Michael's intuitive lyrics and guitar together with the musicality of West Coast vocalist Holly Croydon (also appearing on the Inner Harmony recordings Feels Like Home and O Great Spirit) and Swiss performers Daniel Pezzotti (cello), Wolfgang Zwiauer (bass), Willy Kotoun (percussion) and Stephan Thelan (guitar).
Producers: Michael Stillwater and Leme
Executive Producer: Doris Laesser Stillwater

Additional Recording: Powerplay Studio, Maur, Switzerland
Total Time: 66:00


Special thanks to Ursula Lamberson for her sponsorship of this recording.
A Song Without Borders Project