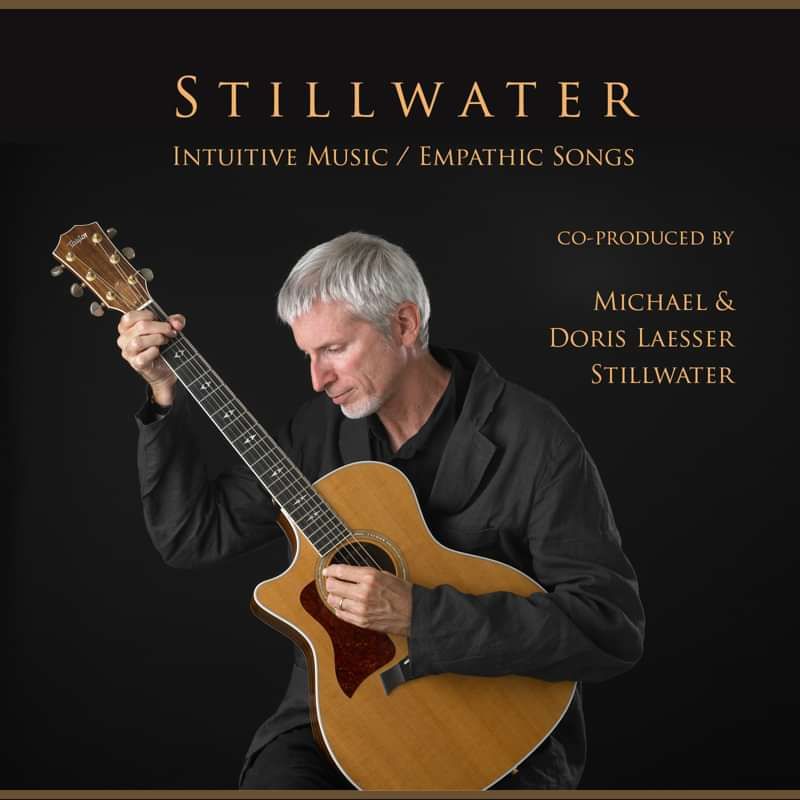 Stillwater: Digital
Intuitive Music / Empathic Songs
Stillwater Album Lyrics.pdf
Stillwater Album Lyrics lo-res.pdf
Important Note: Once you have purchased this download title, you will still need to download it. The file is not sent to you automatically. It awaits you on your Music Glue account page. Simply go to your order page, click 'download'- and voila! You will receive your download!



Listen to the Music:



CLICK HERE to watch 'Stillwater Album Trailer'


Includes 11 songs (MP3 ) and Illustrated Lyric Booklet (PDF)


About the Music:


"Michael Stillwater's latest work is an album of 11 intuitively received songs, accompanied by guitar and underscored with beautiful orchestral arrangements. Everything feels so "finished" it's hard to imagine these songs were once birthed in a moment of pure intuitive sharing.
"Michael is able to catch the essence of the present moment and transforms what he feels into an intimate and moving sound portrait. His music invites us to engage in a deeper, more courageous connection to our own heart. Soothing and meditative, these are powerful songs that flow out of the songwriters own soulfulness and deeply touches our own. In a time of insecurity Michael's velvety bass voice comforts and reassures us that the heart is the safest place to be. An album and a message for our times."

-Mark Fox, Singer/Author/Educator


Lyrics are Michael's spontaneous response to a variety of themes- on healing, letting go, empowerment, freedom, relationships, clarity of direction, etc. These themes are spoken as a request or personal declaration during a song portrait session or from a participant within a group seminar.

While each unique song is catalysed and inspired by one person, it expresses a theme which may be transferable to other people's lives. In this way the songs serve together as a kind of musical tapestry mirroring the experience of our human journey.

These songs are selected from honoring ceremonies and song portraits in America and Europe between 2007 and 2020. This is Michael's fourth album of spontaneous songs following Sanctuary (1990), BirthSongs (1995), and The Honoring (2008).

All instrumental accompaniments (bass, strings, horns, etc.) arranged by Michael with minimal editing, such as deletion of chorus repetitions.

What Others Are Saying:

"Opening hearts as it heals our wounds, this music helps us treasure ourselves." -Ondrea Levine, Author
"Comfort, hope, and inspiration to navigate the important transitions before us." -Alan Cohen, Author
"I`m deeply touched. Your songs lead me into the room of light inside me." - Irmgard Nauck, Pastor, Church of Silence, Hamburg
"Lulls the heart into gently releasing fear" -Katriona Munthe, Psychologist, Tuscany
"A voice of deep knowingness and resonance providing a balm of calmness in troubling times." - Barry Fishman, Educator
"Expressing devotion to the sacred while inviting us to a vision of life at a higher vibration." -Marlowe Raffael, Bay Area Artist/Writer
"A magnificent culmination of decades singing spontaneously created words and melodies of spirit, heart, oneness and love." - Don Schwartz, Actor/Journalist
"Musik, die unter die Haut geht. Ein Meisterwerk!" - Christian Bollmann, Recording Artist, Bonn
"Michael versteht es wie kein Anderer, maßgeschneiderte heilsame Texte und Melodien zu kreieren, die direkt die Seele und unsere Selbstheilungskräfte ansprechen." - Katharina und Wolfgang Bossinger, Singers/Authors/Educators
Some Responses from Song Recipients:
(My Right Place) "My place at this time is right here where I am. And that gives a different feeling to me, it's quieter and more peaceful."
(The Healing) "I still keep hearing the song; again and again. It hugs me and gives me comfort and hope. The leaves have fallen, spring has come and the pain is getting smaller and smaller in me too."
(A Way to You) "All my senses have opened for this Great Love, for this Great Power, for God. There's nothing to add. I can just enjoy the now, revel in it."
(End of Confusion) "I recall so vividly when first you sang it to me, my tears streaming down, healing ebbing through me. What a sweet reminder to hear it again during this time of quarantine when I yearn for equilibrium."
With deep thanks to all song recipients in the honoring ceremonies and personal song portraits for inspiring these spontaneous songs.
Voice & Guitar: Michael Stillwater
Words & Music: Michael Stillwater
Arrangements: Michael Stillwater
Executive Producer: Doris Laesser Stillwater


Intuitive Music Archive Research:Evelyn Schmelzer
DAW/Music Consult:Dan Alvarez
Mastering Support:Frank Wendeberg

An Inner Harmony Production

In Association with SongLife & Song Without Borders


commission your own personal song portrait here


SAMPLE PAGES from Stillwater Album Lyric Booklet