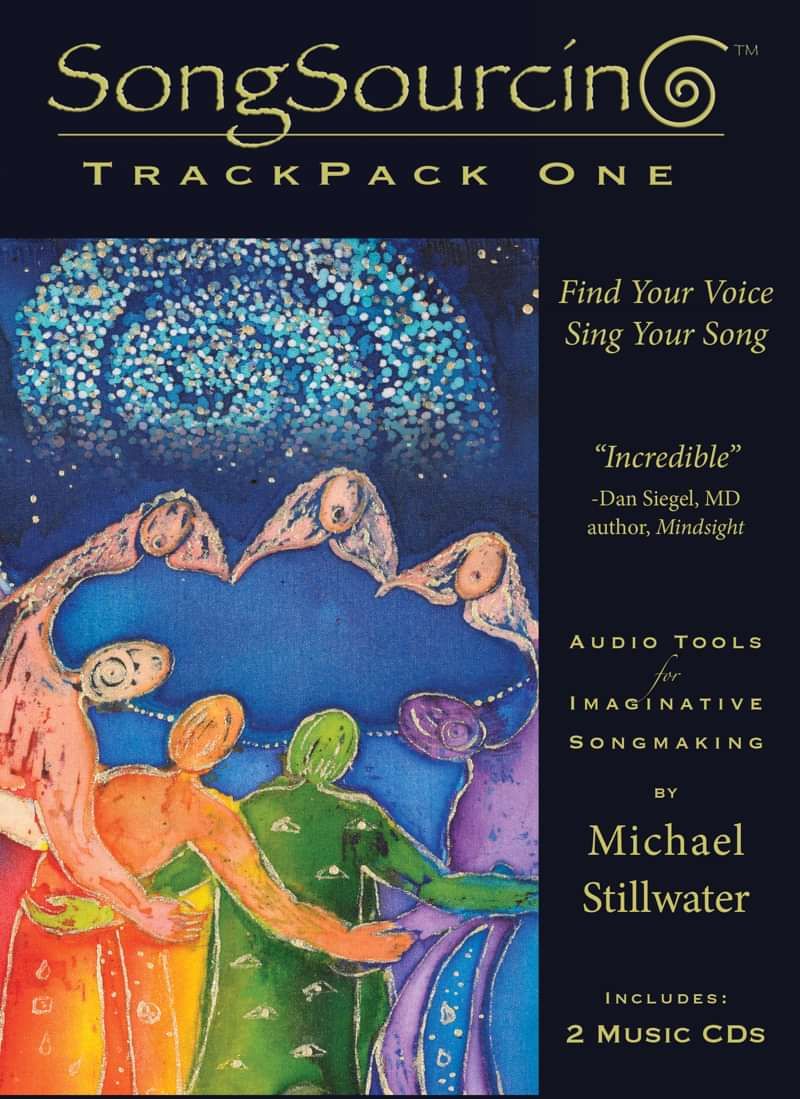 SongSourcing Trackpack One- Digital
Audio Tool for Imaginative Songmaking
SongSourcing Introduction
Important Note: Once you have purchased this download title, you will still need to download it. The file is not sent to you automatically. It awaits you on your Music Glue account page. Simply go to your order page, click 'download'- and voila! You will receive your download!




CLICK HERE for video introduction to SongSourcing


(2009) SongSourcing TrackPack One addresses one of the deepest, often-unmet desires of the soul- to sing and to create. What if the fear of singing and creating was gone?
SongSourcing TrackPack One is a unique collection of thirty harmonic patterns, minimalist acoustic music without words created in folk, jazz and rock styles to ignite your creative flow.
Would you like to experience the same high that jazz musicians get when they improvise?
"There is a songwriter in everyone. Michael Stillwater helps set that inner songwriter free." -Donny Pike, from The Lettermen
"SongSourcing gives me a daily practice I can do anytime, anywhere. With stunning simplicity it unlocks the intelligence of my own body, using my voice as healing medicine" -Val Cooper, Music Director, Universal Spirit Center, San Diego
Adding up to nearly two hours of music, TrackPack One is now available for instant downloading. Play the tracks through your speakers and participate by adding your own voice. Let SongSourcing, an innovation in imaginative music education, help you reconnect with your inner songmaker.
Young children engage in spontaneous songmaking every day with unabashed ease; now you can too. Using a method bringing together natural expression with being present in the moment, SongSourcing can help you rekindle your inner creative fire.
With SongSourcing, you begin to reclaim your natural capacity for songmaking today- not only for your own healing and creative fulfillment, but as a marvelous way of playfully, authentically, and intimately connecting with others.
"I was completely delighted and surprised by Michael's spontaneous songmaking process, mostly by the fact that I could do it, and, by how it revealed to me hidden parts of my psyche. Engaging the singing voice in verbal free-association makes this a wonderful tool for self exploration." -Shivon Robinsong, Founder, Gettin' Higher Choir 400-voice community choir, Victoria, BC
For forty years I've learned to love my voice, to accept it and release it from judgment. What I discovered, in seeking my own healing and creative release, is a method so simple and effective it called out to be shared.
SongSourcing is designed to unlock your hidden creativity, effective as a musical stimulus and 'permission-giver', regardless of whether or not you believe you can sing or make up a song. SongSourcing catalyzes the re-awakening of the dormant songmaker within.
Could you rediscover yourself through song?
"An incredible experience of letting the inside out." -Dan Siegel, MD; author, The Mindful Brain, Mindsight
For those new to spontaneous songmaking: an exciting adventure awaits. You will soon see where your personal 'edge' is, and feel what is required in order to go beyond that edge. Basically, all that's needed is a curiosity to listen and a willingness to participate with your own sense of attunement- to whatever degree you can right now.
For those already at ease with singing or songwriting: SongSourcing is a robust music application for expanding improvisatory capacity while deepening trust in the present moment.
For those on a path of personal growth and expression: SongSourcing offers a powerful complementary practice which integrates beautifully into solitary, couple or group activitiies.
For those who have participated in my workshops: SongSourcing, CoreSong ReConnection, Voices of the Heart or SoulVoice, you already know what is possible using these songtracks! With TrackPack One you now have access to support your continued practice, either on your own or with friends, with no limit on the number of song variations you can make up!
For those who facilitate voice workshops or direct choirs: SongSourcing provides a fun and powerful improvisatory exercise to add to your repertoire- try it out! If students or choir members like, they can download their own copy of TrackPack One to continue practiticing at home. (Thank you for not making copies of this recording!)
For elementary school teachers: SongSourcing is an effective and imaginative way of starting each day- give the class a songmaking exercise, coupling each child with a partner, and then asking them to sing with the music of a track- three to four minutes each, a practice not only in expressing but listening too!
Most of us are already way too familiar with the voice that says something like "you can't sing or make up a song- and better not even try!" Why not take a chance and offer amnesty to the part of you which, while well-concealed by a protective inner critic, refused to release your inner song until now?
Could you actually be a singer and songwriter, today?
" ...to suddenly find myself creating song from a heart-felt experience and in a poetic form was an amazing and liberating experience. Not in a million years did I imagine I could connect with myself - and others- in this extraordinary manner!" -Mel Woolley, Community Development Strategist, Calgary
The most important thing is to let it be OK exactly as it is, wherever your creative capacity is in this moment. Set aside judgment of your expression or anyone else's, and simply allow your feelings to guide your natural songmaking ability.
As you listen to these SongSourcing tracks, you will realize there is no familiar melody to hum, but only an ever-repeating harmonic pattern waiting for your own melody, words or sounds to emerge. If you try to listen as you would to ordinary instrumental music, it may seem something is missing...and it is! It's missing your voice, your expression, your song! In fact, I challenge you to listen to this music in the background for any length of time without a new song finding it's way through you!
Includes 30 instrumental tracks (two CDs worth) Categorized by tempo and genre (folk, jazz and rock) Average track length: 4 minutes Easy, repeating patterns inspire effortless songmaking Total Time: 110 minute Tracks with '.2' (i.e. Slow Folk 1.2) indicates key/pitch variation Currently available only in complete edition digital download
Producer/Composer: Michael Stillwater Engineer: Daniel Hobi Guitar: Michael Stillwater Bass: Claudio Strebel, Felix Kuebler Percussion: Willy Kouton, Roland Waeger Recorded at: Sound Development Studios, Zurich Special thanks: Ursula Lamberson and Grant Abert A Song Without Borders Project Copyright 2009 Inner Harmony Music