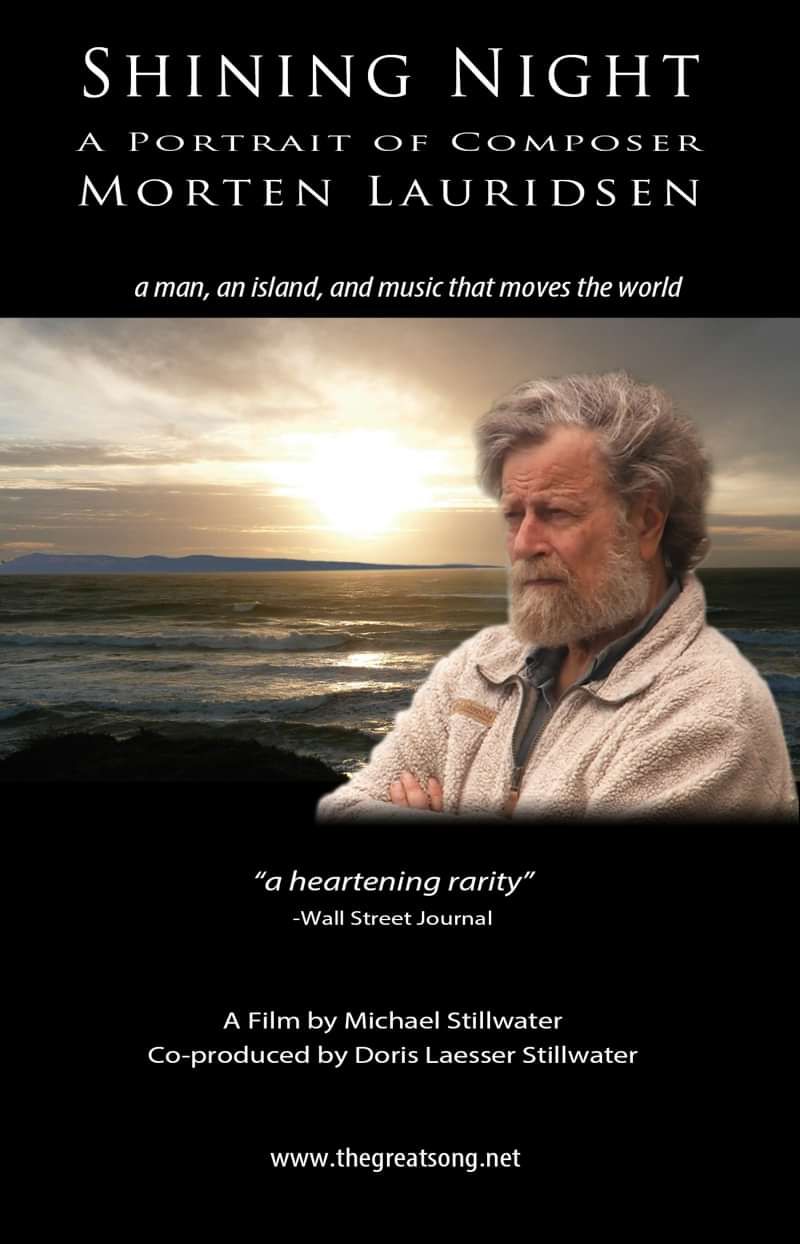 Shining Night: A Portrait of Composer Morten Lauridsen DVD
a man, an island, and music that moves the world
"a heartening rarity"- Terry Teachout, WALL STREET JOURNAL


"A masterpiece about a music master.
See it, listen and fill yourself with all the beauty!"
-Kay Pollak, Film Director/Oscar-nominated As It Is In Heaven.


A Film by Michael Stillwater
Co-Produced by Doris Laesser Stillwater
A Song Without Borders Production
Runtime: 73:23
DVD Region: 0 (universal), NTSC


Winner, Best Documentary DC Independent Film Festival
Winner, Best Documentary Eugene Film Festival, OR
Winner, Audience Choice Award, Friday Harbor Film Festival, WA
Winner, Best Documentary, Asheville Cinema Festival, NC
Nominated, Best Documentary Cincinnati Film Festival
Bronze Medal Oregon Film Awards
Honorable Mention, Los Angeles Movie Awards


View streaming / download film:


Shining Night: A Portrait of Composer Morten Lauridsen, the first episode of the Song Without Borders series, In Search of The Great Song, is also the first documentary made about the artist considered to be one of the greatest living choral composers. A National Medal of Arts recipient, named an 'American Choral Master' by the National Endowment for the Arts, Lauridsen has achieved the status of the most frequently performed modern choral composer.

Featuring his music performed by vocal groups in America and Europe, the film gives the viewer a rare glimpse of his life and inspiration, derived from spending time in solitude in nature. Filmed in Los Angeles, San Francisco, Waldron Island, Washington, and Aberdeen, Scotland.


"A visually ecstatic film...music which stuns"
Don Schwartz, CineSource Magazine


"...brightens what is most ancient, sacred,
and beautiful in the human soul."
Tamsin Smith, Social Entrepreneur and Writer


"Much like the composer's music-
spare, thoughtfully crafted, serene"
David Stabler, The Oregonian, Portland, Oregon


"In its measured pace, reverent air, and sincere, comforting tone...Shining Night resembles nothing so much as its sincere subject and his emotionally direct, soothing music."
-Brett Campbell, Oregon Arts Watch


"...this portrait of the composer as genius/mystic/sea-shaman delivers the same delicious satisfaction as does reading an artist's compelling autobiography, collection of letters, or coming across a hidden cache of their recordings."
- Mary Trainor-Brigham, author, Deep Cinema


"The film's success is...a long "goodnight kiss" to the notion that classical music is untouchable or separate from all other arts."
Stephanie Jones, Volti, San Francisco


"Conveys the musical legend and the gentle, introspective genius."
Eric Whitacre, composer/conductor


"Illuminates the person behind the music,
giving us a rare glimpse into its creative source."
Tim Sharp, Executive Director, American Choral Directors Association


"A world-class film documenting
an equally world-class composer. A 'must have'."
Z. Randall Stroope, American composer-conductor


"Magnificent!"
Derek Weston, Music Educator and Conductor


"Simply stunning!"
Paul W. Schulz, Artistic Director and Founder Northwest Repertory Singers


"Absolutely spellbinding"
Maureen Mayer, Film Producer


"Breathless, remarkable beauty..."
Mary Anne Brundage, Musician and Composer


"Gorgeous"
Joan Halifax Roshi, Santa Fe, NM


"Transcendent"
IMDB review


"Restorative"
Roy Salmond, Whitewater Productions, BC, Canada


"...completely blown away, touched to the core... "
Rita Glassman, Cantor, San Francisco


"A spectacular night..a stunning film"
Michael Fitzpatrick, cellist and filmmaker


"...a feast for eyes, ears, heart and soul."
Fr. John Ball, All Faith Episcopal Parish, St Michaels, Maryland


"...a thing of such beauty and stillness, it touches upon eternity"
Robert Reilly, Author, Surprised By Beauty


"...stunningly meditative"
Krista English, director, Peterborough International Film Festival


"Magnificent! A wonderfully spiritual portrait of a great artist."
Br Michael Gallagher OSB, Holy Cross Monastery, Beaumont, Texas


"Exquisitely beautiful...so stunning I wept all the way through."
Jo-Anne Silverman, Victoria, BC, Canada


"Love the movie!!! We understand Morten's music better when we hear and see him in his element. "
Jerry Blackstone, Director of Choirs, University of Michigan