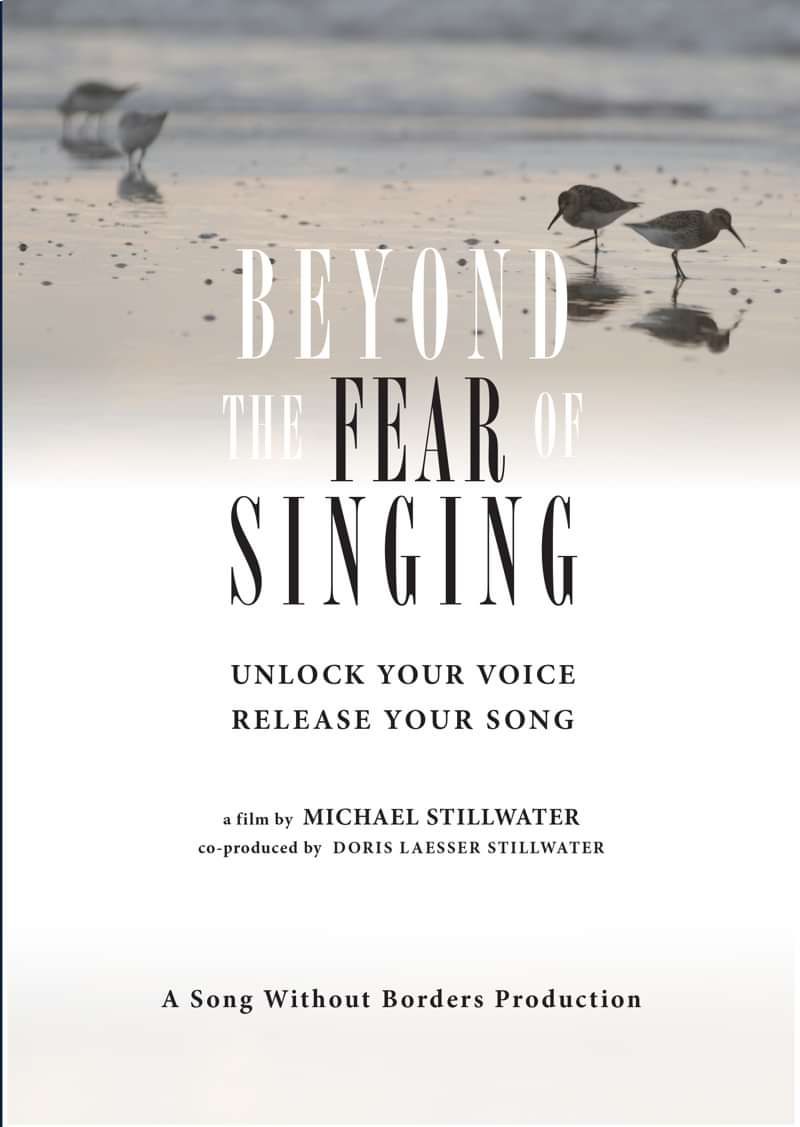 Beyond the Fear of Singing DVD
Unlock Your Voice. Release Your Song.
A Film by Michael Stillwater
Co-Produced by Doris Laesser Stillwater
A Song Without Borders Production


Winner, Moondance Int'l Film Festival (2019)
Winner, Hollywood Int'l Independent Documentary Awards (2018)
Winner, Royal Reel Award, Canada Int'l Film Festival (2019)
Winner, Kodiak Award, Alaska Int'l Film Awards (2019)
Official Selection, Switzerland International Film Festival (2018)
Official Selection, Lift-Off Online Film Festival (2019)
Official Selection, Friday Harbor Int'l Film Festival (2019)


CLICK HERE for streaming / downloading film


"You can't resist singing, after watching this film. Highly recommended!"
-Nicol Matt, Conductor, Chamber Choir of Europe


"The fear of singing is a worldwide epidemic. This exquisite film offers the 'why' and 'how' of the cure."
-Nancy Salwen, Author The Fear of Singing Breakthrough Program


"For many years, I didn't sing. A music teacher had told me I can't sing. I hadn't realised I was deprived of my voice, but it affected my confidence in expressing myself in so many areas of my life. This film reminded me of that basic human instinct. I saw that I was not alone in this. It's beautiful to see so many who have reclaimed their power from old stories. Like it's said in the film, "it's not about singing, it's about the voice"

Thejasvi Parthasarathy, Bangalore, India


In a society where people are measured according to the prowess of their performance, early childhood criticism of our sound or comparing our expression to others may contribute to hiding our own voice and creativity.


"Your voice is the muscle and messenger of your soul.
This is an essential film for discovering the profound role
sound and singing plays in transforming communication in all realms of life"
-Chloe Goodchild, singer, voice pioneer
author & founder of The Naked Voice


After a lifetime of hiding one's singing voice, the passage of 'coming out of the cave' is a personal journey often requiring profound courage and self-acceptance. Filmed in North America, Europe, Australia and India, this is the third feature from In Search of the Great Song, the award-winning documentary series exploring and celebrating the music that lives in all of us.


"Another triumph!" -Morten Lauridsen, National Medal of Arts recipient


As told through spoken insights and original music of voice educators, artists and people on 'the road of vocal recovery', a global epidemic of silenced song is being met by an irrepressible uprising of the primal urge to sing.


"So much more than its title describes. If you are on any form of spiritual path, I highly recommend experiencing this movie." - Joe Marshalla, author


Whether you adamantly believe you can't sing or absolutely love the sound of your own voice, a diversity of perspectives brings hope, humor and possibility to this intimate yet universal phenomenon, with imagery of flowing water and birdsong woven throughout, echoing the natural flow of creativity.


"See this film. Sing your song." -Don Schwartz, CineSource Magazine


Performers and 'non-performers' share their experience while vocal educators from around the world invite viewers to 'come out of hiding'.


"Magnificently drives home how important it is for people to discover the depth of their own voice in the most human terms." - Adam Huber, author


"the film is an invitation to remember that music is a never ending stream, for everyone" -Jan Kortie, voice liberator, Amsterdam
"Spectacular! Made me weep. A celebration of the unquenchable song in every heart and the courage it can take to emerge from hiding." -Ondrea Levine, author


This is the third release in the original film series co-produced by Michael Stillwater and Doris Laesser Stillwater. Their first film, Shining Night: A Portrait of Composer Morten Lauridsen was deemed 'a heartening rarity' in Wall Street Journal and received four Best Documentary awards. Their second release, In Search of the Great Song, received two film awards in its first month of release.


"A penetrating and healing journey into the part of all of us that wants to sing--not just vocally, but to sing our soul's song on the magnificent majestic stage of life. If you have ever felt shy about showing up, this film will give you a welcome boost to your next masterful expression." - Alan Cohen, author