Haggard Cat is the adrenaline charged, ever evolving brainchild of Matt Reynolds and Tom Marsh. They are set to independently release their new EP, 'Cheer Up', on 3rd September 2021. The Nottingham-based duo defied all expectation with their last record 'Common Sense Holiday' which saw the group open-out into new realms of experimentation and was met with wide critical acclaim. Now with 'Cheer Up' (produced by double-Grammy Award winning Adrian Bushby) they look to take things even further, this time completely on their own terms, free of record label ties. The results are cataclysmically clear; Haggard Cat are hungry and willing to devastate all that lays in their wake.
Haggard Cat's DIY ethic and propensity for pulling off memorable antics has already garnered them a reputation as a band that push boundaries beyond the status quo. A recent stunt involved the two musicians holed up in a small concrete box for 24 - hours as a visual metaphor for how Brexit will impair British bands' abilities to tour Europe (the results of which can be seen in their video for European Hardware). The pair also got creative with their homemade ode to kabuki theatre in the video for Bone Shaker and defied expectations when they opened 2000Trees festival by playing a set exclusively made up of Nirvana covers a-top the Signature Brew bar. Even the band's earliest gigs were injected with a frisson of danger (and no doubt intense intoxication) as the terrible twosome would place a bottle of whiskey on- stage and proceed to play until said bottle was empty.
Matt Reynolds (vocals and guitar) and Tom Marsh (drums) have been playing together as a two-piece since 2011 (originally under the more unwieldy name of Haggard Cat Bothday Present, or HCBP for short). They self-released their debut Charger, a heavy-blues smash-suite of 10 songs recorded live in one day, on Valentine's Day in 2013. But it was signing to Earache and the release of 2018's Challenger that began to put Haggard Cat on the map, with the duo picking up support slots with the likes of Enter Shikari, Band of Skulls, Dead Kennedys, Jamie Lenman, Inme, Virginmarys, Black Peaks, DZ Deathrays and Ugly Kid Joe as well as rapturous appearances at Glastonbury, Boomtown and main stage appearances at 2000 Trees and ArcTanGent.
Cheer Up truly captures the lightning in a bottle dynamic between two players locked in a psychic groove whilst continuing to evolve and expand on the sound that has won over so many crowds across the UK and Europe.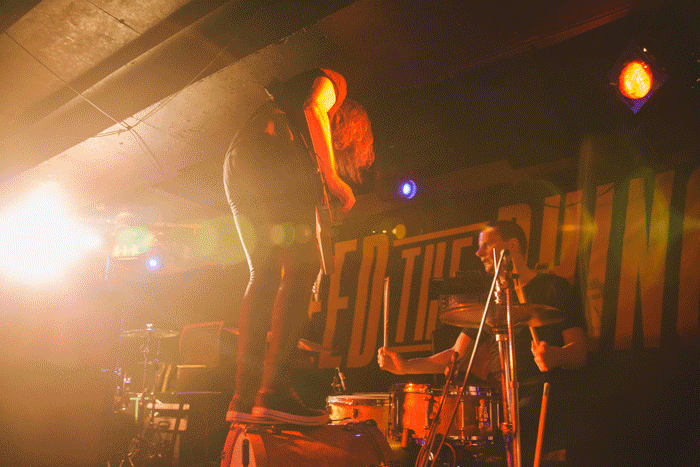 Press for Common Sense Holiday
"Infectious, energising and impactful tracks to soundtrack troubled times" - Louder Than War
"Brimming with personality and barely restrained energy" - Kerrang!
"A boundary breaking duo who thrive on the unpredictable" Alternative Press
"A benchmark for the alternative music scene" - Punktastic
"(HC) Laughs in the face of conformity and obedience" - Noizze
"By expanding their palette, HC are no longer purveyors of merely great riffs, but great songs as well" - Metal Hammer
"Perfect for a label built on righteous fury. Very good indeed." - Classic Rock
"By far Haggard Cat's best work" - Discovered Magazine
"Sharp and enormously relevant, Haggard Cat finally fall into the mould of Britrock excellence" - The Sound Board
"Lyrically this feels like an important release, the subjects covered and the rounded way they are delivered show both knowledge and maturity" - Bring the Noise
"A full blown blast of live-wire rock and roll" - Distorted Sound
"Packed to the rafters with colossal riffs and a matching gravity to the lyrical ideation, there's never a dull moment" - Rock Sins
"Very rarely does a record with such a simple set up keep you this intrigued all the way through" - Dead Press