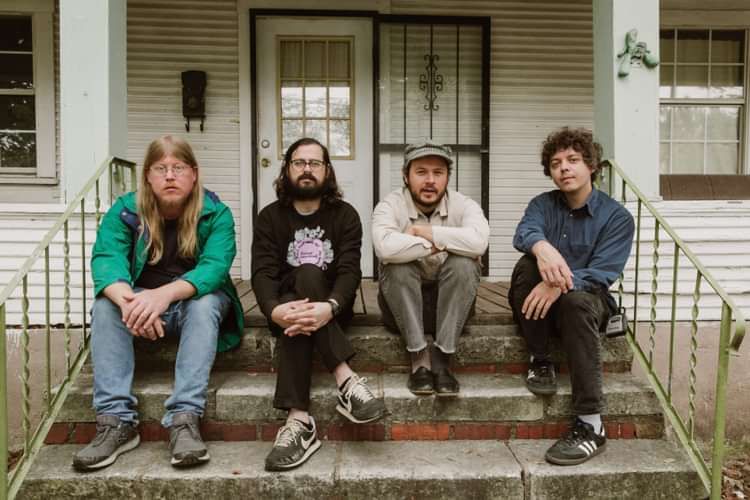 Gravy Train presents:
HOLY WAVE + DREAMWAVE
£12.50
Entry Requirements: 18+
Buy Tickets
In Tarot readings, the Five of Cups card signifies loss and grief. Depicting a cloaked figure with a bowed head looming over three spilled chalices while ignoring two remaining vessels, the Five of Cups is generally interpreted as representing a forlorn dwelling on the past and an inability to appreciate the positive things in the present. It was this card that struck a chord with vocalist/guitarist Ryan Fuson, member of the Austin TX subversive subterranean pop outfit Holy Wave, during a Tarot reading at the height of the pandemic. "I was really sure that the music world was finished and it seemed like internet aggression and, well, aggression in general was at an all-time high, so I was ready to stop playing music," Fuson says. "It could be so easy to become jaded and pessimistic and I had to really decide what perspective I was going to take." Rather than abandon music, Fuson and his compatriots chose to immerse themselves in their work. Fittingly, the Tarot card became the muse for Holy Wave's sixth full-length album—Five of Cups.
Back at the beginning of their fifteen-year career, Holy Wave leaned into a tranquil realm of psychedelia, eschewing long-form jams and guitar heroics for a dreamy pop-oriented approach. As the band evolved, the early Sgt. Peppers-meets-the-Velvets sound yielded to more sophisticated melodies and tripped-out instrumentation, effectively steering their music away from sun-bleached nostalgia to a color-saturated dimension where sounds of the past, present, and future intermingled.
The childhood friends of Fuson, Joey Cook, Kyle Hager, and Julian Ruiz grew up in El Paso, where they cut their teeth in the local DIY scene. Hungry for more music and broader perspectives, the members made frequent road trips across the Southwest to catch touring bands who opted to skip West Texas markets. That wanderlust eventually prompted their relocation to Austin, but it also permeated in their adventurous songwriting and love for touring. No small surprise then that these aural explorers felt that a whole way of life was taken from them with the onset of the pandemic. But on Five of Cups, it sounds as if the physical limitations of quarantine life prompted Holy Wave to wander even deeper into new sonic territories.
Five of Cups opens with the title track, establishing the album's auditory and thematic modus operandi from the get-go. Holy Wave's lysergic textural palette is immediately apparent in the song's woozy synth lead and anti-gravity guitar jangle, but the atypical chord progressions and vocal melody steers the music away from anodyne escapism into a pensive grappling between self-determination and defeatism. Holy Wave continue to ride the wistful and phantasmic train on "Bog Song," where the members vacillate between swells of austere minor chords and layered electric orchestration. From there, the previously released digital single "Chaparral" plays with the band's own sense of nostalgia, weaving references of their El Paso past into a tapestry of transcendental triumph.
Like so much classic album-oriented rock music, the real magic begins to unfold in the latter half of Five of Cups. On "The Darkest Timeline," Holy Wave recruits their friends Lorena Quintanilla and Alberto Gonzalez from the Baja California, Mexico psych duo Lorelle Meets the Obsolete to add additional ethereal layers to their intoxicating after-midnight grooves. "Nothing in the Dark" functions on a similar principle, using a steady propulsive drum pattern as the bedrock to tape-warbled synths, arpeggiated guitar chords, jet streams of fuzz, and serene vocals. Five of Cups' ruminations on combating defeat and disappointment are directly confronted on album closer "Happier." Once again straddling the melodic line between melancholy and breezy sophistication, Holy Wave examines the synthetic construct of happiness in our modern age and how so often the attainment of comfort lacks any true sense of joy. Yet this isn't some nihilistic dirge. Rather, it translates as a buoyant reminder that the bandwidth of human experience inherently requires peaks and valleys, and that euphoria is often found in the search outside of the familiar.
As with the Tarot card from which it got its name, Five of Cups is an acknowledgement of hardship and a reminder to embrace the joys available to us. And like early '70s Pink Floyd, Holy Wave have figured out how to conjure a sense of profound exhilaration out of pathos, filtering dark elements through a lens and bending them into a kaleidoscope of light. Suicide Squeeze is proud to present Holy Wave's Five of Cups on CD/LP/DSP on XXX.