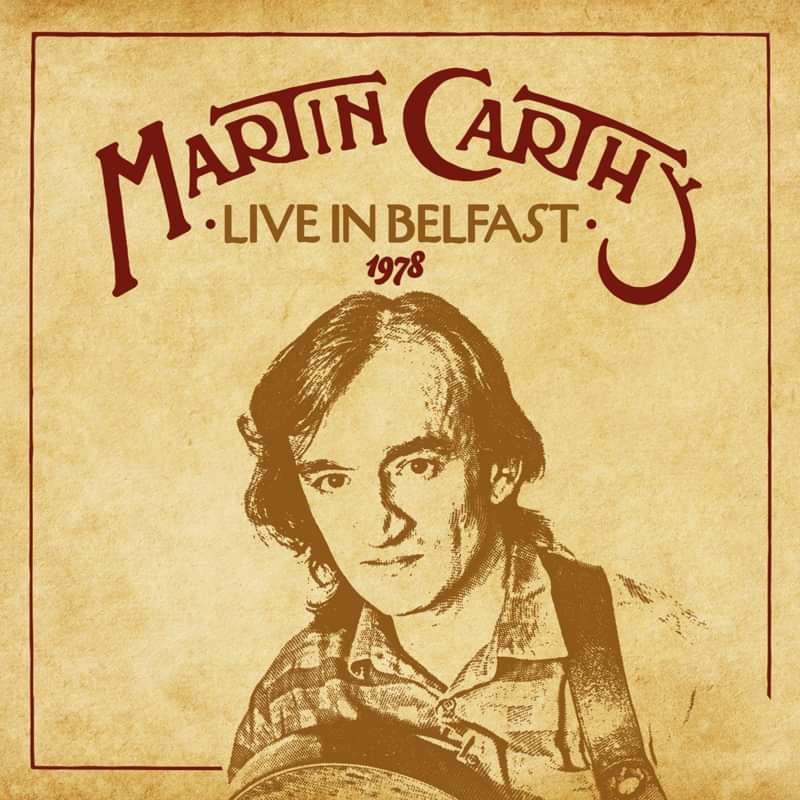 Martin Carthy – Live in Belfast 1978 CD
Recorded live at the Sunflower Folk Club, Belfast, 20th October 1978.
Recorded live at the Sunflower Folk Club, Belfast, 20th October 1978.
The concert was recorded by Geoff Harden at the Sunflower Folk Club, Belfast and has a FM sound quality.
The recording was made after the last studio album Crown of Horn in 1976. Carthy had also worked with the Watersons on their "for pence and spicy ale" album 1976, John Kirkpatrick and his album "Plain Capers" 1976, the Albion Band "Lark rise to candleford" album 1976, the "Son of Morris On album" 1976 the Watersons "Sound, sound your instruments of joy" album 1977 and had just finished being part of the line up of Steeleye Span on their album "Storm Force Ten" 1977 and their farewell tour and album "Live at Last"1978.
The concert on this recording took him back to being a solo artist and the performance features just him, his guitar, his vocal and of course a bunch of traditional songs. The recording shows how much of a professional he had become by this time. He uses guitar skill and vocals as well as his knowledge wit and charm to engage the audience.
The set includes ballads, marches, instrumentals and Martin singing with no guitar. The album begins with "The Rainbow" a tune Carthy first did on his album "Prince Heathen". This displays what a good folk singer he is. And track 11 "Prince Heathen" is a great child ballad. Track 2 "The Worcestershire wedding" was a song recorded on his last studio album "Crown of Horn".. There is also track 8 that is of note. It is a tune that will be studio recorded for his next album "Because its there" the following year 1979. This is "Siege of Dehli" . There is also a hark back to the first album with track 4 and "The trees they grow so high" a lamentation on love, war and death. There is also the fabulous song "Bonny Black Hare" that ends the set and originally appeared on the album Byker Hill ten years earlier. The track "January Man" had appeared on his earlier album "Landfall" and was a Dave Goulder song. All of the other songs on the album are from traditional source.
This is a great little album and the fact that it is live does not detract from its value as Martin Carthy release. It is a good release.
1 The Rainbow
2 The Worcestershire Wedding (The Old Woman All Clothed In Grey)
3 William & Nancy
4 The Trees They Grow So High
5 Willie's Lady
6 Johnny Sands
7 The Green Wedding
8 The Siege Of Delhi
9 The Plains Of Waterloo
10 The Harvest Feast Song
11 Prince Heathen
12 The January Man
13 The Bonnie Black Hare