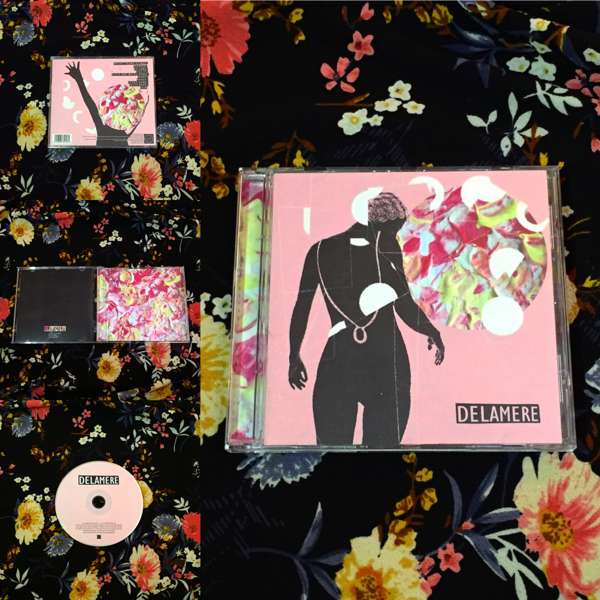 'Delamere' Album (CD)
Record Label: Scruff of the Neck Records Release Date: Fri 19th August 2016
Having cut their teeth supporting indie buzz bands such as Peace and Palma Violets in their home-town of Stoke, it was obvious almost from the outset that Delamere were a band destined for a bright future. Their earlier singles earned crucial airplay from the likes of Amazing Radio and BBC Introducing in Stoke, with more recent singles 'Bright Young Things' and 'Heart' being aired on National Television on Channel 4's Made in Chelsea and Sky Sports' Soccer AM, expanding their regional success to a national scale.
It was these early releases that inevitably found their way north, and to the ears of online press and industry types in Manchester. Something that saw Delamere sign to Scruff of the Neck Records in the Summer of 2014; a deal that would go on to open doors to the bigger stages they readily deserved.
Festival appearances last year saw the band at the likes of Dot to Dot ('Best Metropolitan Festival' – UK Festival Awards) and Tramlines, and 2016 saw them make appearances at renowned industry showcase festivals The Great Escape, Live At Leeds and International Music Summit in Ibiza. The opening show of their third UK tour will be held at the beautiful All Saints Church in their home village of Leek, whilst the end date will be a headline show at Manchester Academy 3.
Now the band are set to release their self-titled debut album, a record that is the product of said honing process. Unequivocally Delamere, whilst at the same time being quite unlike anything the band have released before, it's an album that builds on the characteristic anthemics synonymous with the band while exceeding any expectations as a result. Delamere is the sound of a band on the brink of a breakthrough, pushing themselves to their limits.
Having recorded all of their material at Liverpool's Parr Street Studios (Blossoms, The Coral) with producer Rich Turvey, Delamere have been in good hands from the very beginning, and though 2015 proved to be an eventful year for the band, there's a definite feeling that things are only just getting started.
Delamere are: James Fitchford (guitar, keys & vocals) Ashley Egerton (guitar) Richard Dawson (bass) Will Mason (drums & electronics)
"Stadium sized choruses belie a sleek pop sensibility that sets them head and shoulders above their contemporaries" – Louder Than War
"I've constantly got Delamere on repeat, I'm personally a massive fan and I know they are catching the attention of the right people, watch this space" – BBC Introducing
"professional, technically smooth as silk, layered and intricate, yet there is a raw and emotive edge providing veracity and an underlying darkness and yearning that always gets me" – Backseat Mafia
ONLINE
www.delameremusic.com www.facebook.com/delameremusic www.twitter.com/delameremusic www.soundcloud.com/delamere www.youtube.com/delameremusic www.instagram.com/delameremusic @DelamereMusic
DelamereMusic
ALBUM TOUR
SAT 23/07/16 | TRAMLINES FESTIVAL | SHEFFIELD WED 27/07/16 | SOFAR SOUNDS | MANCHESTER FRI 29/07/16 | TOOTING TRAM & SOCIAL | LONDON SAT 30/07/16 | WREXFEST | WREXHAM SAT 13/08/16 | THE BODEGA | NOTTINGHAM FRI 19/08/16 | ALL SAINTS CHURCH | LEEK TUE 23/08/16 | THE POLAR BEAR | HULL FRI 26/08/16 | ALSO KNOWN AS | BANBURY SAT 27/08/16 | ASHCOMBURY FESTIVAL SUN 28/08/16 | ACTRESS & BISHOP | BIRMINGHAM TUE 30/08/16 | SOFAR SOUNDS | LEEDS WED 31/08/16 | OLD BLUE LAST | LONDON FRI 02/09/16 | THE ANVIL | BOURNEMOUTH THU 08/09/16 | BUSKERS | DUNDEE FRI 09/09/16 | MASH HOUSE | EDINBURGH SAT 10/09/16 | ACADEMY 3 | MANCHESTER FRI 16/09/16 | THE UNDERGROUND | BRADFORD SAT 17/09/16 | RAMSBOTTOM FESTIVAL SAT 17/09/16 | EIGER STUDIOS | LEEDS