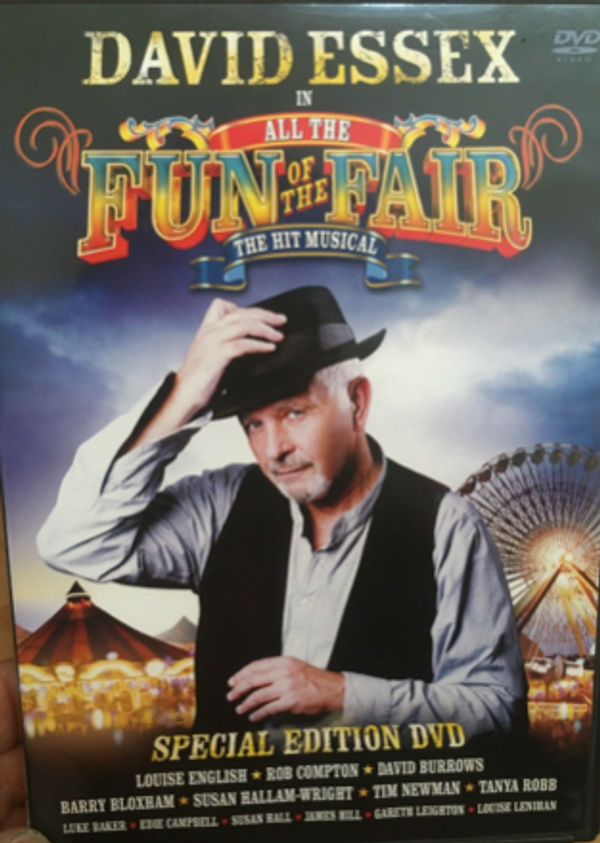 All The Fun Of The Fair DVD
Special Edition DVD featuring the UK Touring Cast - filmed at Sheffield's Lyceum Theatre in 2012.
Following a successful UK tour, the Special Edition DVD of David Essex's All The Fun of The Fair was released. The staged version was reviewed at London's New Wimbledon Theatre with the DVD being recorded later in the run, at Sheffield's Lyceum.
Opening with an eerie Wall of Death montage not previously seen on stage that sets the scene for the emotional roller-coaster of fairground life that the show depicts, close up the production is almost as effective recorded as it is live. The story's finale in particular is as inspiring and spine tingling on the small screen as it is on stage.
The DVD has been produced carefully. The sound recording is excellent, missing neither word nor beat and the camera angles whilst at times simplistic, are neatly planned. No cameras or cranes are ever in shot and the atmosphere of having been captured before a live theatre audience is effectively maintained. Nearly all of the cast perform well given the closer scrutiny of the video lens, in particular Tim Newman, Susan Hallam-Wright and, playing her enchanting Irish Romany, Louise English. The unique tone of David's voice is timeless.
Special Edition DVD featuring the UK Touring Cast - filmed at Sheffield's Lyceum Theatre in 2012.
All the Fun of the Fair is a jukebox musical with a book by Jon Conway, based on the songs of David Essex. The title of the musical is taken from David Essex's 1975 album All the Fun of the Fair. The plot is fictional, not autobiographical. Its initial (provincial) run in the UK took it to Cardiff, Nottingham, Wimbledon, Milton Keynes, Plymouth, Norwich, Belfast, Birmingham, Hull, Sunderland, Southampton, Liverpool, High Wycombe, Swansea, Northampton, Llandudno and Bristol.
The show transferred to the Garrick Theatre in the West End in April 2010 for a limited season which concluded in September 2010. It toured again in late 2011.
Synopsis
The show follows Levi Lee, a recently widowed father (David) with a rebellious teenage son. There is a gypsy future teller who is in love with Levi, and tells him there is danger and mysticism in his future. Dodgems and motorbikes, crafty cons and candy floss, fairground horses and fights, as well as unrequited love, romance and rock and roll bring out the carnival atmosphere in this world of fairground life.[1] Musical Numbers
A Winter's Tale - Rosa All the Fun of the Fair - Levi and Company He Noticed Me - Alice and Mary Here We Are All Together - Company Hold Me Close - Jack and Company Pretty Thing - Jack and Alice Rock On - Levi and Harvey Me And My Girl (Nightclubbing) - Jack, Jonny and Company Street Fight - Harvey and Druid Gonna Make You a Star - Company Father And Son - Levi and Jack You're In My Heart - Levi, Rosa, Jack, Alice and Mary Lamplight - Jack Stay Young And Free - Harvey and Alice She's Leaving - Jonny, Levi, Harvey and Company If I Could - Jack and Alice Dangerous - Levi, Mary and Company Silver Dream Machine - Jack, Jonny and Levi It's Gonna Be Alright - Levi Here We Are All Together (Reprise) - Levi and Company