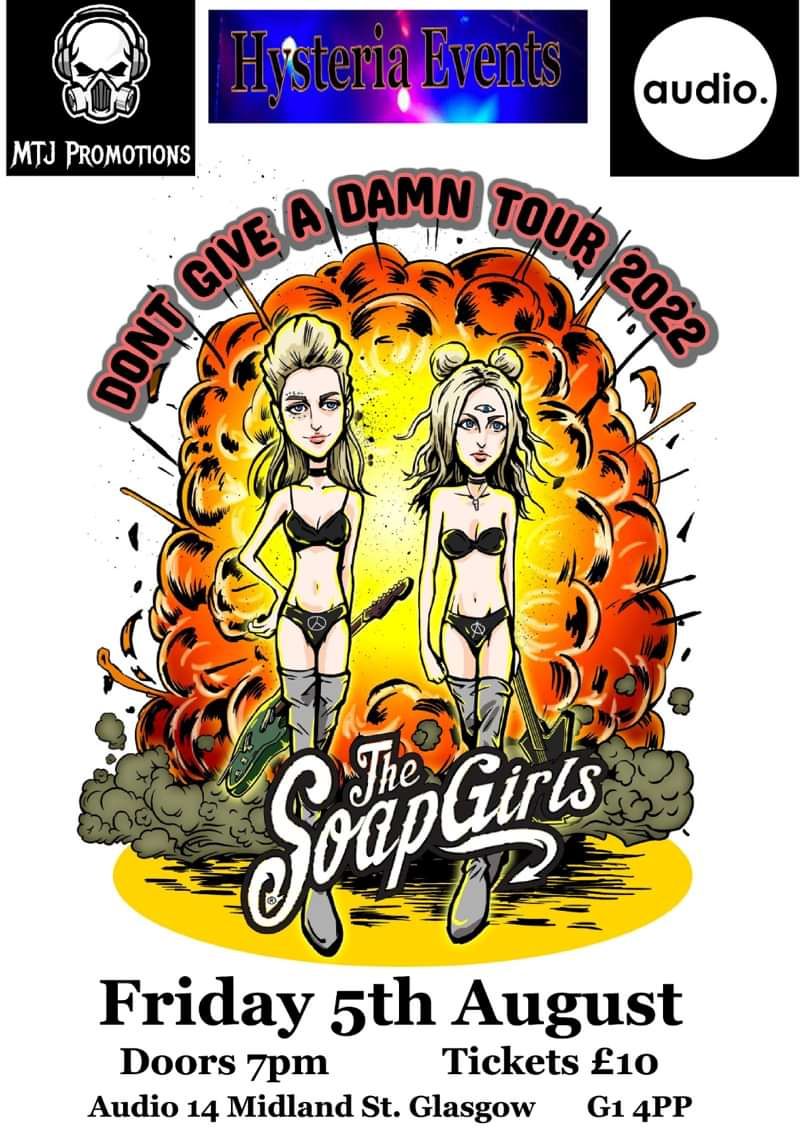 Audio Glasgow presents:
The Soap Girls
£10
Entry Requirements: 18+
Buy Tickets
The SoapGirls, French born sisters from Cape Town, are the world's hardest working band during lockdown – performing over 400 live streams with extremely crazy rock 'n' roll shows, varied theme nights and deep black humour. While civil war-like conditions prevailed in their adopted home of South Africa, the livestream stage of their home garage served them as a refuge and creative impulse at the same time – now it's time to be let loose on live audiences again!
As children, the fearless siblings Camille and Noémie Debray roamed the streets of Cape Town as street performers for nine years, singing and selling homemade soaps to tourists in order to donate part of the proceeds to hospitals - and so the locals gave the well-known lively, nonchalant young ladies the name "The SoapGirls".
As teenagers, they stormed #1 on the album charts in South Africa with dance-pop and their debut album. In the same year, they placed all four single releases from the album in the top ten of the single charts. Despite their youth, they quickly realized that success comes at a price. The mechanisms and soulless marketing machinery of their major label Universal were against them. From then on, The SoapGirls decided not to compromise on their songs and their live performance. They left the safe haven of chart success, ended their collaboration with Universal, and followed their hearts. Their passion was and is rock'n'roll – from then on, they celebrate lived freedom, freedom of movement and authenticity paired with a provocative honesty that is second to none. Social commitment and a good portion of punk attitude remain the basic attributes of the SoapGirls. After their break in style, the musical cornerstones are alternative rock, grunge and glam paired with catchy melodies and choruses. Some skillful excursions into the metal genre round off their spectrum.
In 2016, the first independent album in self-production "Calls for Rebellion" was released - with songs like "Champagne Cocaine", which amounted to a reckoning with the major label. The second album with the title "Society's Rejects" was released only one year later and became the life motto of the SoapGirls. In Japan, the album became a respectable success in the alternative charts with provocative songs such as "Rather Be Dead", "Original Sin", "Bad Bitch", "Johnny Rotten", "Step Outside" and "Party in Hell". This was followed in 2019, by the third self-produced album "Elephant in The Room" with the smash hit "One Way Street".
A worldwide tour under the motto Don't Give a Damn Tour 2022 starts in April with venues in United Kingdom and Europe, followed by a USA tour in mid-August through mid-September and Japan from late September, before returning to the UK for a second leg between September and October. Rock fans of all stripes can look forward to an extraordinary evening with one of the hottest and wildest live bands in the genre. They will again tour extensively through Great Britain and continental Europe, whilst also heading to the USA and Japan for the first time. On March 15, 2022, "Breathe", the second single release of the new album "In My Skin", is released as a precursor to the full album, which will be released in early summer - just as their tour kicks into high gear