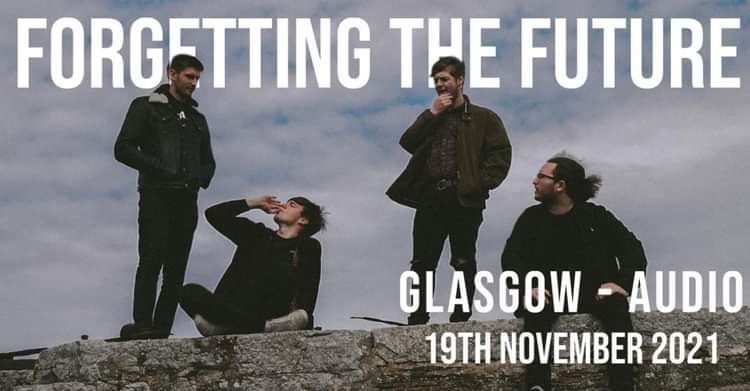 Audio Glasgow presents:
FORGETTING THE FUTURE + Leaving Bordeaux + Strange Dimensions + Dirty Mik
£9.00
Entry Requirements: 16+
Buy Tickets
Forgetting the Future are an indie rock act from the most Northerly part of Scotland called Thurso. Robbie McNicol, Connor Wilson, Max Paul and Jamie Mackay formed FTF in 2014.
Their first recording was with Edwin Collins in 2016 who charted the UK back in the early 80's with his band "Orange Juice" with the track "Rip It Up" and the more recent chart topper "A Girl Like You" back in '95. FTF then released their first E.P 'Under the Influence' in early 2018.
2018 was to be a big year for FTF as they later went on to win The SUBlist (The Scottish Unsigned Bands List) 'Battle of the Bands' competition in November, the main prize being a recording with top L.A. producer "Ken Allardyce" who worked with artists such as Greenday, Fleetwood Mac, Weezer and The Goo Goo Dolls.
In January 2019, FTF were signed to Ken Allardyce & Alan Greer's record label "InTime Records" Their eagerly anticipated debut album "Broken Phones & Hormones" was released 8th of February 2020 and features the singles "Bluetooth" released October 25th followed by "Cymru" 2nd December 2019. And their 3rd single "Sara Tonin" 7th January 2020 with their 4th single "Inhaler" released on 29th of May. Their 5th single "Cherry" was released on the 31st of August 2020 being their most successful release to date with a staggering 130k plays on spotify alone with more singles scheduled for release later this year.