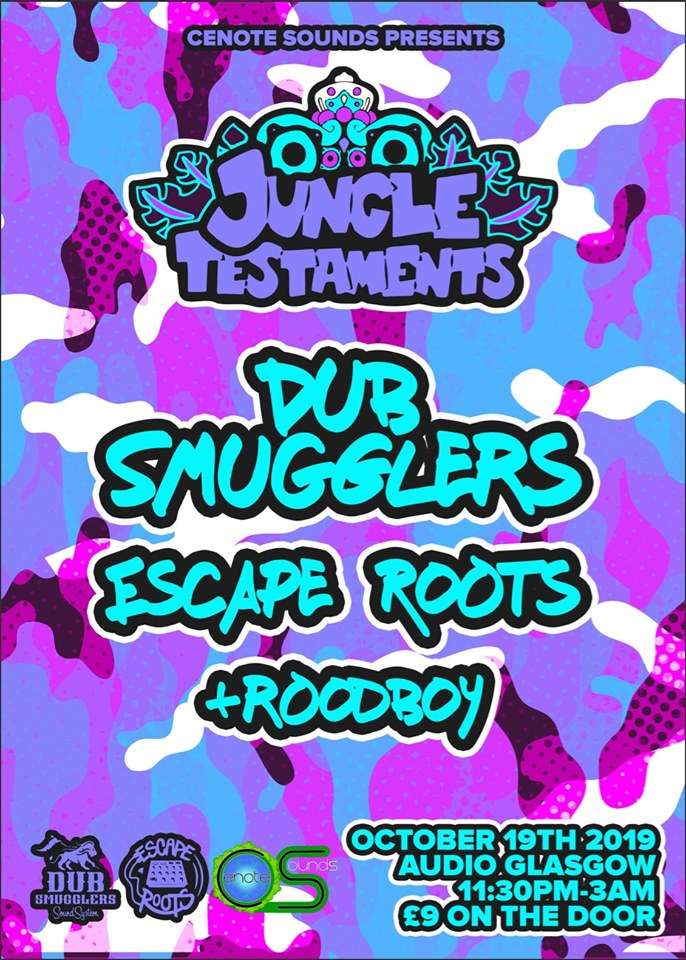 Audio Glasgow presents:
Jungle Testaments: Dub Smugglers, Escape Roots & Roodboy
£9
Entry Requirements: 18+
We're back with the second Jungle testaments of 2019!
For this one,we're gonna go in with a dubwise style to celebrate our Roodboy's birthday
For this one we're bringing in friends from manchester, the DUB SMUGGLERS!!!
If you havent seen these guys before then you are in for a treat! having heaps of dubplates in the bag and an energetic vibe all round, things go off when the smugglers are in town!! Having run many events including the beach stage at Outlook festival with their 8 scoop system these guys know how to bring the vibes each n every time!!Dub Smugglers are straight from the Red Brick bringing you HEAVYWEIGHT sounds!
https://www.mixcloud.com/DubSmugglersSoundSystem/
On the warm up for the evening will be none other than ESCAPE ROOTS!!
Already getting radio support from the likes of David Rodigan & Toddla T this youthman producer has been making big waves in the scene.
Regularly playing out internationally as a live act well as holding down dj residencies at Wee Dub Festival and Walk n Skank.
Record Labels NiceUP! Records Scotch Bonnet Records Totally Dubwise Recordings
https://soundcloud.com/escaperootssound
Finishing the night off in true jungle testaments style is none other than our badman birthday boy founder Roodboy!!
Raggamuffin RooDBoy found experience in DJ'ing gigs with Easy Skankin and then setting up and promoting his own Cenote Sounds System with the help of his ram jam bunch of bammy crew. Having set up Cenote sounds system and taken it from strength to strength after 8 years unofficially and now into its 5th year as Cenote Sounds. Cenote sounds are the underground jungle sound in Scotland, a collective originating from Galloway, who's passion's have brought them together to push heavy weight bass music through their hefty home grown sound system.
Cenote Sounds have started up their own events in both Dumfries (Rumble n Stumble: hosting acts such as Jamie Bostron,Mrs Magoo & Metragnome) and Glasgow (Jungle Testaments :hosting artists: Mandidextous,Kelvin 373,Stivs, Dj Hybrid,Ant TC1,Katch Pyro,T-menace,Metragnome,Too Greezey, Slinks,Dj Tez, Parly B) as well as being booked for other events including Audio Soup festival, Easy Skankin events plus more.
Cenote sounds are a multi genre DJ collective spanning from Dub/Ragga/DnB/Jungle/Ragga-tek featuring Roodboy,Octivist & Skatty Dreadz
Expect big tings when this sound is set up and look out for their DJ's who bring the thunder each and every time!
Audio Glasgow, 14 Midland Street DOORS-11.30-3 £9 all night
Will see all you cool cats on the dancefloor ;)