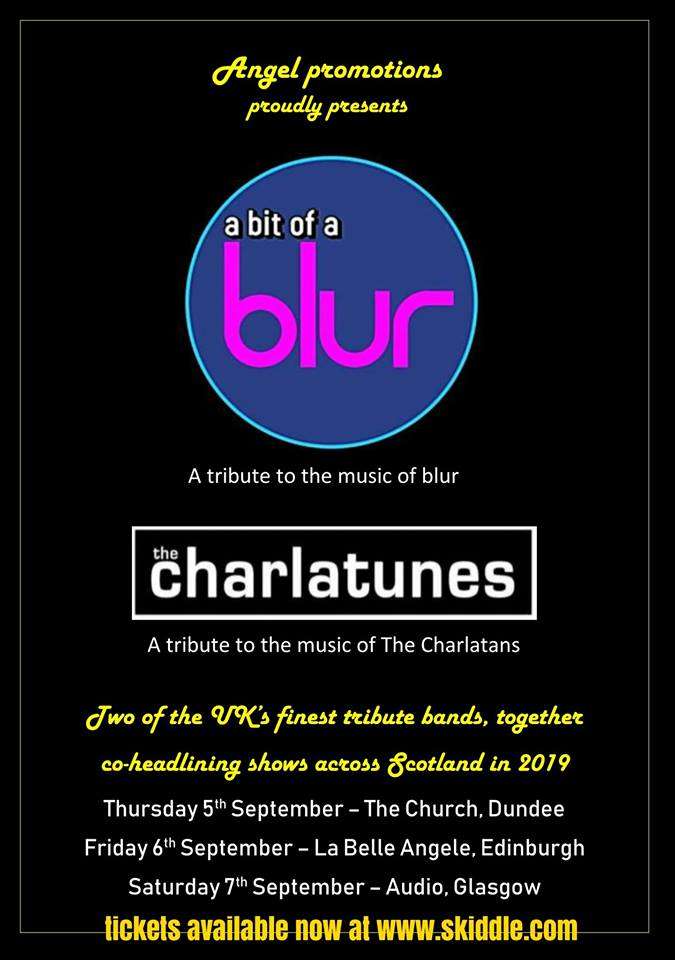 Audio Glasgow presents:
A Bit of a Blur and The Charlatunes double headliner
Buy Tickets
Two of the finest tribute bands to Blur and The Charlatans bring a full on Brit pop experience to Scotland... "A bit of a Blur" are a Milton Keynes based tribute act, playing all the hits and various album tracks from the iconic band Blur. Established musicians with many years of playing live experience, they formed in early 2018 and are already securing plenty of gigs and are being well received wherever they play. Not so much a look-a-like band (although the obvious similarities are there) but their aim is to be true to the original sound encompassing all the energy of those amazing Blur live performances we all love. They are fast becoming one of the 'must see' tribute bands on the circuit.
what the pundits say "well worth the wait... all the hard work paid off. you could feel the buzz between the guys on the stage. looking forward to the next gig. fantastic!!!!"
"Awesome! Not often you see a blur tribute. Their sound is hard to master. These boys braved to try. And god their hard work has paid off. A must see set and a master performance."
"Excellent, just got better and better!! Thank You"
"So much energy, fantastic gig fella's"
​
'Thanks so much for an amazing night. I've seen so many godawful 'tribute' bands, but I figured, tonight, if someone's bold enough and has the skills to emulate Graham Coxon, I'll be there, to either support or deride. Suffice it to say, you chaps blew me away. Your polished stagecraft, musicianship and energy were an absolute delight to this jaded old punk rocker; my girlfriend of three years had never seen me dance before. Hope to catch you again before too long.'
The Charlatunes emulate the sound and attitude of The Charlatans to ensure a great night of classic Hammond grooves and sing along anthems. "Also thanks to The Charlatunes for what can only be described as a stunning set. For an hour or so I was transported back to the 90's watching a band play in a small intimate venue. Great stuff.