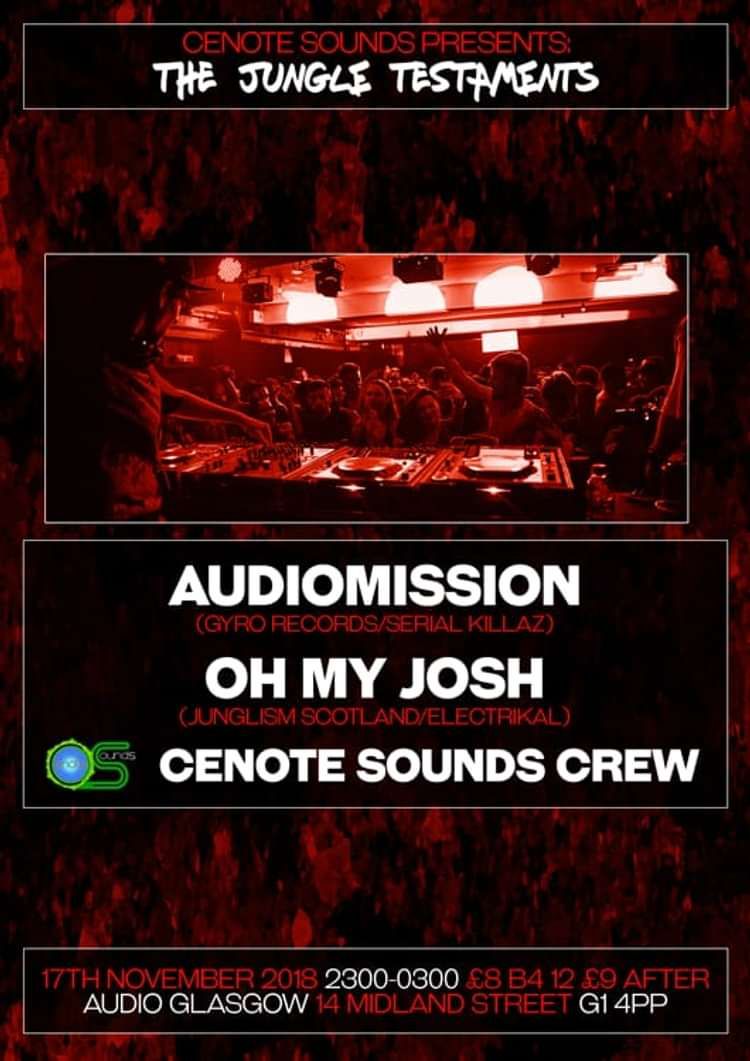 Audio Glasgow presents:
Jungle Testaments: Audiomission & Oh My Josh!
Cenote Sounds load their rig into Audio for another edition of The Jungle Testaments!! This time we are honoured to have badman producer Audiomission headlining the night!!! With our good pal from Galloway Oh my Josh on support, this night is gonna go off!! Don't miss out on these amazingly talented artists through this high fidelity rig!!
Audiomission: Shane Hope AKA 'Audiomission' has been one of the shining stars in the contemporary underground Jungle and Drum & Bass scene. Hailing from Bristol, D&Bs spiritual homeland, Audiomission started through attendance of a number of illegal raves to see him develop from a wicked selecta', to a refined and established producer, until achieving his trademark sound that he is so accredited for. As a key member of GYRO Soundsystem with partner Mixamitosis, he alongside his fellow Gyro Records comrades (including Seyms, Pull Up Collective & Subcriminal) have recently evolved to now run a record label alongside the soundsystem. With their focus on pushing a uniquely distinctive hybrid between the D&B and Dubwize/Jungle sound that Bristol is famed for, this incorporation of Roots and Dub influences alongside cutting edge D&B styles, has created a uniquely distinctive and rolling sound. One that is upfront and feisty, yet feel good! Audiomission can now stand by releases on Dope Ammo, Deep In the Jungle, Run Tingz, Intrigue, Ghetto Dub and the world renowned Ragga D&B label 'Serial Killaz'. The latter of which has recently received incredible support from world renowned DJs such as: Aphrodite, DJ Hype, Rockwell, Phantasy and Psychofreud. His fiercely unique production and tight selection has seen him earn his stripes in the worlds of DJing and production. Few DJ's as budding in their career as Audiomission can claim to have played alongside so many artists, featuring legendary D&B names such as: Dillinja, Grooverider, Potential Batboy, Ray Keith, DLR, Rat Pack, Ragga Twins, Randall, Serum, Benny Page, Bladerunner, Nicky Blackmarket and many more! At just 26 years old, what has already been an incredibly successful journey into the world of Jungle and D&B, he is no doubt set to skyrocket with the recent success of his ''420 EP'' on 'Serial Killaz'. If you love good vibes and rolling basslines, look no further. You'd be very much missing out not to keep both eyes and ears on this gifted producer and DJ, who will no doubt be coming to shell down a venue near you in the future.
For tunes, mixes and general info check either of the links below!
@audiomission
www.facebook.com/Audiomission www.instagram.com/audiomission_uk/
twitter.com/Audiomission
Oh my Josh: Drum & Bass dj from southwest Scotland running Kryptonik Sound Kollective sound system and Bass Tonik club night in Dumfries.Now Djing as collectives with Anikonik as 'Bag o' Cans' And Al the kemist forming ' Junglism Scotland' We are hyped to have our good mate from Galloway play on our rig after what feels like faaaaaaaar too long!! Bringing a bag full of belters along with his cans, Josh knows how to ram a dance floor and we can't wait to see what he has in store for us!
https://soundcloud.com/ohmyjoshksk
Audio Glasgow 14 Midland St 11pm-3am Door: £8 before 12pm £9 after