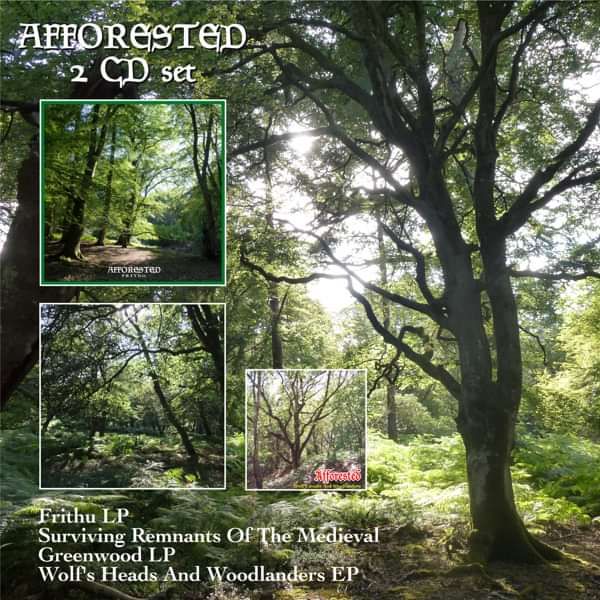 Afforested - 2 CD Set
Features 2 complete albums and 1 E.P. Choose your currency via the drop down menu at the bottom of the screen.
Comes in a cellophane wrapped double CD jewel case with 8 page inlay containing lyrics. Delivered direct from the Music Glue fulfillment warehouse.
Tracklisting:
Disc 1: 'Frithu' album. 1. The Round Barrow 2. Twelve Tines 3. The Disinherited Earl 4. Bodgers Of The Beechwood Hills 5. Up On A Bough 6. The Andredesweald Of Alfred's Reign 7. Around The Ropeswing 8. The Silvatici 9. Surefoot's Mother (Chestnut Bay And Foaled On The Forest) 10. Cynric Knew A Shortcut 11. Earthworms For Dinner 12. Under The Forest Law
Disc 2: 'Surviving Remnants Of The Medieval Greenwood' album and 'Wolf's Heads And Woodlanders' E.P. 1. Salthaga 2. The Commoner's Right Of Pannage 3. To Freedom On A Palomino Palfrey 4. Cloudesley's Unbeatable Aim 5. As He Flew From The Trysting Tree With A Yaffleing Call 6. Sir Fouke's Old Haunt 7. Leaving Barnsdale For The Last Time 8. Gamelyn's New Crown 9. Another Game Of Pluck Buffet 10. If I, From An Oak Apple, Had Emerged 11. The Fallow Faun And The Mogshade Of June 12. Eadric The Wild 13. Willikin Of The Weald 14. A Late Summer Drift 15. The Yearning Of The Green Hart 16. Escaping King William 17. The Hollow Yew
Delivery times: UK 2-3 working days. Europe 3-6 working days. Rest Of World 5-8 working days.