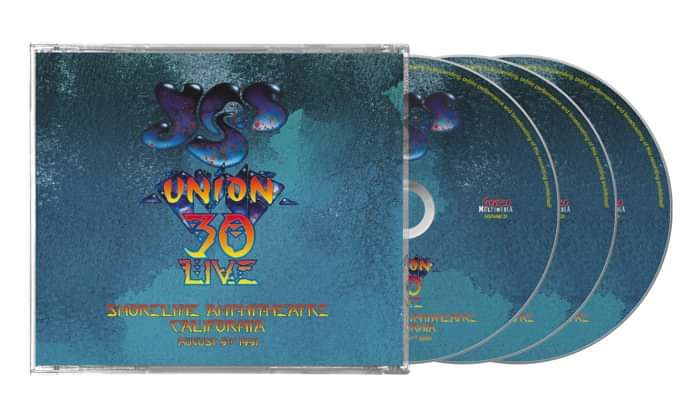 Yes – Shoreline Amphitheatre, 8th Aug 1991
As you are probably aware, 2021 is the 30th anniversary of the critically acclaimed Yes Union Tour, featuring all 8 iconic members of the band. To celebrate this event, courtesy of Larry Magid Entertainment, Gonzo Multimedia has put together a special souvenir limited edition SUPER DELUXE BOX SET containing 30 discs! The main disc features a multi-camera shoot DVD, with an accompanying soundtrack mixed by Trevor Rabin from the Shoreline Amphitheatre (8th August 1991) show and is available here on it's own!
Rick Wakeman said about the project, "It has been well documented that I loathed the Union studio album as the whole project was taken out of our hands and destroyed by those handed the responsibility for finishing it off. However, the Union Tour was another matter. Probably the most amazing and enjoyable tour I have ever been on with Yes and I am so glad it was recorded and filmed as it was an incredibly special time that can never be repeated. The Union Your is for me, the most important event in Yes history.."
Track Listing: 1. Intro 2. Firebird Suite 3. Yours Is No Disgrace 4. Rhythm of Love 5. Heart of the Sunrise 6. Clap 7. Mood For A Day 8. Make It Easy 9. Saving My Heart For You 10. Whitefish 11. Amazing Grace 12. Rick Wakeman Solo 13. Awaken 14. Roundabout