No Nation Punk presents:
PUNK Pit Party
Who Killed Nancy Johnson? + Vacarm le Rouge + Jonny & The Mental Breakdowns + The Bleach Boys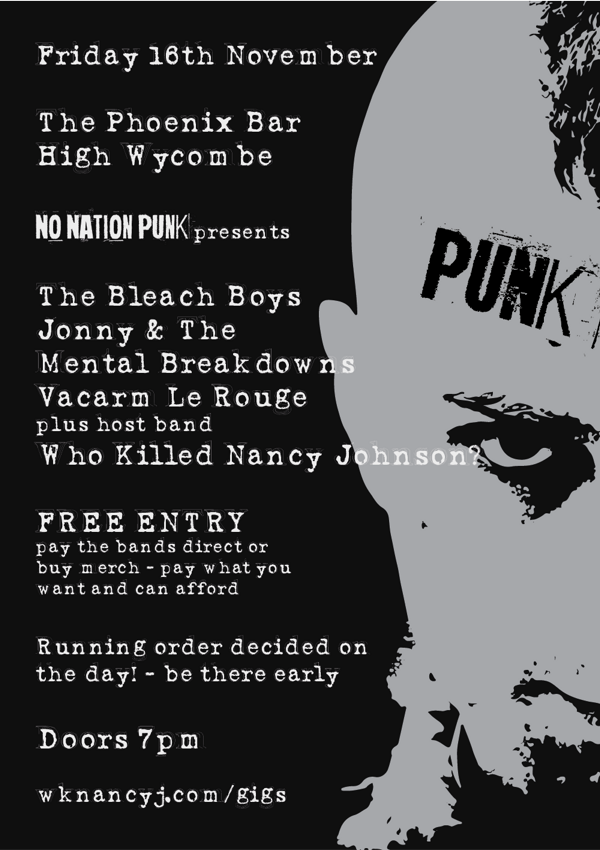 FREE admission and the chance to pay the bands direct during the show.
---
THE BANDS
In alphabetical order:
THE BLEACH BOYS Fast and loud nihilist punk band established in 1976. They've gone through a few members since then but still have two originals and a blistering live set with one of the most in-your-face openings you're ever going to see. Often called punk's best-kept secret, their records are collector's items, as rare as they are potent.
JONNY & THE MENTAL BREAKDOWNS Punk rock from Milton Keynes featuring members from RSI,Cretin 77, The Reserves and Wait for Jude. Debut album Electric Shock Therapy was released through Cherry Red Records in June 2014 and the follow up An institute for Skateboarding Otters came in 2015. The Breakdowns have played with King Prawn, TV Smith, Vice Squad, Cockney Rejects, Fruit Bat of Carter USM's Abdoujaparov, Sylvain Sylvain of The New York Dolls, Anti Nowhere League, Peter and the Test Tube Babies, Sham 69, Sick on the Bus, Contempt plus many more. As seen at Rebellion: https://www.facebook.com/thebreakdownspunkrock/videos/1834131590011660.
VACARM LE ROUGE Three-piece speed-freak no nonsense political punk rock and roll from a classic Toulouse band currently celebrating its 30th year touring. Rarely seen in the UK, we're delighted to welcome them to High Wycombe for the first time.
WHO KILLED NANCY JOHNSON? Since their first gigs at the start of 2016 Reading-based WKNJ have grown into one of the most exhilarating live bands on the circuit. Strong songs, constant movement and a touch of theatre. Not to be missed.
---
Note: Line-up changed 14th November from that previously advertised due to circumstances beyond our control.
---
THE RUNNING ORDER
Want to know the running order? Forget that. All of the bands playing could be headlining. The line-up is that strong. Be there by 7.30 pm and you won't miss anything. :p
---
THE PROMOTER
No Nation Punk is a non-profit DIY outfit bringing exciting UK and overseas punk bands to local venues. The price? You decide. It's free to come in, and once in you can listen for free and then pay the bands you choose, direct, whatever you want and can afford - or just buy their merch.
---
THE VENUE
The Phoenix Bar is a throwback to a time in the late 70s and early 80s when High Wycombe was a heartland for punk bands. Rock and roll to its core, it features an impressive sound system, a good range of drinks and genuine people who love the music. The O2 Academy this ain't - thank god.
The Phoenix Bar Bridge St High Wycombe HP11 2EL Tel 01296 393050
Line Up
WHO KILLED NANCY JOHNSON? are a​ ​​​Reading-based high-energy ​punk/post-punk band with a growing reputation as an incendiary live act.
"It's really worth getting to see these guys" - Punkarolla
Influences include The Ruts, Wire, Magazine, Black Flag, Fugazi, Killing Joke.
"Powerful yet melodic... this lot would be well received up Blackpool on the Rebellion line up" - Lights Go Out
The songs - apart from one cover that pops up in the live set from time to time - are original.
"A brilliant band... full of energy... a really cool post-punk feel" - New Music Saturday
Formed in Reading (UK) in 2015 from the embers of punk/pop band Nancy Johnson, the change of name mirrored a development from the frat-boy approach of Nancy Johnson to a more edgy and aggressive sound.
"A style that is quite unique... pour out a huge amount of energy... if you get the chance, go see 'em" - Plasma Music TV
Since 2016 the band has gigged at multiple venues in Reading, Basingstoke, Oxford, Guildford, High Wycombe, Kingston, London, Brighton, Chatham, Southampton, St Albans, Colchester and Cirencester, releasing their first EP, Cops and Robbers, in January 2017.
"Spiked with amphetamines... a band that embraces punk's origins as well as influences from the last four decades" - thePUNKsite
In late 2017 WKNJ made their first visit outside the UK with a couple of dates in Milan, and played a set for BBC Introducing LIVE.
"Quality stuff" - IssuePunkZine
In 2018 they released their second EP, Flat Earth Theory, followed by an eponymous full-length CD-only album that collects all their recorded work so far, including remixes and material not released elsewhere.
"Well worth checking out" - 4.52am
In June they tour France and an all-new album is in the works for late 2018/early 2019.
"Jaw-droppingly good... more hooks than a deep sea fishing line" - Scene Sussex
Who Killed Nancy Johnson are Stefan BALL - vocals; Pete MOULTON - guitar; Mark WREN - drums; Julien BRUINAUD - bass. The question mark is optional.
"Bloody good... shades of Killing Joke" - RG New Music
View Profile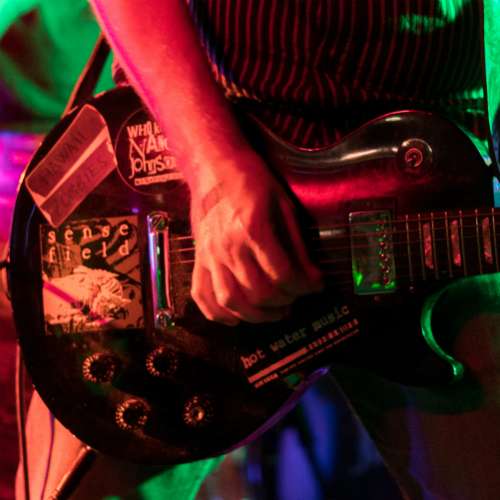 Vacarm le Rouge
Jonny & The Mental Breakdowns
The Bleach Boys