Girls in Synthesis plus guests
Girls In Synthesis + Blood Horse + Who Killed Nancy Johnson?
Buy Tickets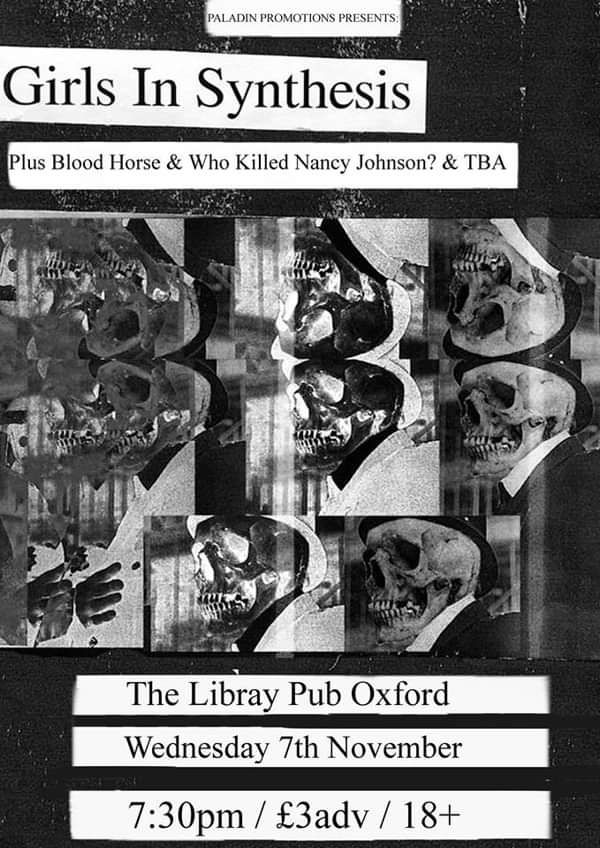 PALADIN PROMOTIONS presents GIRLS IN SYNTHESIS + BLOOD HORSE + WHO KILLED NANCY JOHNSON plus more TBA
London-based punk three piece Girls In Synthesis undertake their first UK tour proper this October/November. On the lead-up to the tour dates, expect new music announcements.
Formed in late 2016, the group have quickly forged a fearsome reputation as one of the most exciting and volatile live acts in London. In equal parts frantic, considered, ear-splitting and melodic, the group take their cues from the early DIY punk and post-punk pioneers; the punishing and militant noise of groups such as Crass, the dark, bass-led sound of Flipper and the sharp edge of sparsely melodic groups like Wire and The Fall.
"As exciting as the first time you heard your favourite band their music is intense and abrasive… like a jarring, adrenalised version of life in Britain and every band that's made you feel alive" - The Punk Lounge
"… making music that is still as raw and reactionary… a page out of a British punk history textbook. The four short songs are full of raw power with just the right helping of hooks" - Bandcamp
"A truly exciting, exhilarating assault on the senses" - Louder Than War
Supported by BLOOD HORSE, a band is comprised of members from some of PALADIN PROMOTIONS' faves being Holy Moments, Daisy, Spank hair and Worry, plus Reading's WHO KILLED NANCY JOHNSON?, one of the most exhilarating live acts on the circuit.
---
The Library 182 Cowley Road Oxford OX4 1UE UK
Line Up
Girls In Synthesis
Blood Horse
WHO KILLED NANCY JOHNSON? are a​ ​​​Reading-based high-energy ​punk/post-punk band with a growing reputation as an incendiary live act.
"It's really worth getting to see these guys" - Punkarolla
Influences include The Ruts, Wire, Magazine, Black Flag, Fugazi, Killing Joke.
"Powerful yet melodic... this lot would be well received up Blackpool on the Rebellion line up" - Lights Go Out
The songs - apart from one cover that pops up in the live set from time to time - are original.
"A brilliant band... full of energy... a really cool post-punk feel" - New Music Saturday
Formed in Reading (UK) in 2015 from the embers of punk/pop band Nancy Johnson, the change of name mirrored a development from the frat-boy approach of Nancy Johnson to a more edgy and aggressive sound.
"A style that is quite unique... pour out a huge amount of energy... if you get the chance, go see 'em" - Plasma Music TV
Since 2016 the band has gigged at multiple venues in Reading, Basingstoke, Oxford, Guildford, High Wycombe, Kingston, London, Brighton, Chatham, Southampton, St Albans, Colchester and Cirencester, releasing their first EP, Cops and Robbers, in January 2017.
"Spiked with amphetamines... a band that embraces punk's origins as well as influences from the last four decades" - thePUNKsite
In late 2017 WKNJ made their first visit outside the UK with a couple of dates in Milan, and played a set for BBC Introducing LIVE.
"Quality stuff" - IssuePunkZine
In 2018 they toured France, released their second EP, Flat Earth Theory, followed by an eponymous full-length CD-only album that collects all their recorded work so far, including remixes and material not released elsewhere.
"Well worth checking out" - 4.52am
New recording are planned for late 2018/early 2019.
"Jaw-droppingly good... more hooks than a deep sea fishing line" - Scene Sussex
Who Killed Nancy Johnson are Stefan BALL - vocals; Pete MOULTON - guitar; Mark WREN - drums; Julien BRUINAUD - bass. The question mark is optional.
"Bloody good... shades of Killing Joke" - RG New Music
View Profile