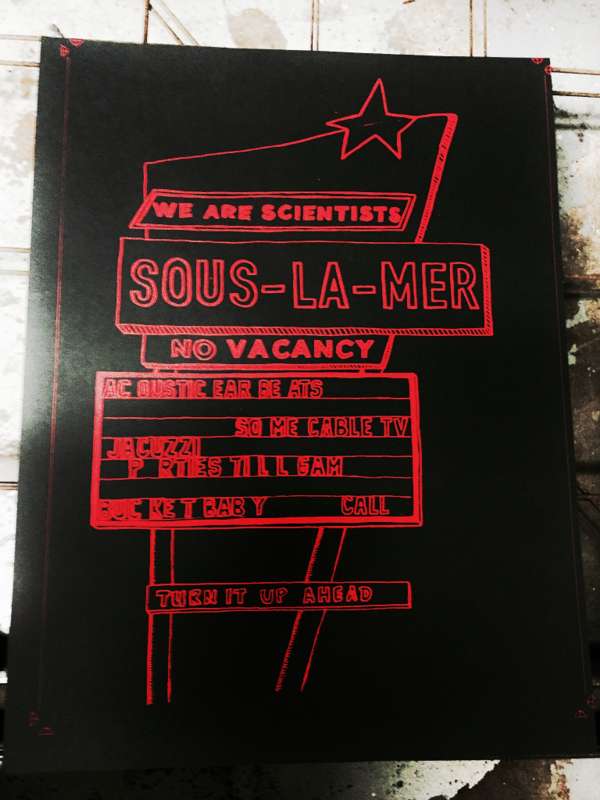 The SOUS-LA-MER bundle (save $15)
You've read about "TV en Français, Sous la Mer," you've heard several of its songs, and you're ready to commit — big time. Well, this is the way to do it. With the "SOUS-LA-MER" bundle, you get not only the vinyl, the t-shirt, and the poster for your wall, you also get the an instantaneous download of the entire g***amn album, for immediate listening. Whether you do that listening in a cave, in a bathtub, or in a submarine — that's not our place to say. Please choose one of the three.
A collector's ensemble. Exclusively for the true of heart.
The poster: Red ink on black French paper. (No, we don't really know what "French paper" is. Our poster printer gave us that option and we said, "Of course." She says it's great.) 18"x24".
The t-shirt: Black design on Heather grey fabric. 50% polyester/25% combed ring-spun cotton/25% rayon jersey. Laundered for reduced shrinkage. Satin label. Just incredibly pleasant to wear; swaddle an infant in one.
The album: Heavy duty black vinyl, imported from England. Don't burn it: when polyvinyl chloride reaches 250 degrees Fahrenheit, it makes chlorine gas — essentially, mustard gas. No shit. This is not a special feature of our album: Jack White's vinyls do this, too. Here's the track list:
//SIDE A// 1/ Dumb Luck, Under The Sea 2/ Make It Easy, Under The Sea 3/ Sprinkles, Under The Sea 4/ Slow Down, Under The Sea
//SIDE B// 5/ Overreacting, Under The Sea 6/ Don't Blow It, Under The Sea 7/ Return The Favor, Under The Sea 8/ Take An Arrow, Under The Sea
The vinyl comes with a download code. Feel free to give it to a friend — you don't need it, BECAUSE: this bundle includes an instantaneous download that you will be able to enact WITHIN THE HOUR! (Includes .flac and .mp3 formats.)
$40.00
Select from options below to add to basket
This bundle also includes:

"TV en Français, Sous la Mer" download (.flac & .mp3 format)

Some truly delicious-sounding files.

A shocking reinvention of 2014's "TV en Français," this latest W.A.S. album is actually very pleasant, for something so shocking. It comprises 8 of that earlier record's 10 songs — but re-invented, re-invigorated, re-recorded. It is darker, often slower, with perhaps a looser grip on reality. Recommended uses include "while bathing," "in your iPod while spelunking," and "while teaching kids about what good music is."

Track list:

//SIDE A// 1/ Dumb Luck, Under The Sea 2/ Make It Easy, Under The Sea 3/ Sprinkles, Under The Sea 4/ Slow Down, Under The Sea

//SIDE B// 5/ Overreacting, Under The Sea 6/ Don't Blow It, Under The Sea 7/ Return The Favor, Under The Sea 8/ Take An Arrow, Under The Sea

*Super-duper high-quality .flac files leave nothing to your imagination. Our errors are your errors; our mistakes your mistakes; our glory, yours to share.

You also receive 320 kbps .mp3 files, in case you want something a little more portable.*

This bundle also includes:

SOUS-LA-MER poster

Something to cover that hole in your bedroom wall.

A gorgeous screen print, red ink on heavy black french paper, depicting the SOUS-LA-MER hotel, a vacationer's nightmare, but a decorator's dream come true.

18x24 inches.

This bundle also includes:

SOUS-LA-MER motel tee

A soft t-shirt to wear on your torso.

If there is any motel whose shirt you want to be seen wearing, it is surely the SOUS-LA-MER motel. A nonexistent fake motel in the classic Route 66 style, SOUS-LA-MER is a true icon. "PARTIES TILL 6 AM" and "JACUZZI," proclaims the sign, while the shirt conveys your taste in down-home accommodations and high fashion.

Looks great by itself, under a cardigan, or in a drawer.

Heather grey fabric with black design. 50% polyester/25% combed ring-spun cotton/25% rayon jersey. Laundered for reduced shrinkage. Satin label.

This bundle also includes:

"TV en Français, Sous la Mer" vinyl

A 12-inch-wide piece of imported vinyl you'll be proud to serve meat on.

A shocking reinvention of 2014's "TV en Français," this latest W.A.S. album is actually very pleasant, for something so shocking. It comprises 8 of that earlier record's 10 songs — but re-invented, re-invigorated, re-recorded. It is darker, often slower, with perhaps a looser grip on reality. Recommended uses include "while bathing," "in your iPod while spelunking," and "while teaching kids about what good music is."

Includes download code, so you can get it onto your iPod for spelunking. Imported from England.

Track list:

//SIDE A// 1/ Dumb Luck, Under The Sea 2/ Make It Easy, Under The Sea 3/ Sprinkles, Under The Sea 4/ Slow Down, Under The Sea

//SIDE B// 5/ Overreacting, Under The Sea 6/ Don't Blow It, Under The Sea 7/ Return The Favor, Under The Sea 8/ Take An Arrow, Under The Sea