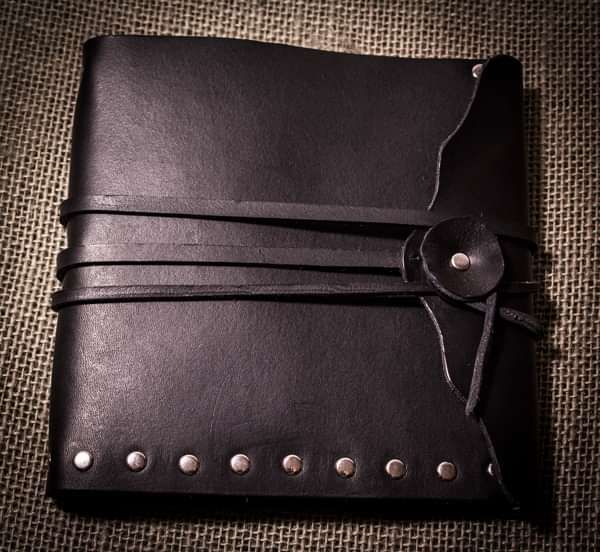 Ministry of Truth album - Limited Edition Leather Journal CD + digital download bundle
Each journal is hand crafted by us and includes a 12 page full colour booklet of artwork and lyrics stitched to the spine, and a 9 inch by 13.5 inch double sided folded poster. The leather, provided by Never Empire Leather, is traditionally bark tanned (no harmful chemicals used) and the rivets are nickel plated steel. Each will be numbered which is carved in to the leather on the back along with the logo. There will only be 50 of them ever made.
Please allow up to 2 weeks for delivery to give us time to make it to perfection.
While you wait for it to arrive, you can download the digital copy of the album as part of the bundle.
This is the second album from the band.
Andy Guy: vocals, synths, samples, guitar
Ben Sitch: drums
Special Guests
Connor Greaves: guitar on Fairy Tales and End Game
Will Goodey: guitar on Ghost
Doom Choir: vocals on Public Service Announcement
All songs written, produced, recorded, and mixed by The State
Recorded at Digital Morpheus and at The Shrubbery Recording Studio in Bury St Edmunds
Mastered by Andy "Hippy" Baldwin at Metropolis Studios in London
Misanthropic Records
©2017 The State Music
All rights reserved
magus8
$52.57
Select from options below to add to basket
This bundle also includes:

Ministry of Truth album - Limited Edition Leather Journal CD

A CD version of the new album in a limited edition handmade leather journal

Each journal is hand crafted by us and includes a 12 page full colour booklet of artwork and lyrics stitched to the spine, and a 9 inch by 13.5 inch double sided folded poster. The leather, provided by Never Empire Leather, is traditionally bark tanned (no harmful chemicals used) and the rivets are nickel plated steel. Each will be numbered which is carved in to the leather on the back along with the logo. There will only be 50 of them ever made.

Please allow up to 2 weeks for delivery to give us time to make it to perfection.

This is the second album from the band.

Andy Guy: vocals, synths, samples, guitar

Ben Sitch: drums

Special Guests

Connor Greaves: guitar on Fairy Tales and End Game

Will Goodey: guitar on Ghost

Doom Choir: vocals on Public Service Announcement

All songs written, produced, recorded, and mixed by The State

Recorded at Digital Morpheus and at The Shrubbery Recording Studio in Bury St Edmunds

Mastered by Andy "Hippy" Baldwin at Metropolis Studios in London

Misanthropic Records

©2017 The State Music

All rights reserved

This bundle also includes:

Ministry of Truth album (download)

The second album released on 1 May 2017 available as high quality MP3 or HD audio formats

Andy Guy: vocals, synths, samples, guitar;

Ben Sitch: drums

Special Guests

Connor Greaves: guitar on Fairy Tales and End Game;

Will Goodey: guitar on Ghost;

Doom Choir: vocals on Public Service Announcement

Recorded at Digital Morpheus and at The Shrubbery Recording Studio in Bury St Edmunds

All songs written, produced, recorded, and mixed by The State

Mastered by Andy "Hippy" Baldwin at Metropolis Studios in London

Misanthropic Records

©2017 The State Music

All rights reserved

magus8