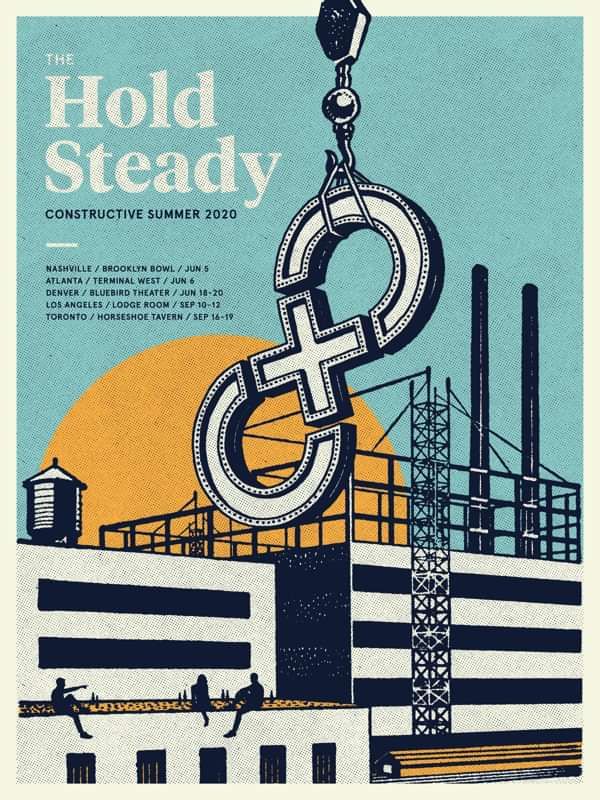 TWO-DAY PASS TICKET (Nashville + Atlanta) + Bus Round Trip
The Hold Steady, Brooklyn Bowl and Terminal West are offering a limited number of two-day pass tickets for the first Constructive Summer 2020 weekend. Included in the two day pass is a ticket to the show in Nashville (Brooklyn Bowl), a ticket to the show in Atlanta, and a round-trip party bus ticket with fellow THS fans between Nashville and Atlanta.
The bus will depart Nashville mid-morning Saturday, June 6 and arrive Atlanta by approximately 4pm. It will return to Nashville on Sunday, June 7, leaving Atlanta mid-morning.
If purchased, you also have the option to purchase the THS Constructive Summer Merch Bundle (tote bag, CS 2020 ltd edition poster, signed set list of both shows), and the traditional Soundcheck/Happy Hour for the Saturday show in Atlanta (there is no Soundcheck/Happy Hour in Nashville).
Terminal West in Atlanta will be setting aside rooms with a local hotel to be made available for purchase for accommodation Saturday, June 6. Approximately one week after purchase, you will receive details on the hotel with an option to reserve the room directly through the hotel. The party bus will be departing from Brooklyn Bowl and arriving and departing from the hotel in Atlanta and returning to Brooklyn Bowl in Nashville.
$158.00
Select from options below to add to basket
This bundle also includes:

This bundle also includes:

This bundle also includes:

Round Trip Bus Ticket between Nashville and Atlanta