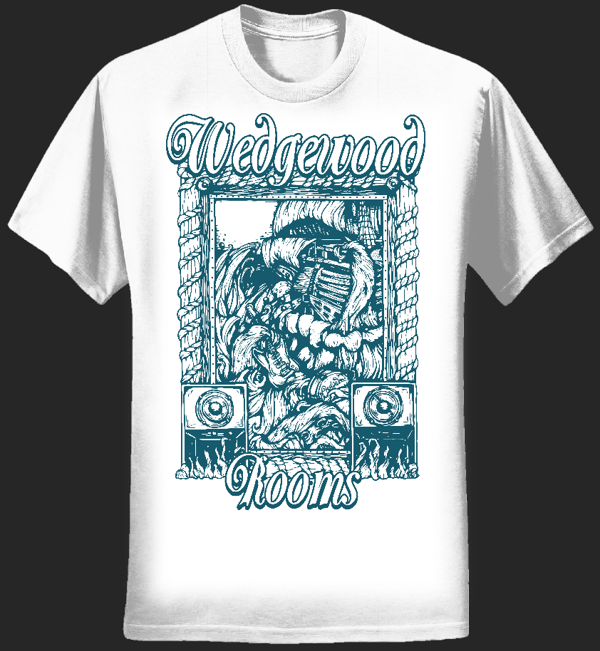 Dani Hackett - Artist Tee (Ltd Edition)
Limited Tee Shirt - Dani Hackett Artist
To celebrate our 25th year anniversary, The Wedgewood Rooms are teaming up with local artists to bring you exclusive limited edition Wedgewood Rooms T-shirts. The aim of these T-shirts is to both celebrate the Wedgewood Rooms history, but also to promote some of Portsmouth's best artists! In the last few years, The Wedge has become more heavily involved in Portsmouth's arts community, having an artist in residence, as well as employing local artists at the venue. This project will be an extension of those previous collaborations between local artists and the venue.
Each local artist has based their design on what The Wedgewood Rooms means to them in their own unique artistic style. For each design we will print a limited batch of 50 T-shirts, with a new shirt being launched every few months. The first T-shirt we will be releasing is by Dani Hacket, a local artist who works at the venue! These limited edition T-shirts will go on sale Friday, so keep your eyes peeled on our social media! Read below to hear her inspiration behind her design.
"My T-shirt design for the Wedgewood Rooms was a particular interest of mine since it has been such a big part of my life for the past few years. I wanted to portray the nautical background of Southsea, and also capture the history of the area. I was inspired by old engravings by JMW Turner, an artist that captured the ferocity and beauty of the ocean, and the combination of the waves with the impressive old style ships. Obviously, being a music venue, I couldn't leave out the aspect of music, and so I wanted to merge the two ideas together with the musical instruments to create a lively image that captured the energy of a Wedgewood Rooms gig."