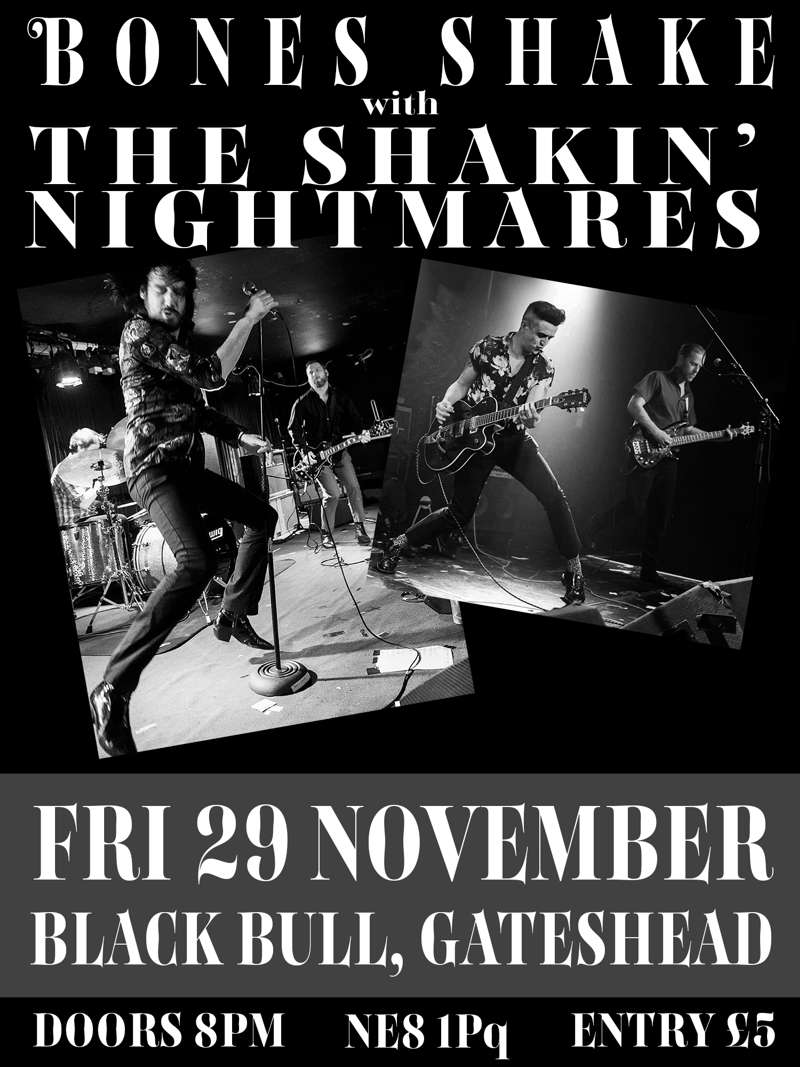 Bones Shake / The Shakin' Nightmares
The Shakin' Nightmares
Bones Shake Scuzz-blues three-piece from Manchester.
'...it was one incendiary set that made me want to witness the whole thing all over again – what a band!!' (The Sound)
'It is a frenetic, intense and vibrant display of dirty, gritty blues' (Manchester Music)
'You can hear the influence of the Birthday Party in the howls and distortion, the pounding beat, the filthy riffs, but the key element here is the sleazier stain of The Cramps…soiled and simple blues – very nice indeed!' (Vibrations)
'The church of Bones Shake is a fine place to worship' (Manchester Rocks)
The Shakin' Nightmares Rock 'n' roll for the haunted soul from Redcar - music to shake your arse to.
"The swagger of a 1950's rock 'n' roll star, the luring and silken darkness of the Queens of the Stone Age and the aggression of The Clash." NE Volume.
"The Shakin' Nightmares are a sensational live band who execute a primitively raw live performance. With bendy legs and a Joe Strummer swagger. These chaps will have you smiling, dancing and in love with rock 'n' roll all over again by the time their performance is one number in." Tutti Frutti Rock 'n' Roll Club.
"Twisted garage rock, that is fused with gothic vibes and good old traditional R'n'R... a genre-blending monster of a band." Behind The White Door
ENTRY ON THE NIGHT £5!