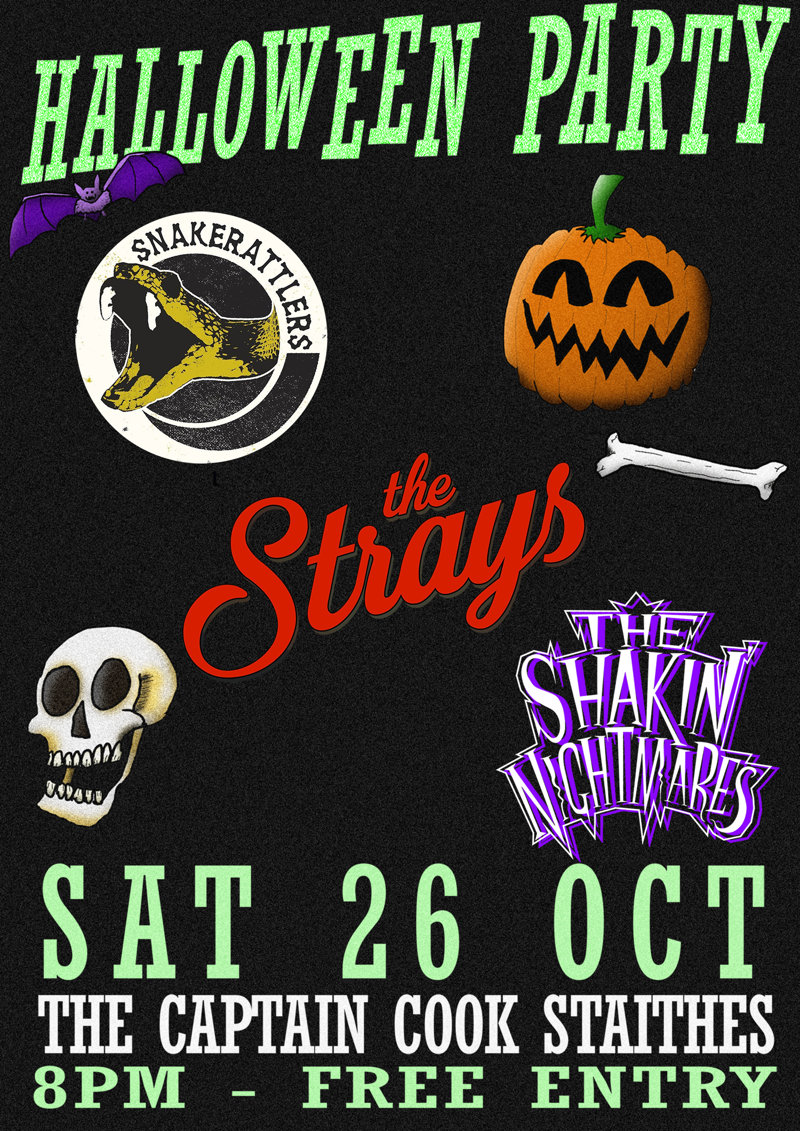 Halloween Party
The Shakin' Nightmares
Halloween rock 'n' roll party at The Captain Cook 🎃🎃🎃🎃
Snakerattlers Snakerattlers is a Dirty Water Records band, comprising of married couple Dan and Naomi. It's a hellbound voyage of trash rock and roll, punk potency and fragments of the oldest, dustiest rockabilly. Those genres combine to make the band's own frenzied and furious take on music, known as Rattlerock. The sound of Snakerattlers is acerbic, ruthless, erratic and uncompromising. The band hails from the deepest, darkest depths of ghost-ridden York, in the heart of North Yorkshire, England.
The Strays The Strays are pushing rock 'n' roll to it's limit, fusing a multitude of genres to create a unique modern sound with a gritty, vintage edge. Described as No Doubt meets Imelda May, The Strays performance style is larger than life, interactive, and deliciously unpredictable. After smashing onto the scene and releasing their debut EP in April 2017, the Cheltenham based garage rock 'n' roll band were soon endorsed by Vocalzoneand featured as ones to watch in UK Rock n Roll Magazine.
The Shakin' Nightmares The Shakin' Nightmares play rock 'n' roll for the haunted soul: music to shake your arse to - dramatic, dark yet catchy songs, delivered with passion - music to chase the demons from our lives in three minute bursts. Residing in the heavy industry stronghold of Redcar, north east England, the members of The Shakin' Nightmares make a living by day working for the chemical plants, hydrocarbon stores and diggers of the earth that dominate the Tees Valley.
At night they emerge from the dark and the filth to make music that tells the tales of the good and the bad in human life as they try to resist the over-stimulation brought on by the constant shower of 21st century information, disinformation and lies.
FREE ENTRY 🎃