Desperate Journalist, Marla, The Naked Lights
Desperate Journalist
The Owl Sanctuary and Ideal Surreal present
Desperate Journalist Marla The Naked Lights
Friday 23th June
We've had them before, we'll have them again....... yep, Despertate Journalist return for the second fine city show on Friday 23rd June. Their 015 Blueberry appearance was one of the best shows we've ever held, in fact, I'm struggling to find the words to describe how great this New Wave Post Punk foursome are, but here are a few words from others;
"thoroughly ace" (The Quietus)
"Intense and shimmering post-punk"   (Time Out) 
"They are the best band in the country at the moment. You just don't know it yet." (Louderthanwar)
"powerful guitar pop that hits like the Smiths amped up to Savages' intensity level." (Stereogum)
"powerful, melodic and full of emotion" (Artrocker)
"Desperate Journalist are a band like no other." (The Skinny)
Supporting are one of the best local bands to spring up in recent years, Marla, who'll be performing their excellent Psychedelic, Blues, Noise Rock.
Violet Kicks (tbc) who are another New Wave group from the fine city
and The Naked Lights, a ragged adventure; veering from bass-driven gospel, through electronic guitar-house to fuzzy Brit indiepop.
Doors are 7pm, £5adv/£6door
Line Up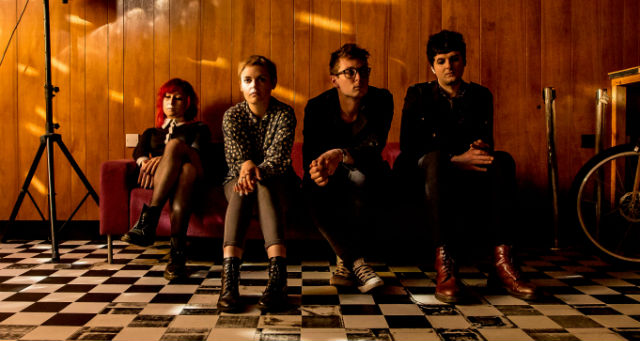 Desperate Journalist started 2015 with the release of their excellent 'Desperate Journalist' album and closed it with the terrific 'Good Luck' EP. It was quite the year, really, as Jo Bevan (vocals), Simon Drowner (bass), Rob Hardy (guitar) and Caz Hellbent (drums) - for 'tis Desperate Journalist – headlined the Lexington and the 100 Club, toured with Grave Pleasures and in one super special summertime week supported The Pains Of Being Pure At Heart at the Garage and rocked up at Tramlines in Sheffield and Indietracks in Derbyshire while generally stunning everyone they encountered.
When they weren't hoovering up reams of press acclaim or glowering at the indie masses they were locked away with Keith TOTP in the same Dean Street studio where 'Desperate Journalist' took thoroughly bruised shape. There they created the current 'Good Luck' EP which is essentially passionate, poisonous, powerful DIY gothpunk pop with a bittersweet Rickenbacker, begrudging basslines, perky profanity and the occasional melodically restrained passage which is softer than the snow on a polar bear cub's nose.
Desperate Journalist are now priming themselves for the release of brand new material which promises to be bigger, better and bolshier than ever before.
They really are as good as they say, and people say Desperate Journalist really are pretty brilliant...
"This is the sound of glamour huddled around a gas fire smoking a butt rollie and dreaming out of the window, looking into the stars. The beautiful and spellbinding sound of a band desperate to prove something…what they do prove is that groups with guitars this great aren't two-a-penny anymore." Jeremy Allen, The Quietus
"The most perfect thirty minutes of live music I have ever seen." Gary Kaill, Words And Guitars
View Profile