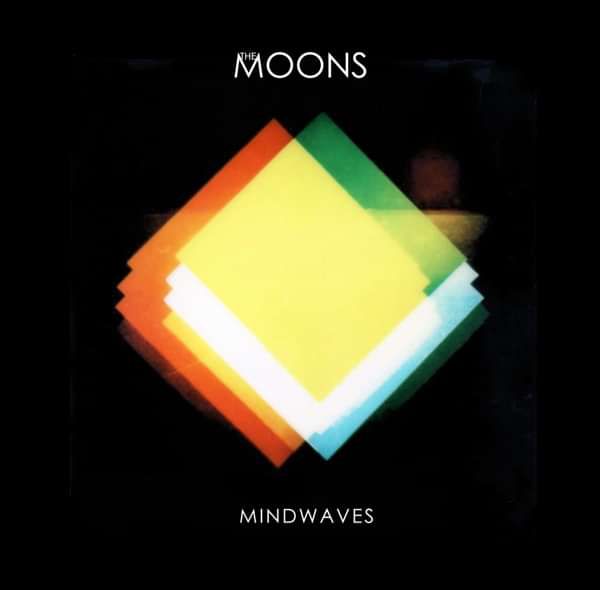 LP Mindwaves
Track Listing
1) Luna Intro 2) Society 3) Body Snatchers 4) Fever 5) Vertigo 6) All In My Mind 7) Heart And Soul 8) You Can't Slow Me Down 9) Sometimes 10) Times Not Forever 11) Rage And Romance 12) On The Moon
"…the quality of the harmonies, the instrumentation and most importantly the songs – is high, and remains so throughout…" NME
'Mindwaves', released 21st July on Schniztel Records, is the new long player from The Moons. A rich sounding, 21st century, psychedelic space odyssey, it's full of well-crafted songs and infectious rhythms, steeped in love and destruction, peace and paranoia. Classic pop melodies brim with tight harmonies and layered guitars resulting in a rich and varied collection of songs.
Formed in Northampton 2008, The Moons is the ideas of singer/guitarist/songwriter, Andy Crofts. With two critically acclaimed albums to date, 'Life On Earth' (2010) and 'Fables of History' 2012 (produced by The Moons and Stay Kybert), The Moons are purveyors of the great British pop song.
Album opener, 'Luna Intro', blends Morricone-esque guitars with rhythmic tribal drums and mantra-esque cries before 'Society', a futuristic cosmic-rock stomper, whilst not forgetting its rock n' roll roots, combines rolling drums and flashes of strings, a George Orwell-esque nod to a dystopian vision of the future.
'Fever', a snappy, deranged pop song which has Crofts wailing, 'I've got a fever in my brain'; tips its hat to the glam rock era whilst 'Body Snatchers' is big, brash, tuneful with thunderous drums and a kaleidoscopic driving beat at its core.
'Vertigo' is the sound of a classic science fiction B-movie which rolls along on a laidback sonic groove before 'All in my Mind', a dark psychotic ballad with full strings, gothic-sounding harpsichord and unhinged church organ, is The Moons at their most demented state.
'Heart and Soul', is flamboyant in its very nature conjuring up images of Bolan and Bowie jamming with Mott the Hoople and Sweet. 'You Can't Slow Me Down' is confrontational rock n' roll before the psychedelic piano-led ballad 'Sometimes', shows Crofts at his contemplative best, singing "Sometimes I feel like I would be better all alone", a passionate and earnest plea about isolation and loneliness.
'Time's not Forever' is more, modern day, in-your-face, pop/rock n' roll which The Moons do arguably better than most whilst 'Rage and Romance' is glorious, unrestrained decadence with catchy chorus and exquisite arrangement before 'On the Moon', a whimsical, dream-like, blissed-out blues track closes the album.
"Mindwaves is a melting pot of melody, love, dreams and nightmares. Its every brick my mind has built over the years, it's my favourite album!" Andy Crofts / The Moons.
Crofts' songwriting craftsmanship deals with typical modern day life. With a mixed melting pot of melody, texture and influence, The Moons are honest songwriting personified with exquisite arrangement and glorious production which harks back to a golden era in classic songwriting.