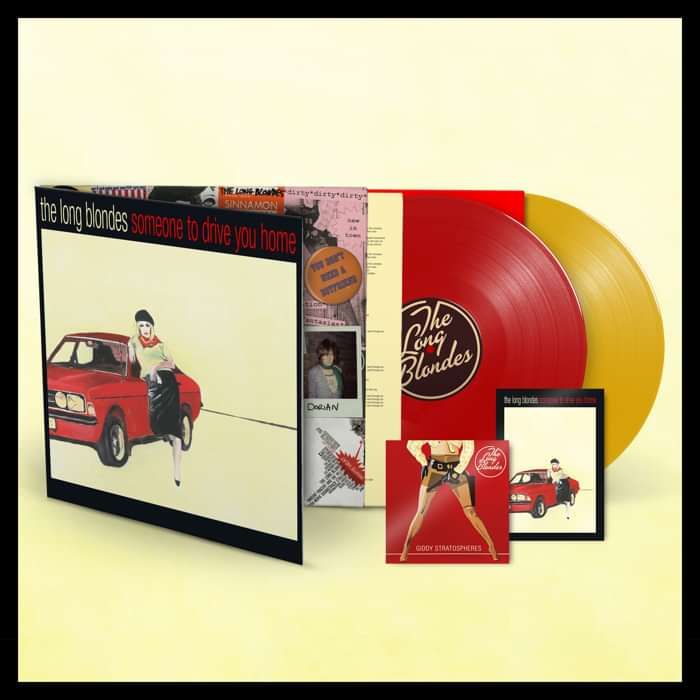 The Long Blondes - 'Someone To Drive You Home' 15th Anniversary Reissue + Postcard + Sticker
Very Limited Edition Gatefold Yellow + Red Vinyl 2LP + Postcard + Sticker - Only 50 available from this shop.
Limited to just 50 copies the album comes with a unique postcard of Kate Jacksons brand new artwork for 'Giddy Stratospheres' and a sticker of the original album artwork. Once these are gone, they're gone!
"Just like you'll never forget your first crush, you'll never forget the first time The Long Blondes drove you home..."
An anniversary edition of 'Someone To Drive You Home', originally released in November 2006 comes as a limited edition, double gatefold LP. Pressed on to red and yellow vinyl to mirror the album's artwork the edition will feature the original record, plus 11 additional tracks that the band used as B-sides.
LP – Record 1
1. Lust In The Movies - Remastered 2. Once And Never Again – Remastered 3. Only Lovers left Alive – Remastered 4. Giddy Stratospheres – Remastered 5. In The Company Of Woman – Remastered 6. Heaven Help The New Girl – Remastered 7. Separated By Motorways – Remastered 8. You Could Have Both – Remastered 9. Swallow Tattoo – Remastered 10. Weekend Without Makeup – Remastered 11. Madame Ray – Remastered 12. A Knife For The Girls – Remastered
LP – Record 2 1. Five Ways To End It – Single B-Side 2. Fulwood Babylon – Single B-Side 3. The Whippet Fancier – Single B-Side 4. Who are You To Her? – Single B-Side 5. Never To Be Repeated – Single B-Side 6. All Bar One Girls – Single B-Side 7. I'm Coping – Single B-Side 8. Last Night On Northgate St – Single B-Side 9. Platitudes – Single B-Side 10. Melville Farr – Single B-Side 11: The Unbearable Lightness of Buildings – Single B-Side