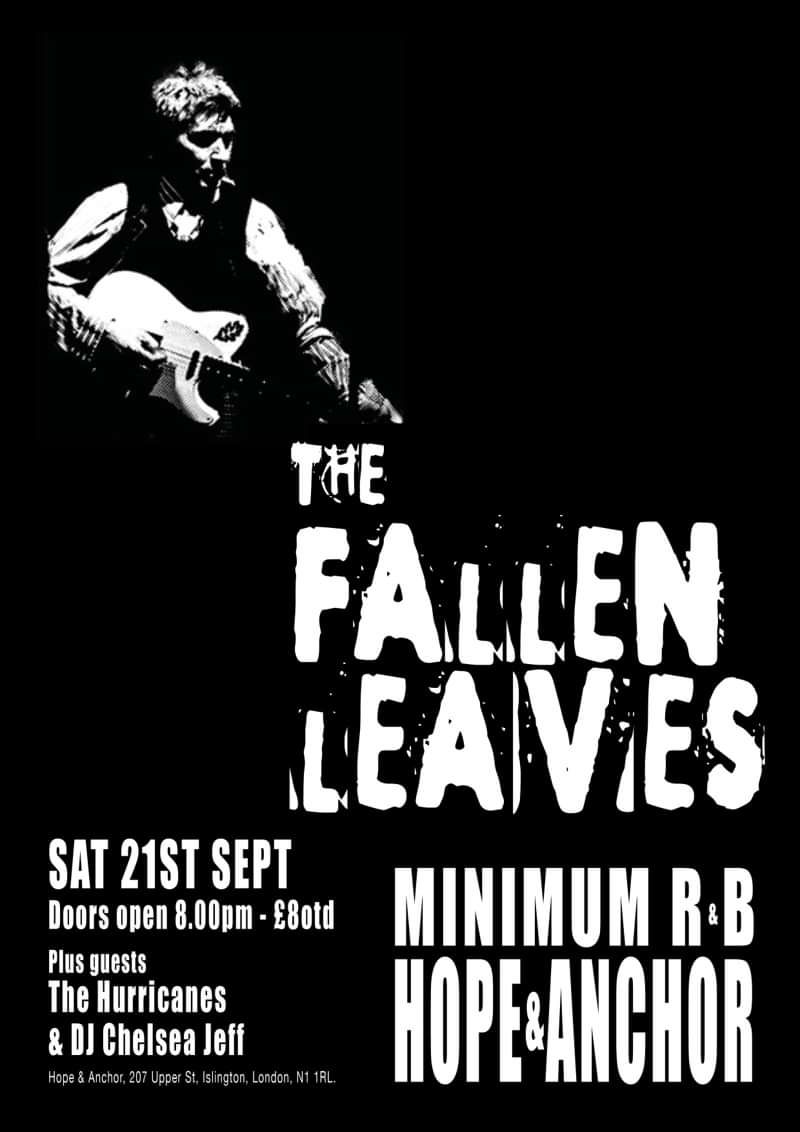 Minimum R&B at the Hope & Anchor
The Fallen Leaves + The Hurricanes
Album Launch Night. MAXIMUM MINIMUM. The Fallen Leaves Live at the Hope & Anchor. New 200 gm Vinyl LP. £15.00
Line Up
Loud Mod Garage band playing 60s Soul, R&B and Boss British Beat like it was 1966 all over again.
Four chaps who had been around the musical block decided to get it together to be the kind of band they'd like to go and see themselves.
Hurricanes Clarke, Jones & Robinson spent many years from the mid nineties chasing the fetid corpse of the britpop infused music industry around in cult heroes Collide who put out 2 Eps before quitting.
Hurricane Norton, having spent a couple of years being Collides brass section, would become the low slung bass playing lynchpin of punk/ska legends The Pressure Tones before they split.
From playing covers in their first few gigs, the band inevitably started writing their own material. And even more inevitably felt that they wanted to record.
The debut single Cool Jerk / The Magic Touch was the first step and highlighted the garage mod sound they were delivering at gigs.
For the second single the band chose to take complete control over recording and mixing. Original tune "Is There A Why In Your Mynd?" mixed 60s garageband fuzz with stomping soul big beat. Backed with a raucous live recording of The Eyes "I'm Rowed Out", the single was released across the usual digital platforms.
Now The Hurricanes are releasing their debut album "Let's Go!", featuring 10 original songs recorded and mixed by the band, and although they added organ, piano, percussion to some of the tracks, the feel and sound is pure garage mod soul punk, redolent of their live performance.
This is not a smooth studio polished effort. Feedback squeals, amps hum, drums pound, and the edges of the sound distort. This is deliberate. This is the sound of The Hurricanes.