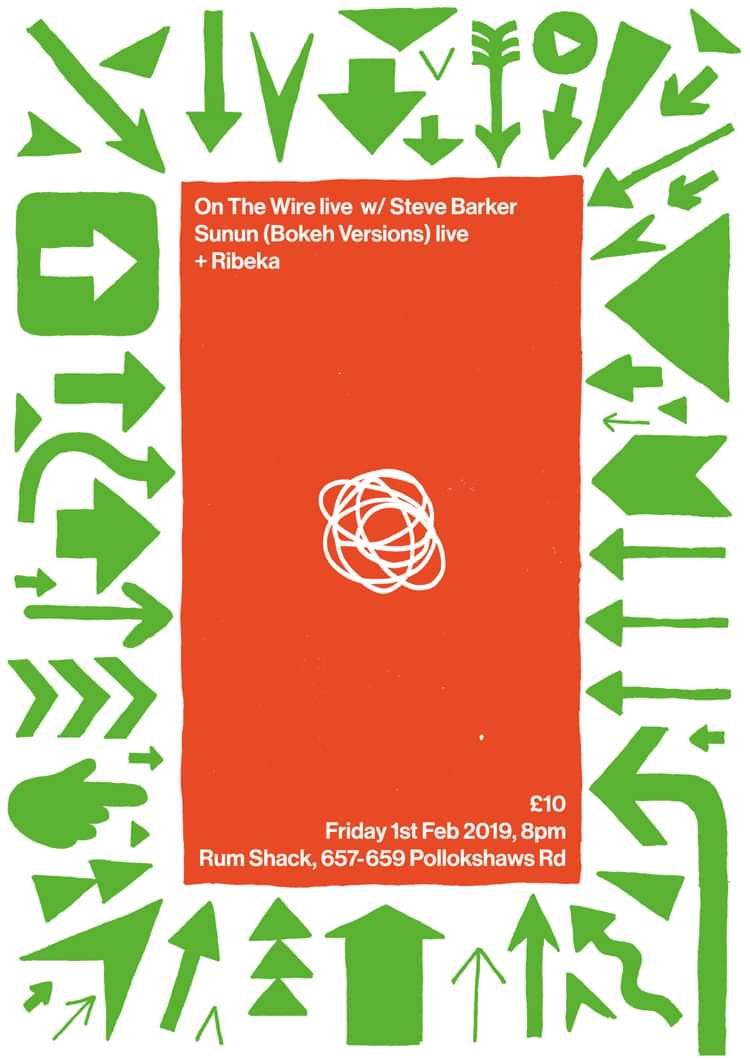 Steve Barker On The Wire with Sunun [live] + Ribeka
£10
Entry Requirements: 18+
Buy Tickets
If you lived in the North of England, listened to John Peel and devoured the weekly music press you almost certainly tuned into On The Wire on BBC Lancashire with Steve Barker.
After a promising start in journalism, interviewing Jimi Hendrix and Yoko Ono in the same week, STEVE BARKER was recruited by Radio Blackburn in 1978 to work on the music review show RPM notably conducting Joy Division's Ian Curtis' last radio interview. This show eventually mutated into On the Wire, now the longest running continuous underground music show on UK radio - and Steve recently celebrated his 40th continuous year with BBC Radio Lancashire.
On the Wire was an early champion of new musical genres such as hip hop, House and Techno, many bands and performers who were to become musical legends passed through the show including U2, REM, The Smiths, Depeche Mode, Eno, Burning Spear and Lee "Scratch" Perry.
In the '80s, fans swapped cassettes of the show across the UK, it played a key role in popularising hip-hop. It was the first British radio show to play music from Detroit techno artists such as Derrick May and, in the acid house era, it offered crucial exposure to the homegrown stars of Manchester's rave scene, most notably 808 State and A Guy Called Gerald.
Like Peel, On The Wire has been threatened by BBC cuts – twice – and both times saved with the help of its fiercely loyal listeners across Lancashire and worldwide. Steve's enthusiasm for new music, dub plates and the outlandish continues unabated although of late On the Wire has taken a more relaxed view of the music scene and is as likely to play pre-war hillbilly, gospel or country blues as much as experimental electronica or dub.
Also joining Steve on the night is Bristol's Sunun (Bokeh Versions / Noods Radio), who will be bringing her live act to Glasgow for the first time.
"Sunun has a luring command of dials and limbs and drum skins that's as grounded as it's mystical - these machines have ghosts in them. Between Ooid's modulated insect noises and crushed cymbals there are stories of when & why things were recorded that adds an aching humanity to the 5 machine dub pulses on her first official release. People who've seen her live have witnessed Sunun's forest of wires and microphones and harps all feeding her 20 channel desk. She dubs it old-world style, but the results are always forward - making a 22nd century chorus from thousands of years of human feedback. The Sunun ecosystem is perfectly synthesised in Max Kelan's unsettling VHS body-shot for 'Dark Just', filmed on location in Western Super Mare (mostly Pier 2).
Sunun's a familiar shape in the shadows of Bristol's sound circuit - from Kuumba Centre to Cosies to Trinity. Her monthly residency on Noods Radio is titled by the mantra 'Everything is Drum' - and plays out to a teething Stokes Croft through the studio windows. She first took to the mic at Bokeh Sound w/ Jay Glass Dubs and Avon Terror Corps member Kinlaw (No Corner / Ceramics); who closes Ooid in classic discomix style with a remix of 'Dark Just'."
https://bokeh-versions.com/album/ooid
Plus Ribeka (So Low / Liberation Technologies / Rubadub).
Tickets also available at:
https://www.eventbrite.co.uk/e/steve-barker-on-the-wire-with-sunun-live-ribeka-tickets-52361824627