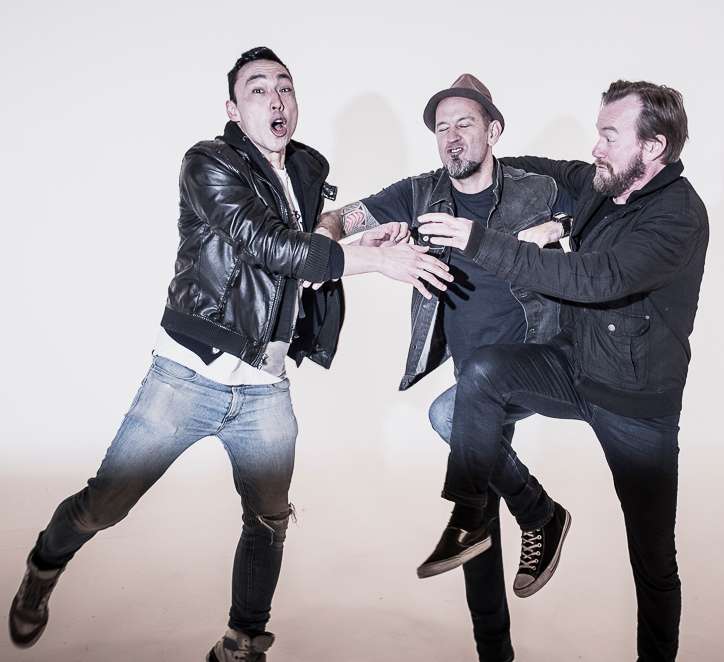 REGURGITATOR - CURTIN XMAS
Regurgitator + Damian Cowell's Disco Machine + U-Bahn
$40 +3bf
Entry Requirements: 18+
Holy Moly! The cast and crew of the Curtin announce the line-up of their annual Xmas blast! These parties have been our chance to indulge our collective music tastes, look out to a galaxy of stars and ask for a Xmas miracle. We got one..
REGURGITATOR are playing the Curtin for Xmas!
We've grown up on Regurgitator while new fans are still discovering them. They have gifted us with 9 albums of exuberant, manic, mashed-up rock, punk, electro, funk, pop that was often well ahead of its time. They've performed some of the weirdest experiments in Australian music history, who can forget the disturbing Fed Square 'Band in a Bubble' parody of reality shows. Not to mention, they've given us some of the most memorable song titles. Regurgitator have sucked a lot of cock and along the way used their honest, self-deprecating sense of humour and fun to help us unpack the darkside of our industry, humanity, progress and technology.
They remain one of the most vital and awesome live bands. They're still touring. Still flooring it!
To add to this line up of superlative pop party proportion, we'll be joined by Damian Cowell - the voice of TISM - and his Disco Machine featuring Tony Martin.
Damian Cowell and his Disco Machine friends are joined by 2018 best Australian comedy podcast-winner, #1 Australian radio comedian of all-time and all-round icon Tony Martin in an extravaganza of party music, rapier wit, silly dancing and multi-visual karaoke madness. The Disco Machine's 'Disco Christmas' – a disrespectful, irreligious and frankly shameful debasement of the festive tradition - has been an annual event for the past three years. Now, like the whiskey-breathed uninvited uncle at Christmas lunch, the Disco Machine are delighted to bring 'Disco Christmas' to the Curtin as special guests of Regurgitator. They'll be dreaming of a 'Fuckwit-free Christmas', plus featuring highlights from their latest album 'Get Yer Dag On!' which The Guardian described as "a triumph" with songs that are "impossible not to quote in their entirety". Besides: anything that involves Tony Martin doing the Nutbush just has to be seen.
And our latest obsession, synth enthusiasts U-Bahn.
Originating just this year from a chance meeting between bedroom recording magician Lachlan Kenny and vintage synthesiser enthusiast Zoe Monk, the duo bonded over a shared love of analog electronics, Teutonic experimentalism and lo-fi bubblegum aesthetics. They initiated Leland Buckle, Darcy Berry and Myles Cody into their sect and U-Bahn debuted their futurist glam-punk aberrations to the public in May 2018.
Since then they've shocked and baffled audiences alongside ORB, Terry, Constant Mongrel and they're set to star alongside Melbourne's favourite acts at Gizz Fest.
Their music is an exploration of vice, post-digital mindscapes and dystopic sexuality while serving as an altar piece to the dazzling weirdness of the 70's and 80's bizarro underground.
Wrap it up with a ribbon, put a ticket in a friend's stocking, come and help us top off an awesome year of shows, good friends and great times with one of the best ones yet.
Tickets on sale at johncurtinthotel.com
Line Up
Regurgitator
Damian Cowell's Disco Machine
U-Bahn