Red Hot Music presents:
Ealing R&B
Robert J. Hunter + The Bronsons + The Wilbur Project + JJ Symon
Buy Tickets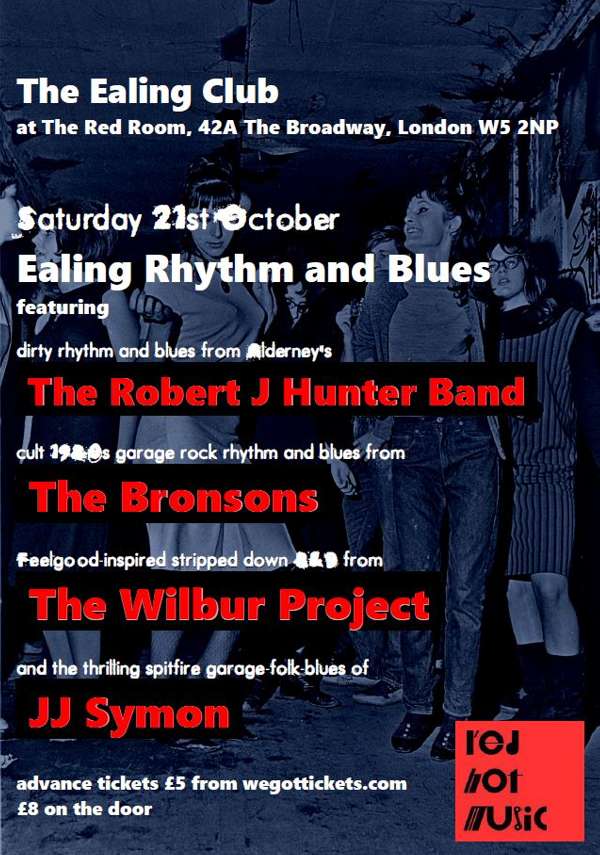 The Ealing Club is a bit of a legend in British rhythm and blues. This is where Alexis Korner got going. This is where the Rolling Stones first played together in the classic line-up. This is where The Who did their first gigs. The Animals, Cream, Rod Stewart, Manfred Mann - they all played here. The original club closed a while ago but the venue survived through various changes of name.
The whole area is up for redevelopment, though, making this one of your last chances to see proper British rhythm and blues in a legendary venue. On the bill:
THE ROBERT J HUNTER BAND - Dirty rhythm and blues from the depths of Alderney. Robert J. Hunter and his band combine his gruff and powerful voice with the wild thud of overdriven blues guitar to create truly unique original music. His powerful debut album, 'Songs for the Weary', received blues chart success and critical acclaim and the single release, 'Demons', reached number one in the UK iTunes Blues Chart. Robert has supported acts including Wilko Johnson, The Animals, Eddie & the Hotrods and HeyMoonShaker and has featured on the European and UK festival circuits.
THE BRONSONS - West London cult rhythm and blues band The Bronsons died in 1985 and came back from the dead in 2013. Their sounds is rooted in Dr Feelgood, The Inmates, Lew Lewis, Nine Below Zero, and early on many of the songs came that route too. The new version has matured into a phenomenally energetic live show made up of 50% obscure classics and 50% original material. Expect Link Wray, existential anger and rockabilly girls.
THE WILBUR PROJECT - A four-piece stripped down R&B band from Rutland, The Wilbur Project play a mix of original material and not-so-obvious covers. Inspired by Dr Feelgood, Howling Wolf, Little Walter, early Stones and The Inmates - all coupled with a DIY punk attitude - they come to Ealing fresh from supporting Dr Feelgood and Steve Hooker.
JJ SYMON - Manchester born, Melbourne raised and Brighton based singer-songwriter JJ Symon reinterprets a mixed bag of influences into a raw, direct and thrilling concoction of alternative rhythm, blues and rock'n'roll. After a couple of years relentlessly delivering his spitfire-garage-folk-blues to London and Brighton audiences, his fifth album, Injured Ninja, was released this summer.
The Ealing Club (The Red Room) 42A The Broadway, London W5 2NP Phone: 020 8840 3613
Line Up
Robert J. Hunter combines his gruff, powerful and distinct voice with rustic, wild bluesy thud of overdriven guitars to create a truly unique sound. RJH's powerful debut single, 'Demons' reached number one in the UK Itunes Blues Chart. His debut album, 'Songs for the Weary' is out now and has received rave reviews worldwide and blues chart success. Heavily influenced by Peter Green, Rory Gallagher, The Black Crowes, Howlin' Wolf, Steven Seagal, Wilko Johnson to name a few, RJH is no stranger to the stage. performing in bands since he was 14 in Alderney, Channel Islands where he was born. RJH has previously supported acts including Wilko Johnson, The Animals, Eddie & the Hotrods and HeyMoonShaker.
''Robert has grown over the past year or so into a consummate performer, seemingly playing almost non-stop somewhere or other, and this had lead to him becoming the sort of person who, it seems, is incapable of putting on a bad show'' - Tom Girard, BBC Introducing.
Links
Follow Robert J. Hunter Online Website: http://www.robertjhunter.co.uk Twitter: http://www.twitter.com/rjhuntermusic Facebook: http://www.facebook.com/robertjhuntermusic Instagram: http://www.instagram.com/rjhuntermusic
View Profile

Formed in 1981, dead by 1985, reborn in 2013, The Bronsons play loud, trashy, fast and relentless London-style pub-rock garage-band rhythm and blues.
View Profile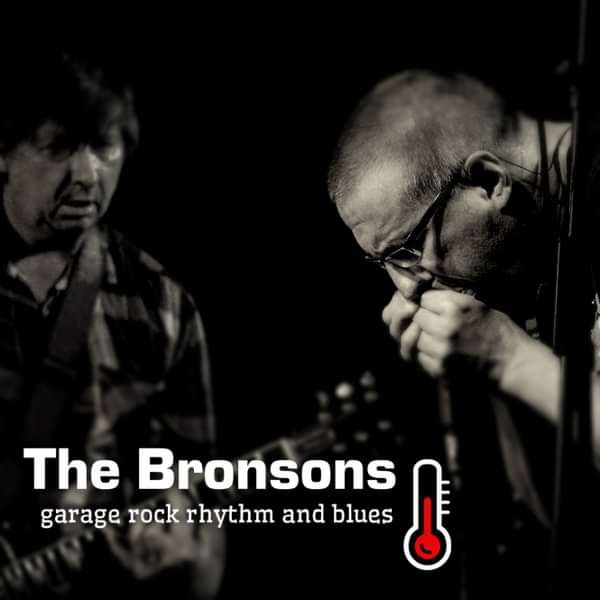 The Wilbur Project
JJ Symon