Brooklyn Sound w/Winnebago Deal, Primitive Weapons, Henry Blacker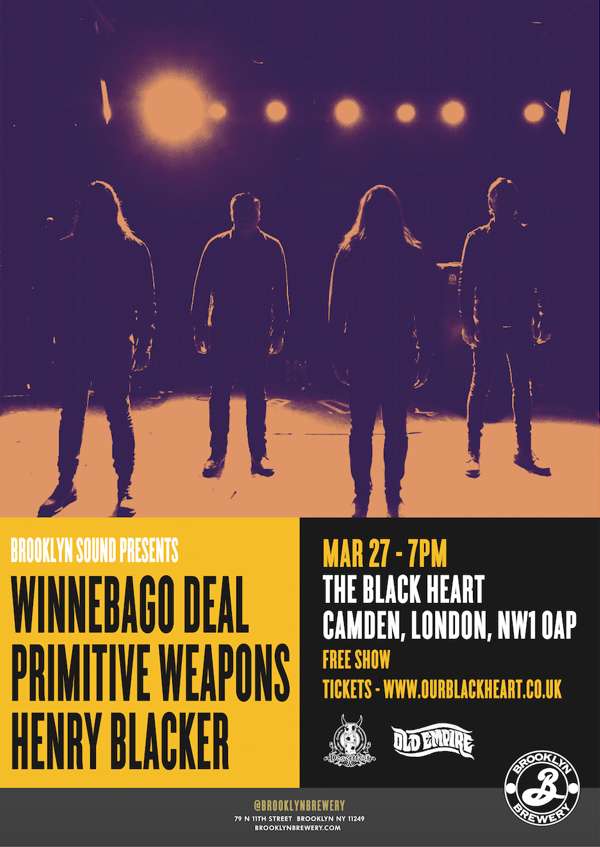 The Brooklyn Brewery in association with Desertfest London, Old Empire and The Black Heart proudly present:
Winnebago Deal www.youtube.com/watch?v=hoZxcVJSNhw
Primitive Weapons www.youtube.com/watch?v=qBuE7uW-N74
Henry Blacker www.youtube.com/watch?v=0aR9l7tbelI
Doors 7pm FREE ENTRY w/ticket Head to the link in the event to secure your free ticket
---
Brooklyn Brewery, the leading international craft brewery, kicks off their annual music tour, Brooklyn Sound, for the second year on March 27th at The Black Heart in London. The tour will showcase Brooklyn-based band, Primitive Weapons, traveling to 5 International cities in 6 days playing with local bands at each stop. Hitting London, Oslo, Lillestrøm, Hellsinki, and Hamburg, Brooklyn Sound celebrates the mutually influential and emerging music scenes in both Brooklyn and countries around the world.